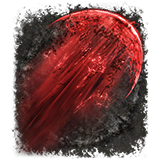 Ash of War: Blood Blade
Game: Elden Ring
This Ash of War grants an armament the Blood affinity and the following skill: "Blood Blade: Wound self to coat the armament with blood, then unleash an airborne blood blade that causes hemorrhaging. Can be fired in rapid succession." Usable on small and medium swords.
Where to Find the Ash of War: Blood Blade
Found in Altus Plateau, on the dirt path that runs north towards the Old Altus Tunnel — can be reached by riding northeast from the Erdtree-Gazing Hill site of Grace. See walkthrough for details on acquiring.