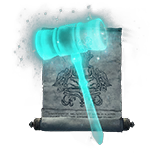 Gavel of Haima
Game: Elden Ring
Attacks using a magic greathammer
Spell Category: Sorcery
Slots Used: 1
FP Cost: 37
Stamina Cost: 46


Attack Power: • Magic 242 • Stamina 180


Attributes Required: Intelligence 25
One of the glintstone sorceries of the Academy of Raya Lucaria. Creates a magical greathammer and slams it down. Allows one follow-up attack. Drawn from the scholarly conspectus of Haima, the adjudicator of the academy, this sorcery employs might as a means to quell conflict.
Where to Find the Gavel of Haima Sorcery
Found in the Fringe Converted Tower in northeastern Liurnia of the Lakes. To open the seal, you'll need to wear a Glintstone Crown and perform the Erudition gesture in front of the seal.