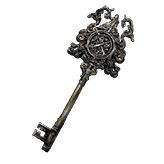 Discarded Palace Key
Game: Elden Ring
Key to treasure chest for Carian Princesses
Key Items
Maximum Held: 1
A key discarded by Lunar Princess Ranni alongside her very flesh. Opens a treasure chest passed down to Carian Princesses. It is said to be found in the Grand Library of Raya Lucaria with her mother Rennala.
Where to Find the Discarded Palace Key
Reward for defeating the Baleful Shadow, found by traveling through Nokstella on the way to the Lake of Rot — see walkthrough for details.