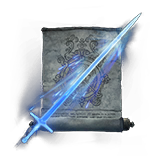 Carian Piercer
Game: Elden Ring
Impales foes with magical greatsword
Spell Category: Sorcery
Slots Used: 1
FP Cost: 23
Stamina Cost: 25


Attributes Required: Intelligence 27
One of the sorceries of the Carian royal family. Conjures a magic greatsword to impale foes. Charging lengthens the initial step in. This sorcery forms a counterpart to Carian Greatsword. Highly lethal when used against single foes riding alone.
Increases in power when charged up.
Where to Find the Carian Piercer Sorcery
You can find the Carian Piercer sorcery on a loot beetle in the Caria Manor dungeon, in Liurnia of the Lakes.