Game:
Cyberpunk 2077
Content Type:
Gaming News
Date: March 20, 2021
Alright, Cyberpunk 2077 fans! We have finally heard back from CDPR concerning the 1.2 Patch and there are already some promising fixes we can expect.
The update post is a bit of a treat in of itself, written from a perspective of a Network News 54 host discussing various instances on unrest in Night City caused by NCPD's over-powered behavior and player control issues: "Vehicular manslaughter statistics higher than ever" says the headline addressing car steering improvements.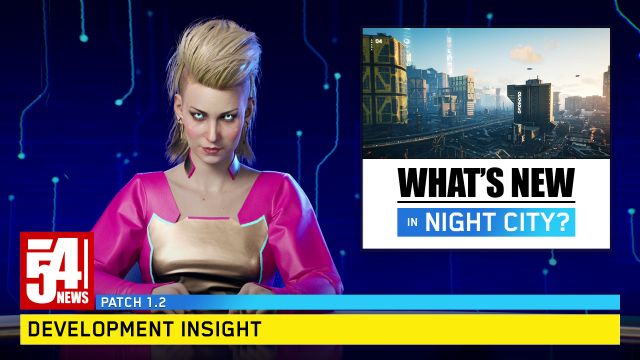 So, is Patch 1.2 the massive multi-faceted update we were hoping for?
Well, not yet. So far the developers have only promised delay in police arriving to the scene of the crime, steer sensitivity slider and consistent steering speed between 20 and 60+ FPS, ways to rock and rotate your vehicle out of being stuck, and ability to turn off dodge on double-tapping a movement key. If we think about it, these are rather basic fixes for the game. However, this is still a good start on the path of improving the Cyberpunk 2077 experience for returning and future players.
There is hoping that we will see some more fixes introduced with 1.2, especially since there are still many small bugs that need to be addressed along with the performance issues (especially for people who experience frequent crashes). It's not clear whether we will see any "lost" features introduced with this update (it sounds like we will already have to wait for future updates to see things like more key binding issues being addressed), but the patch isn't live yet and we don't have the complete list of fixes to know for certain.
Not all of the community reactions were positive. Some pointed out that many of these issues and additional bugs were already fixed some time ago by modders, and many were generally unimpressed with the speed and scale of the updates. More optimistic voices have shared some words of encouragement, kindly wishing CDPR to take as much time as they need to fully iron out and polish the game and start introducing the much-awaited DLCs.
Dear CDProjekt devs please don't listen to this toxic immature gaming community. Yes the game cameout and many aspect was underwhelming but for me well worth 60 dollars just for story alone. You can make this game perfect we believe in you. Take your time.

— Kubilay Yavuz (@resonmon) March 19, 2021
The situation with Cyberpunk 2077's release has been understandably tricky. Expectations for the game have been set high by the marketing and the community response, and many players are still waiting for major fixes and new content before giving the game another shot. We are definitely among the players who absolutely loved the game's story and major quest content, now watching for any updates with great anticipation.
But, what is your reaction to the update? Have you been playing the game recently, maybe trying out some mods, or are you holding off to wait for CDPR's next major move?
Let us know in the comments below!