Game:
Cyberpunk 2077
Content Type:
Gaming News
Date: December 10, 2020
CD Projekt Red loves to give out prizes, but they want you to earn them. This time they're asking you to use Cyberpunk 2077's powerful photo mode to snap your best screenshots in their "Shutterpunk 2077" contest. All you have to do is tweet a screenshot you took in photo mode, using the hashtag #Shutterpunk2077.
There's three categories, and you can submit a separate screenshot for each category: a Portrait of V or any other character, an Action shot of something dynamic and exciting, and the Sights of Night City, the best views and architecture.
Don't use any frames or stickers if you want your entry to be counted, and definitely don't edit your screenshot with any graphical editors (besides the in-game photo mode, of course). When you tweet your screenshot, make sure you add the #Shutterpunk2077 hashtag, and also note which of the three contest categories the screenshot is for.
What do you win? Depends on how much they like your screenshots, choom.
1st place gets:
● Dell Alienware m17 laptop with exclusive Cyberpunk skin
● 3 L-sized Cyberpunk Displate
● Goodie Bag worth 100 USD
2nd place gets:
● Secret Lab Omega gaming chair Cyberpunk 2077 Edition
● 2 L-sized Cyberpunk Displate
● Goodie Bag worth 100 USD 
3rd place gets:
● Razer Viper Ultimate Cyberpunk mouse
● Razer CP2077 Custom Gigantus V2 (M) mouse mat
● Razer Huntsman Mini keyboard
● Razer Blackshark V2 Pro headset
● 2 M-sized Cyberpunk Displate
● Goodie Bag worth 100 USD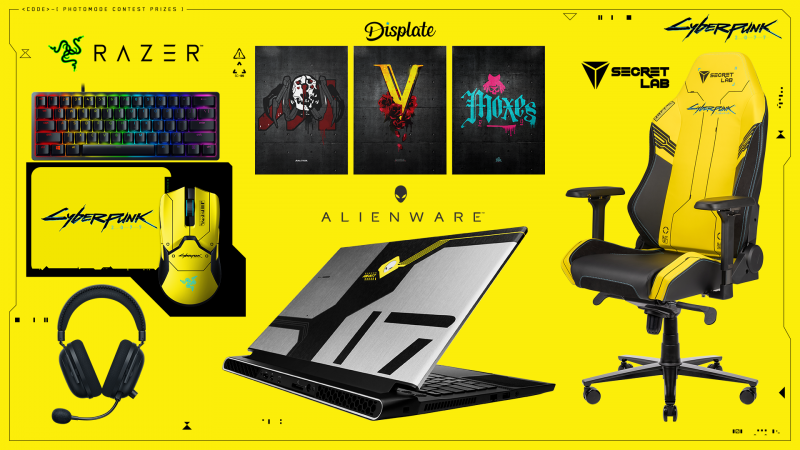 The contest ends on Sunday, January 10th 2021 at 11:59 CET, so don't rush! Take your time and get the perfect screenshot before you post it to Twitter.
If you're running on lower graphical settings thanks to performance issues, don't forget to crank them — you only need 1 FPS for the perfect screenshot anyway. That being said, the fine print states that the photos can be taken on any platform, and therefore there are no graphical settings requirements; sometimes getting the right angle matters more than a few more pixels, anyway.
What's your favorite district to take screenshots in? Have a great spot for action shots? Let us know in the comments!