Game:
Cyberpunk 2077
Content Type:
Gaming News
Date: January 14, 2021
CD Projekt Red has released another apology, this time featuring co-founder Marcin Iwiński. Amidst the threat of multiple lawsuits, the Polish game studio is clearly trying their best to demonstrate to both fans and regulators that they are committed to fixing Cyberpunk 2077. In addition to giving some insight into exactly what went wrong with the console version of the game, CDPR also gave more details on the roadmap for future Cyberpunk 2077 updates.
In his apology, Iwiński lays the blame for Cyberpunk 2077's troubled launch on himself and the board, specifically asking fans not to blame the developers for the game's issues. Interestingly, Iwiński sticks by the claim that CDPR felt they had a version of the game that would run well on last-gen consoles:
As it turned out, our testing did not show many of the crashes you experienced while playing the game. As we got closer to launch, we saw significant improvements each and every day, and we really believed we'd deliver in the final day zero update.
It is certainly the case that live launches uncover many more issues than standard QA testing ever do; the scale of a live launch (especially one with over 8 million pre-orders) means that there will be hardware issues that will pop up that the testing team were never able to discover. Either way, given that CDPR is currently being investigated by Poland's Office of Competition and Consumer Protection, it's hard to imagine anyone from CDPR admitting that they knew the console version wouldn't run well.
Iwiński also explained in some detail why the game struggles so much on old-gen consoles. Essentially, Night City has a ton of objects, systems, and mechanics, and the game is relatively loading-screen free. Add to that the fact that the game is vertical and dense, as opposed to most games which are relatively flat and spread out. All of this information has to be streamed from the disk to the game's engine, and the disk bandwidth of older consoles simply wasn't up to the task, despite CDPR's attempts to "constantly improve [their] in-game streaming system".
Furthermore, the game was developed in such a way that they first made it look good on PC, and then tried to adjust it for last-gen consoles. This approach, obviously, ended up not being particularly effective. A similar strategy was attempted with From Software's Dark Souls 2; that developer ended up downscaling graphics in all versions of the game. While that choice may have been the right one for From Software, it is hard to imagine just how big the uproar would have been from PC users if Cyberpunk 2077 has released with graphics optimized for last-gen consoles.
The apology video revealed the roadmap for future updates, promising a free next-gen console update after the first few patches and DLCs are released: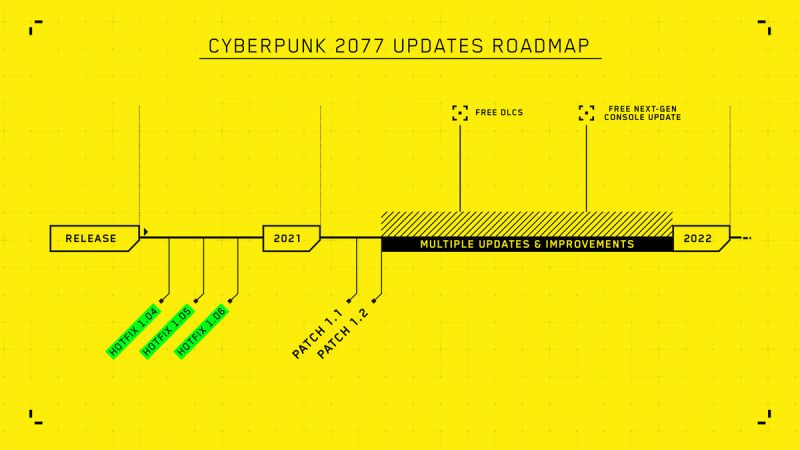 According to Iwiński, the first update (presumably larger than a hotfix) will drop in the next 10 days, and a "larger, more significant update" will come in the following weeks. Cyberpunk 2077's next-gen update should arrive some time in the second half of 2021, and CDPR will give more info on the free DLC's in the coming months.
To read the official FAQ for the latest apology and update, you can check it out here. What's your take on this latest apology? Let us know in the comments!