Game:
ICARUS
Content Type:
Gaming Guides
In SANXBOX, you'll be preparing a forge cave for the African Assembly — a good prospector doesn't ask why. In this guide, we'll go over all the required elements, and then give some specific advice on completing the mission.
---
Prospect Details
Difficulty: Hard ()
Approximate Time to Complete: 6-8 hours for a solo player
Recommended Level: 30 – You'll need to be at least level 30 to complete this mission, since its objectives includes crafting Tier 4 deployables
Locations: Forest Biome, Desert Biome
Objectives:

Reach build location
Construct a Forge Area

Construct and power Electric Furnace
Construct and power 2x Directional Worklamps
Construct and power Electric Dehumidifier
Construct Machining Bench
Rewards
600
Variants Modifiers
Prospect Notes
Your objective for SANDBOX is to put a handful of Tier 4 deployables in a specified cave, and then power them. This mission is easy — and even includes drop insurance — but will take quite a bit of time, since you have to tech up to Tier 4 and craft some expensive stuff.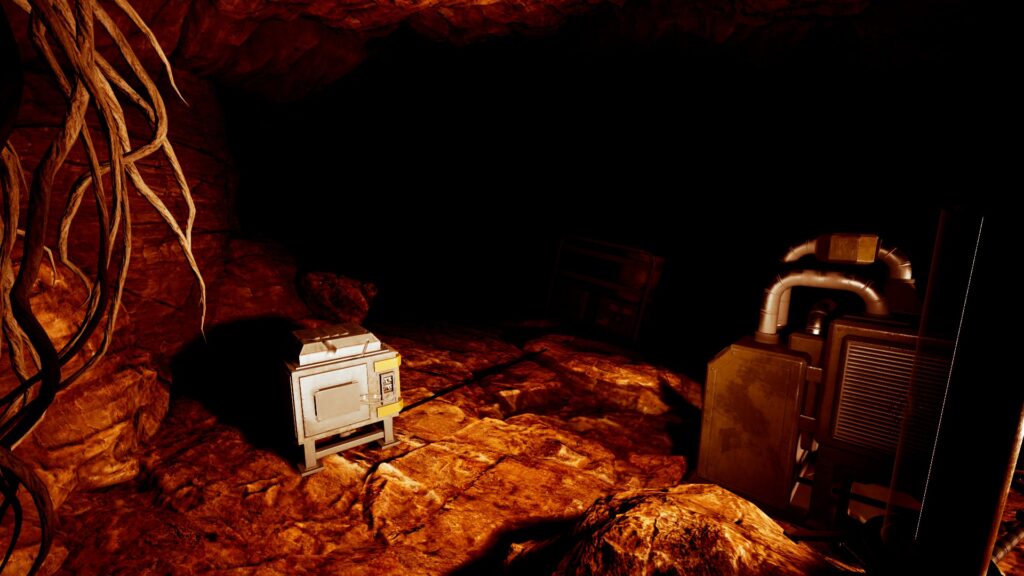 Preparing for SANDBOX
You'll need to unlock the following blueprints to complete the mission:
Mission Walkthrough
Step 1: Teching to Tier 4
We won't be giving step-by-step directions for this part of the mission, since it boils down to this: collect a ton of resources and mine every cave you can until you've got what you need. There are too many resources required to list them all here, so instead here's an ordered list of all the workbenches and other deployables you need to craft, and what they're used for:
You'll need to pick a spot to set up your base. The Riverlands is where you land, but it's also got the most distance between caves. The densest distribution of caves is in the Forest biome south of where you drop, in G-14. However, that's also the longest walk, so it's really up to you; your best bet is simply to pick the biome you like the best, and set up your mining base there.
Once you've teched to Tier 4 and have your Fabricator, you'll need to craft the following objects before you can complete the mission:
You'll therefore need an

Electricity Tool in order to run power to the Electric Furnace, which is required to create

Composites (which are in turn required for the Electric Dehumidifier). The Electric Furnace can be powered with a

Biofuel Generator (see Electricity for more info).
Step 2: Setting Up the Forge Cave
Once you've got your two generators and the fuel to power them, plus the worklamps, electric furnace, and dehumidifier, you're ready to go finish the mission. Don't forget to bring your

Electricity Tool and your Machining Bench as well. You should be able to just barely carry all of the deployables plus some gear to the forge cave.
Depending on whether or not you have any of the carry weight talents, you may not be able to also bring your Machining Bench. If this is the case, deconstruct your machining bench — you'll get half of the materials back — and collect/craft any Iron Ingots you're short (you'll need 40 to remake the bench) and then head out.
You'll need to reach the blue circle in C-10, and then head down the path into the cave. It's pretty hard to miss: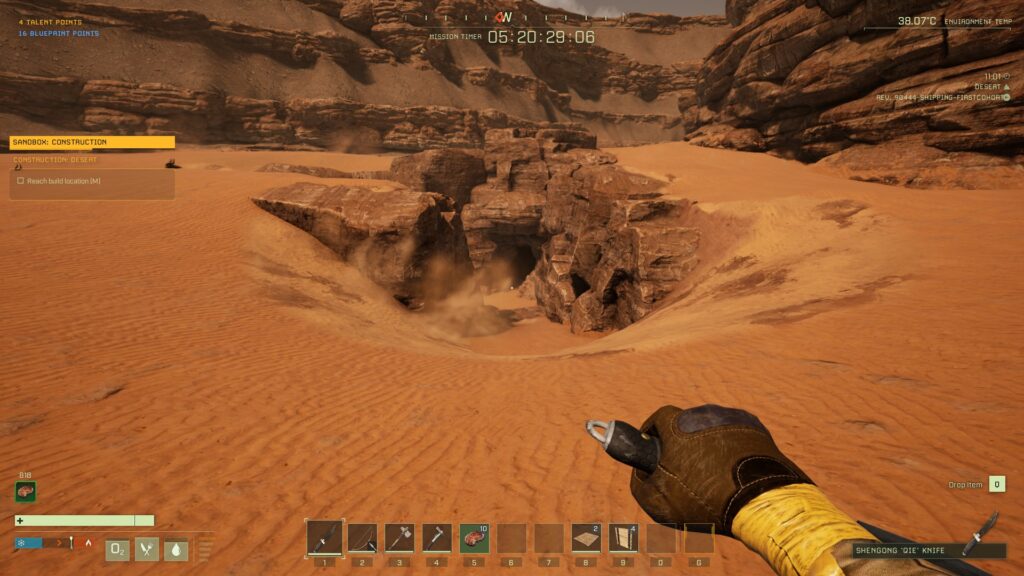 There are a few worms that will pop up when you enter the cave, so make sure you're ready (don't walk in with 5 HP, basically). The cave is mostly flat, so you should be able to take out all the worms with your knife relatively easily. Once you've dispatched the worms, start setting up all the equipment. One of the two Biofuel Generators needs to power the Electric Furnace; the two worklamps and the dehumidifier can run off of the other one. (If you need help with wiring, check out our guide on Electricity for detailed instructions.)
Once everything is deployed and powered, you'll get a notification that the mission is complete, and you can head back to the dropship.
---
We hope this SANDBOX guide was helpful! Drop us a line in the comments below if you have questions or suggestions.