Game:
ICARUS
Content Type:
Gaming Guides
In SNOWCRASH, you'll be recovering supply-dropped equipment for the ACS faction, since the people they sent disappeared — but I'm sure that won't happen to you. In this guide, we'll list the relevant details of the mission, followed by a step-by-step walkthrough.
Prospect Details
Approximate time to complete: 45 minutes
Difficulty: Easy ()
Recommended Level: 10
Objectives:

Find the supply pod at location gamma

Locate the supply pod
Retrieve component

Find the supply pod at location bravo

Locate the supply pod
Retrieve component

Find the supply pod at location tango

Locate the supply pod
Retrieve component
Rewards
300
Variants Modifiers
Prospect Notes
This is one of the easier prospects in the game. All you have to do is make your way to each supply pod and retrieve the component within. Once you have all three, you'll be able to craft an "Unknown Device", and then your mission will be complete. If you run into a large wolfpack in the Arctic you might struggle to stay alive, but otherwise this one's a breeze.
Preparing for SNOWCRASH
To survive in the Arctic, you'll need the following:
Because this mission mostly just involves running, the

Mass Dampener Module can be used to speed up your hiking significantly. Bringing a

Canteen is also a good idea, since it will save you from having to collect

Berries before entering the Arctic.
Mission Walkthrough
Step 1: Preparing for the Arctic
You'll land in the forest, south of the Arctic biome you'll need to head into. Prepare for the Arctic: Craft a bow and arrows, a knife, and

Cloth Armor once you have the materials. Hunt until you have at least 5

Cooked Meat, and try to find some

Watermelon,

Squash, or other stamina increasing food as well. Craft a

Campfire and get some food cookin', and also start crafting

Bone Arrows as you kill animals. Once you've got a decent supply of food, a portable shelter + campfire + repair hammer, and at least a couple dozen Bone Arrows, you're ready to head into the Arctic.
It's also not a bad idea to bring extra fuel for your fire with you — there's plenty of wood in the Arctic, but you don't want to have to gather it during a snowstorm. If you didn't bring a

Canteen with you, you'll either need to craft a

Waterskin, or else collect at least 1 full stack of

Berries before you enter the Arctic.
Optionally, craft a

Bedroll — you can set up your portable shelter and Bedroll, then set it as a respawn point, if you run into more wolves than you think you had handle (you'll be able to respawn if you mess up).
Step 2: The Three Supply Pods
Set a waypoint in the upper-right corner of I-11, then head north into the Arctic via the pass I-13/J-13 border. There are frequently packs of wolves in this transition zone, so try to sneak past them — if you don't feel that you'll be able to, position yourself near a rock or rise if possible, then start picking them off from stealth. Often, shooting one will aggro the rest, so be ready to defend yourself from the whole pack (this is why sneaking past is usually the better choice).
Every 5 minutes or so, you can stop to warm up — set up your campfire, cook some meat, and melt some

Ice for your canteen. If a storm comes, set up your shelter and wait it out. Don't forget to keep an eye on your roof; if it starts cracking, remove the roof and replace it before the snow breaks it.
After a few minutes of hiking, you'll reach the first supply pod. Interact with it by pressing [F], and place the component in your inventory.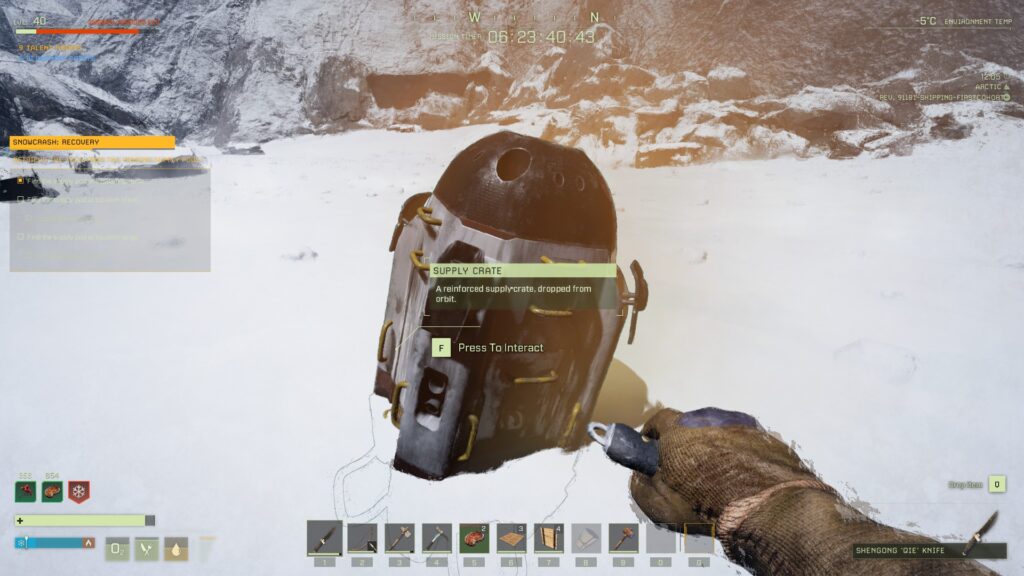 Set a new waypoint on the eastern edge of F-11, then continue west. There's a narrow section in H-11 that can sometimes allow wolves to surprise you, but as long as you sneak around corners you shouldn't have too much trouble. Cheat a bit north as you approach the waypoint in F-11, as you'll want to make your way around the hill and to the frozen lake (see mission map above). Interact with the second supply pod and grab the component.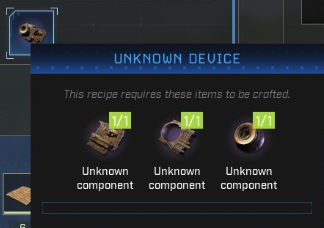 Next, set another waypoint on the eastern edge of F-8 and start heading north. Once you enter G-8, head northwest to the pass in F-8, where you'll find the third and final supply pod. Removing the component will — after a brief delay — allow you to craft the "Unknown Device", which should be the last item in your Character Crafting menu. Once it's crafted, all your objectives should now be completed, and you can head back to your dropship.
---
We hope this guide for SNOWCRASH was helpful! If you have any questions or suggestions, drop 'em in the comments below.