Game:
ICARUS
Content Type:
Gaming News
Date: January 27, 2023
It's Week 60, and this time RocketWerkz overhauled a system so pervasive that it might change how we experience each mission and open world build. The entire weather system got an overhaul, from the way storms vary over time and between biomes to how they are forecast to the player. A new backup system was also implemented to help players recover from file corruption issues. Read on to get a closer look at these major changes.
New Weather System

In the past, storms on Icarus progressed predictably while appearing almost instantaneously. There was little time to prepare, but you knew what kind of storm was brewing and exactly how the severity would progress. Such pampered prospectors we were!
No longer do prospectors get to know what kind of storm is coming. Nor is the type of storm going to be consistent or continuous. Weather predictions will not be precisely accurate, either. In exchange, the new weather forecast meter will predict (with some inaccuracy) how storm intensity will change over the following 2 in-game hours, allowing for more preparation. The storm meter will continue to suggest the duration of different storm intensities, as in the graphic below.

These new weather patterns will be synchronized across all biomes: the type of storm (sandstorm vs. rain storm vs. blizzard) will vary, but the intensity will not. Weather patterns now have 7 levels of intensity, as depicted in the chart below. This clears up any confusion about the difference between "heavy" and "severe", or black and dark red. The difficulty mode will continue to change the severity of storms, but some damaging storms will occur even in Easy mode.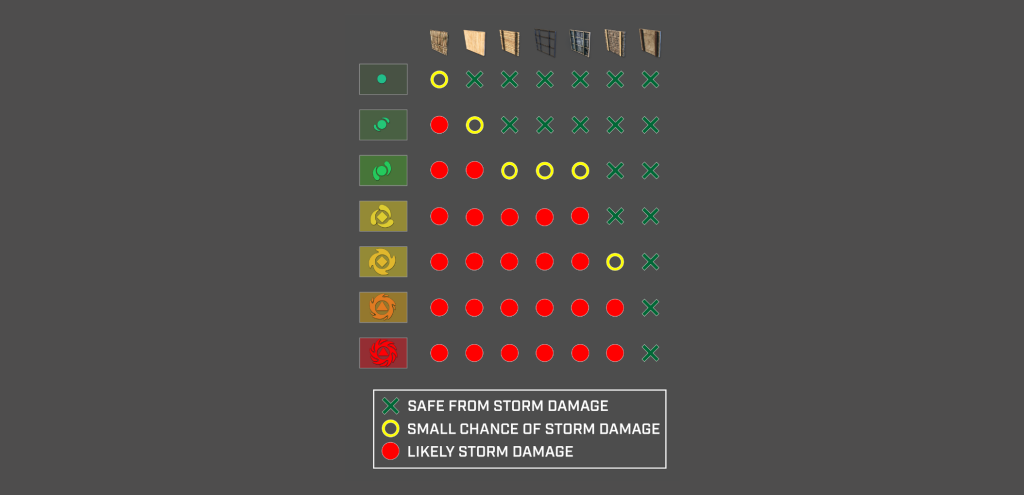 An important change is that concrete structures are now immune to all weather damage, which allows prospectors to build confidently all across an open world map, even in Hard mode.
Weather is a major system that defines the feel of each mission, so this change has the potential to provide a fresh experience for those interested in a new playthrough. RocketWerkz will be monitoring user feedback on the missions and forecasts and tweak this new system as needed.

New Local Data Backup System
Character data, profile data, and active prospect data are now be backed up in 30-minute intervals on your system. These backups are stored in the same folder as the current game data, and labeled with the ".backup" extension.
In case of a file corruption issue due to a system or game crash, for example, the game data will be restored from the most recent backup. This limits the progress lost to no more than 30 minutes. Up to 5 hours of backups will be kept, and players can revert to earlier backups by deleting the current data and removing the ".backup" extension from the data they want restored.

Interesting Future Content
Now that detailed patch notes are being published again, players can get a forecast of content yet to come. There are a few interesting developments to take note of:
A new fishing workbench is in the works, with once side able to craft rods and lures, and the other able to process your catch.
A lot of work is being done on the story and missions in the upcoming Prometheus expansion, including a set piece called "Sol's Hideout".
Check out the detailed patch notes below for more details on current and future changes to ICARUS!
Detailed Patch Notes (v1.2.35.106983)