Game:
ICARUS
Content Type:
Gaming News
Date: December 9, 2022
ICARUS had a somewhat of a rough start, if its old Steam reviews are to serve as any sort of an indicator. RocketWerkz went for a rather ambitious concept and developed a survival game around the idea of limited resources, unforgiving environment, and — most notably — a pressing time limit.
Releasing ICARUS has been the studio's coming of age. As I've mentioned before the Beta weekends last year, prior to our release, were a mixed blessing. On one hand, it demonstrated a significant ground of players eager for our content – but it also outlined problems with both the concept as well as the game itself.

– Dean Hall, CEO
However, with the consistent (like, "one update a week" kind of consistent) schedule of updates, addressing bugs one set at a time, and introducing new content in packs (stuff like farming, new meats and ways of cooking them, rustic furniture pack, and deep mining with related challenges) has seemed to paid off. ICARUS seems to be getting a much better reception, and the game's ability to retain its loyal fanbase speaks volumes about the experience it offers.
Here are the notable changes over the last year that the devs themselves chose to list:
Adding insurance to prospects in Week Six so players could test harder missions without fear of losing their characters
Adding Deep Ore Deposits in Week Ten for late-game valuable resource sourcing
Adding Talent Respec in Week Thirteen, allowing players to rebuild their characters as they unlock new skills
Changing the real-life timer to an in-game timer in Week Seventeen
Adding World Bosses in Week Twenty Three
Adding the Styx Map and Missions Pack in Week Twenty Five
Adding Horde Mode in Week Twenty Nine
Adding the Moa and Buffalo Mounts in Week Forty Two
Adding Open World in Week Forty Seven, a full persistent survival experience
Changed to a bigger, bolder Icarus logo
This One Year Anniversary Update is a testament to what has seemed to be the RocketWerkz's mission thus far: keep pushing. Try out new things, implement features the community asks about that seem to make the most sense, and talk with the community. In my honest opinion, that last bit, along with the many events RocketWerkz hosted for its fans, has been the most impressive feature of the ICARUS experience.
Week 53 Update Highlights
Data Decentralization
All cloud data migrated to local computers, combining offline and online modes.
Open world and outpost sessions preserved, while all progress on prospects is reset. Character gear will not be lost. If players still need to pull their characters out of prospects (and maybe still complete them, if desired), they can swap to the "Centralized" branch of the game on Steam. This will only be available for a limited time.
Go to:
Steam -> Library -> ICARUS -> [right-click] -> Properties -> Betas -> [select "centralized - 1.2.27 (Pre-Data Decentralization)" from drop-down menu]
Multiplayer sessions will act like dedicated servers — the original host (who, of course, holds the data) must be online for other players to join.
In order to share prospect saves to explore someone else's prospect when they are offline, they can be copied and shared manually.
They are stored locally at:
C:\ > Users > (your profile) > AppData > Local > Icarus > Saved > PlayerData > (your Steam ID) > Prospects
or
%LocalAppData%/Icarus/Saved/PlayerData/[SteamId]/Prospect
Other Changes
Exotics are no longer returned on dropship. Craft Orbital Exchange interface to call down a cargo pod for exotics. When it returns, you immediately get credited with the exotics on board.
Characters are not tied to any particular mission. The same character can participate in multiple active prospects simultaneously, whether solo or multiplayer. Characters cannot be lost on any prospect.
Mission rewards are granted immediately on completion of mission, and insurance only insures loadout items as characters cannot be lost. Mission timeout results in loss of workshop items in loadout. Insured items can be reclaimed after 5 real-time days.
Workshop items are not auto-repaired in orbit. Workshop items require 10 Ren each to repair in the orbital inventory. They can still be repaired in the Tier 3 workbench in a prospect using a repair kit.
Also worth mentioning is that, with the decentralization finally being completed this week, a Dedicated Servers Beta officially begins. Support for this will be provided on the #dedicated-server-beta channel on the official ICARUS Discord server.
Recent Steam Reviews
Gamerunner Dean Hall's assessment of the game and the year-long development effort by RocketWerkz is both critical, honest, and promising. While ICARUS certainly debuted with Mixed (66% positive overall) reviews, every major content update yielded a mostly positive bump.
The most dramatic burst has been in the past month (87% positive recent reviews) as the studio released the Open World mode (no-timer, unrestricted development) and expanded it with dynamic missions. They did this all while releasing new timed missions, completing and refining the models in the planetary tech tree, and polishing the transition from cloud-based to locally-stored saves. Let us not forget all the posts on work toward the upcoming Prometheus DLC.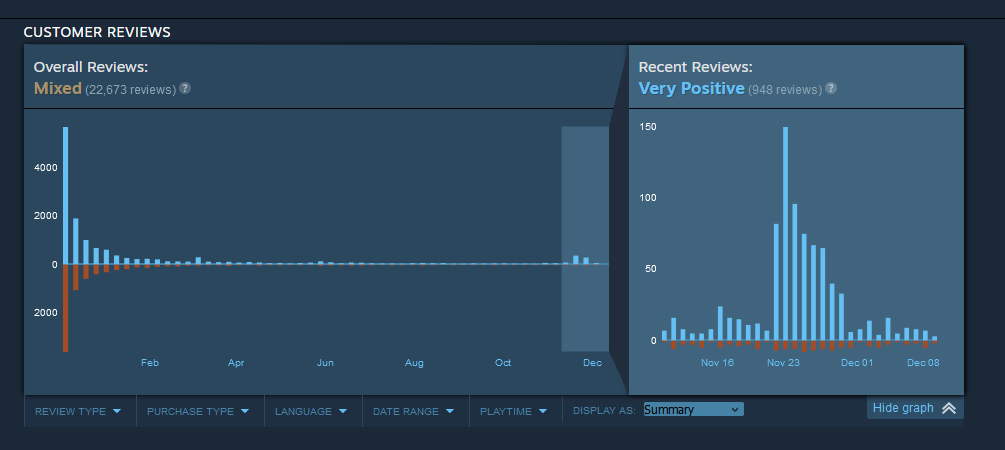 Full Changelog (v1.2.28.105394)