Game:
ICARUS
Content Type:
Gaming Guides
In ICARUS, you'll spend most of your time completing prospects (missions) for the various factions attempting to extract resources from the eponymous planet. These range from simple exploration jobs to long and dangerous treks to recover downed satellites or rare exotics.
Unlocking Missions
Prospects are part of a tree, and you'll need to complete prerequisite prospects in order to unlock subsequent ones. Most prospects have a recommended level; while it's possible to complete prospects while below the recommended level, it is significantly more challenging.
Mission Types
Different missions require different prep and strategies. We'll continue adding specific mission walkthroughs to this section, so watch this space! If there's a mission you're stuck on, please let us know so we can prioritize creating a walkthrough for that mission.
Click a mission type to see details and walkthroughs.
Hardcore Missions
Note: Given the bugs currently present in ICARUS, you run the very real risk of permanently losing your prospector through no fault of your own while running a hardcore mission. We suggest using a back-up character for Hardcore Missions for the time being.
These more challenging missions are for prospectors who want a true survival challenge. These missions are much harder, but also offer higher experience gains and rewards. Numerous aspects of the missions are made more difficult, especially predators' health, speed, and ability to detect you. These missions also tend to have short timers, requiring prospectors to act quickly and efficiently to complete them.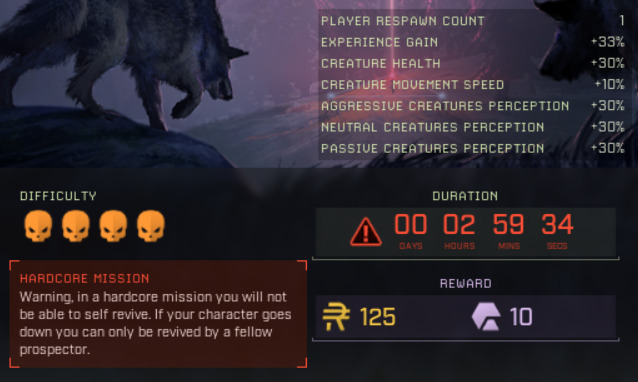 It's easy to identify Hardcore missions on the mission select screen by their bright red border. They usually unlock alongside the regular version of the mission.

Perhaps the biggest challenge in hardcore missions is the number of times you can be revived by teammates: usually 1 revive per player, per mission. Additionally, you cannot revive at a bed in Hardcore Missions. This is especially an issue for solo players, who then are basically playing with no extra lives. However, there is a solution for solo players (or groups that get wrecked).
How to Revive in Hardcore Missions
If you're rendered unconscious in a Hardcore Mission, someone else in your prospect can revive you if you aren't out of respawns. If you're alone, or if your entire group gets knocked out, you can invite someone to your prospect (as long as it isn't full) and have them revive you. The official Discord's #lfg channel is a great place to ask for help.
If you can't get someone to revive you, you can also use the "Remove from Prospects" button on the Character Select screen. Fair warning: this doesn't always work, and you will lose any Workshop items you brought with you. This option will likely be removed in a future update.
Insurance
Some ICARUS missions have drop insurance. What this means is that if your character is still on the when went the mission timer runs out, that character won't be lost forever like it usually is. Instead, your character will be returned safe and sound to Orbit, and you'll be able to send them out on another mission.

Tips 'n Tricks
By double-clicking on the map, you can create a waypoint , which will then show up on your compass. This is a great way to track objectives without having to constantly check your map.
---
We hope this guide on ICARUS' missions was helpful! If you have any questions or suggestions, just use the comments box below.