Game:
ICARUS
Content Type:
Gaming Guides
In ICARUS, you'll spend most of your time completing prospects (missions) for the various factions attempting to extract resources from the eponymous planet. These range from simple exploration jobs to long and dangerous treks to recover downed satellites or rare exotics.
Unlocking Missions
Prospects are part of a Mission Tree, and you'll need to complete prerequisite prospects in order to unlock subsequent ones. The missions you unlock for one character will be accessible to all your other characters. This allows you to choose which of your characters is most appropriate for each mission.

The missions are grouped by common Icarus geographic region, and completing Expedition missions will open up new regions for you to explore. You do not need to complete all the prospects in a region before you move on to the next region.
Minimum Character Level
Currently, ICARUS does not have character level requirements or recommendations for any mission. However, while prospects do not have a minimum level, they have a level below which you will not have access to the recipes needed to complete that mission. A still higher level could be recommended based on the prospector stats and equipment that make completing the mission easier.
Recommended levels are provided in the Mission Walkthroughs below. While it's possible to complete prospects while below the recommended level, it is significantly more challenging.
Mission Types
Different missions require different prep and strategies. If there's a mission you're stuck on, please let us know in the comments.
Click a mission type to see details and walkthroughs.
Difficulty Settings
Presently, all of the missions in ICARUS offer the same set of difficulty settings, so the player can tailor the entirety of ICARUS content to their skill level. There are three difficulty settings: a base difficulty level that must be selected (Easy, Medium, or Hard) and two special options (Hardcore and Insurance). Each choice affects the rewards for completing the mission.
Easy Mode: Reduces overall prospect difficulty and experience gain
Medium Mode: The default ICARUS difficulty
Hard Mode: Increases overall prospect difficulty, experience gain, and limits self-respawns to 2
Hardcore Mode (optional): No self-respawns allowed. Must be revived by a fellow prospector
Insurance Mode (optional): Your character will be returned safely to orbit if the mission ends in failure (i.e. the mission timer runs out or you terminate the mission before returning to orbit)
More details on mission rewards and each of these modifiers is provided in the following sections: Easy and Hard, Hardcore, and Insurance Modes.
Mission Rewards
When you click on a prospect in the mission selection screen, the Default Rewards listed are for completing the prospect on Medium difficulty with no special Modes. Selecting Easy Mode will subtract 50% of the Default Rewards from the Total, while Hard Mode will add 50% of the Default Rewards to the Total. The Hardcore Mode will add 50% of the Default Rewards to the Total. On the other hand, the Insurance Mode will reduce the Total Rewards by 33%, or one-third. The Total Rewards is displayed on the mission select screen so that you will know what to expect to earn before you claim the prospect.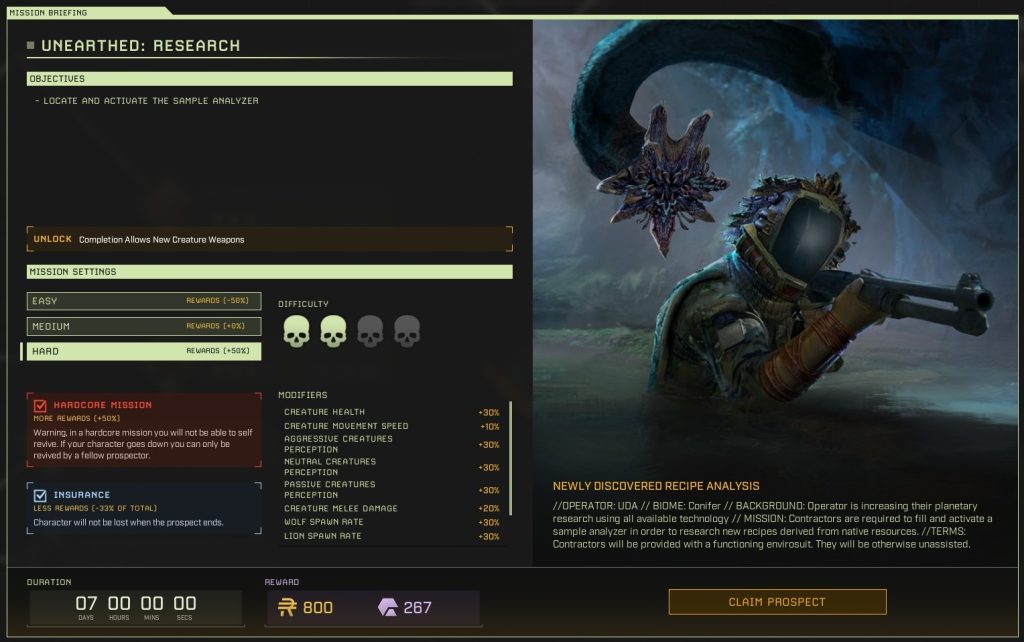 Easy Mode, Hard Mode
Note: Easy and Hard Modes currently apply the same difficulty modifiers to all of the prospects. This may change in future updates.
The modifiers affect aggressive animal stats (max health, movement speed, spawn rate) as well as the detection radius for passive, neutral, and aggressive animals. The spawn rate of certain aggressive animals is also modified. Taking on a Harder/Easier challenge also increases/decreases the rate that experience is gained.
For Hard Mode, the number of respawns is also limited. If you run out of respawns, you will have to get another prospector to revive you. See the How to Revive in Hardcore Mode section below for tips on how to ask for a rescue using the official ICARUS Discord server.
The modifier values for Easy and Hard Modes are listed below.
Easy Mode:
Creature health: -50%
Creature movement speed: -10%
Bear spawn rate: -50%
Lion spawn rate: -10%
Polar bear spawn rate: -50%
Wolf spawn rate: -10%
Aggressive creatures perception: -50%
Neutral creatures perception: -50%
Passive creatures perception: -50%
Experience gain: -25%
Hard Mode:
Creature health: +30%
Creature movement speed: +10%
Aggressive creatures perception: +30%
Neutral creatures perception: +30%
Passive creatures perception: +30%
Scorpion spawn rate: +30%
Lion spawn rate: +30%
Wolf spawn rate: +30%
Experience gain: +25%
Player respawn count: 3 (This includes your initial spawn, so in reality Hard Mode limits self-respawns to 2)
Hardcore Mode
This special Mode is optional and provides prospectors with a true survival challenge. It does not limit the number of revives by other prospectors. However, you cannot self-respawn at a bed; you can only be revived by other prospectors. This is especially an issue for solo players, who then are basically playing with no extra lives. However, there is a solution for solo players (or groups that get wrecked) — ask for help.

How to Revive in Hardcore Mode
If you're rendered unconscious on a prospect with the Hardcore Mode activated, someone else in your prospect can revive you. If you're alone, or if your entire group gets knocked out, you can invite someone to your prospect (as long as it isn't full) and have them revive you. The official Discord's #lfg channel is a great place to ask for help.
To allow others to join, make sure you set the prospect privacy type to "Steam Friends Only" when you first claim the prospect. This can only be set when you claim the prospect, before you descend to the planet. (If instead you want a true permadeath solo challenge, set the privacy type to "Private".)
If you can't get someone to revive you, you can also use the "Remove from Prospects" button on the Character Select screen. Fair warning: this doesn't always work, and you will lose any Workshop items you brought with you. This option will likely be removed in a future update.
Insurance Mode

The Insurance Mode is usually optional and protects your character from the consequences of being stranded on Icarus. What this means is that if your character is still on Icarus when went the mission timer runs out, that character won't be lost forever like it usually is. Instead, your character will be returned safe and sound to Orbit, and you'll be able to send them out on another mission.

Tips 'n Tricks
By double-clicking on the map, you can create a waypoint, which will then show up on your compass. This is a great way to track objectives without having to constantly check your map.
For missions without completion rewards, such as Exploration missions, you can select the Insurance Mode without penalty. Why not protect your character's progress for free?
The mission tree is very large. You can zoom in and out using the mouse wheel and pan by clicking-and-holding the right mouse button (RMB).
You have to remove workshop items from the loadout of one character in order to add them to another character. They will not show up in the Loadout inventory until they are removed.
The workshop Canteen and Oxygen Tank are the first two workshop items for a reason. They are cheap to research and craft (or replace), and once filled you often will not have to worry about water or oxygen for the rest of a mission.
---
We hope this guide on ICARUS' missions was helpful! If you have any questions or suggestions, just use the comments box below.