Game:
ICARUS
Content Type:
Gaming News
Date: September 14, 2021
The hype is certainly building around RocketWerkz's upcoming survival game, Icarus. Headed by DayZ creator Dean Hall, the New Zealand-based studio looks to cap off their sixth year in business with the release of their most ambitious title to date. Featuring hand-made maps and a new (and futuristic) take on the survival-crafting genre, Icarus has you embarking on a variety of timed, PvE missions to the planet's surface, building a new base each time you drop.
This session-based, PvE-only gameplay is unlike anything we've seen in survival crafting games before, and seems like a great solution for the issue many players had with games like ARK and Rust — namely, their bases being raided because they were foolish enough to log off for work, school, or sleep. Additionally, this design choice means you get to experience the entire survival crafting loop, from rock-on-stick to fancy tech, every time you start a new mission.
The first few beta weekends seem to have gone relatively well, with players enjoying the content they've experienced so far. Former CS:GO pro, Shroud, recently said on stream that Icarus will become "one of the greatest survival games ever made." The streamer went on to suggest that anyone who played the game for five minutes would come to the same conclusion. Given his popularity, it seems quite likely that he can make such a thing true simply by believing it himself. The Steamcharts numbers, while not as impressive as the stats for similar titles like Valheim, are still nothing to shake a stick at.
Beta access (which can be obtained by pre-ordering the game on Steam) has been sporadic, with the game only open for players every other weekend from the 28th of August until the 7th of November. Each Beta weekend brings new features and/or biomes; the Arctic biome is the focus of the new content we'll get to see firsthand on September 25th and 26th.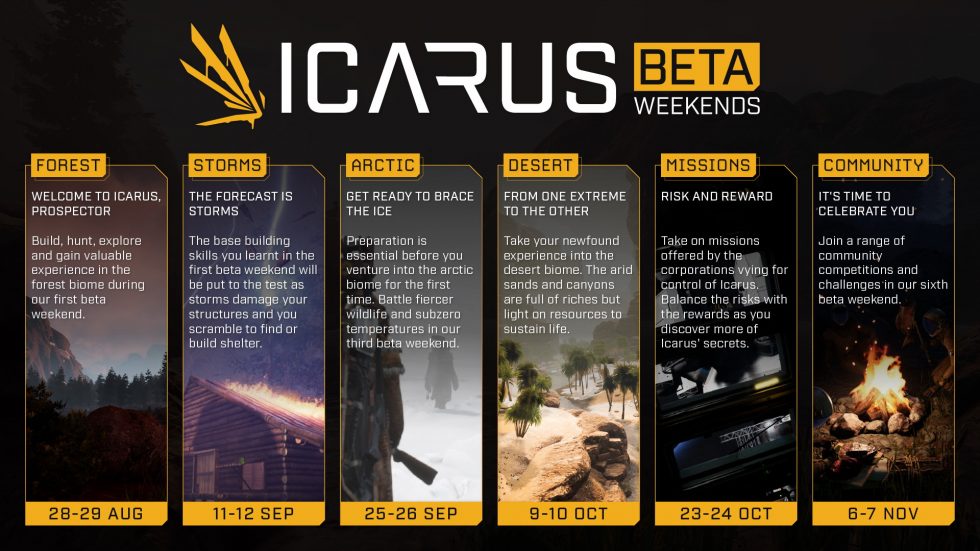 Not only will players have to contend with the harsher elements this new biome brings, but the wildlife will also present more of a challenge than it does in the Forest biome. Given how our very own Mila struggled to stay alive in the relatively idyllic Forest setting, we can only assume that keeping yourself safe in the Arctic will be a bit of a struggle.
---
Excited about Icarus? Sick and tired of survival crafting games? Let us know in the comments!