Game:
ICARUS
Content Type:
Gaming News
Date: October 21, 2021
They say you can't go home again, but that apparently no longer applies to ICARUS Beta Weekends. This Beta Weekend marks the fifth of a planned seven, and includes not only a new Biome and mission, but the option for Prospectors to attempt the Broken Arrow mission again if they so choose. From the mission briefing, it sounds like this weekend's challenges will easily be the toughest yet.
First things first: This Beta Weekend begins Friday, October 22nd at 5pm PDT, and ends Monday, October 25th at 10pm PDT. Three days is a decent chunk of time, but thanks to either polar bears, bugs (the software kind), or some combination of the two, many players weren't able to complete the previous mission with an equally long BW4. Presumably, the Desert mission will be even harder to complete, but Prospectors should come into this one more experienced — it will be interesting to see how the community does in this latest prospect.
Mission Briefing
The Desert biome's mission is entitled Blacksand, and is a "simple" survey mission, gathering data on the area for the UDA. Ominously, "few have returned" from the Desert biome, so you'll want to make sure you're ready for arid conditions if you'd like to be one of the few who makes it back alive. RocketWerkz has stated that the mission will require someone on your team will need to be at least level 25, and that it will also require specific recipes (so save those blueprint points).
In addition to needing a high-level Prospector, there are a few other things to keep in mind heading into Beta Weekend #5:
Be ready for the heat

– You'll need more water than usual, so you should to create a Canteen if you can — that leaky Waterskin isn't going to cut it. You'll also want to wear appropriate armor. Cloth Armor will keep you cool, but it won't stand up to fangs or claws very well — Leather Armor offers more protection but actually makes you less resistant to heat; same with Carbon Armor. The Ghillie Armor can also be an OK option, assuming the bug that prevented players from unlocking it has been fixed.

Be ready for the cold

– The Desert gets cold at night, so you'll want to bring some kind of portable shelter, and some warmer clothes if you plan on being out at after dark.

Be ready for serious storms

– You might be used to ignoring storm warnings in the Forest biome, but the Desert has sand storms and heat waves that will force you to find shelter or suffer the consequences.
Check out our Desert Biome guide for some more tips.
There will also be new wildlife to look out for, some of which will likely be aggressive. The animals already revealed appear to be elephants, bongos, and jaguars, but who knows what else the sands may conceal.
The new playable area has also been revealed: It appears you'll need to head north from the Forest and find one of a handful of tunnels leading to the Desert. Careful in those passageways — they apparently aren't as stable as they look.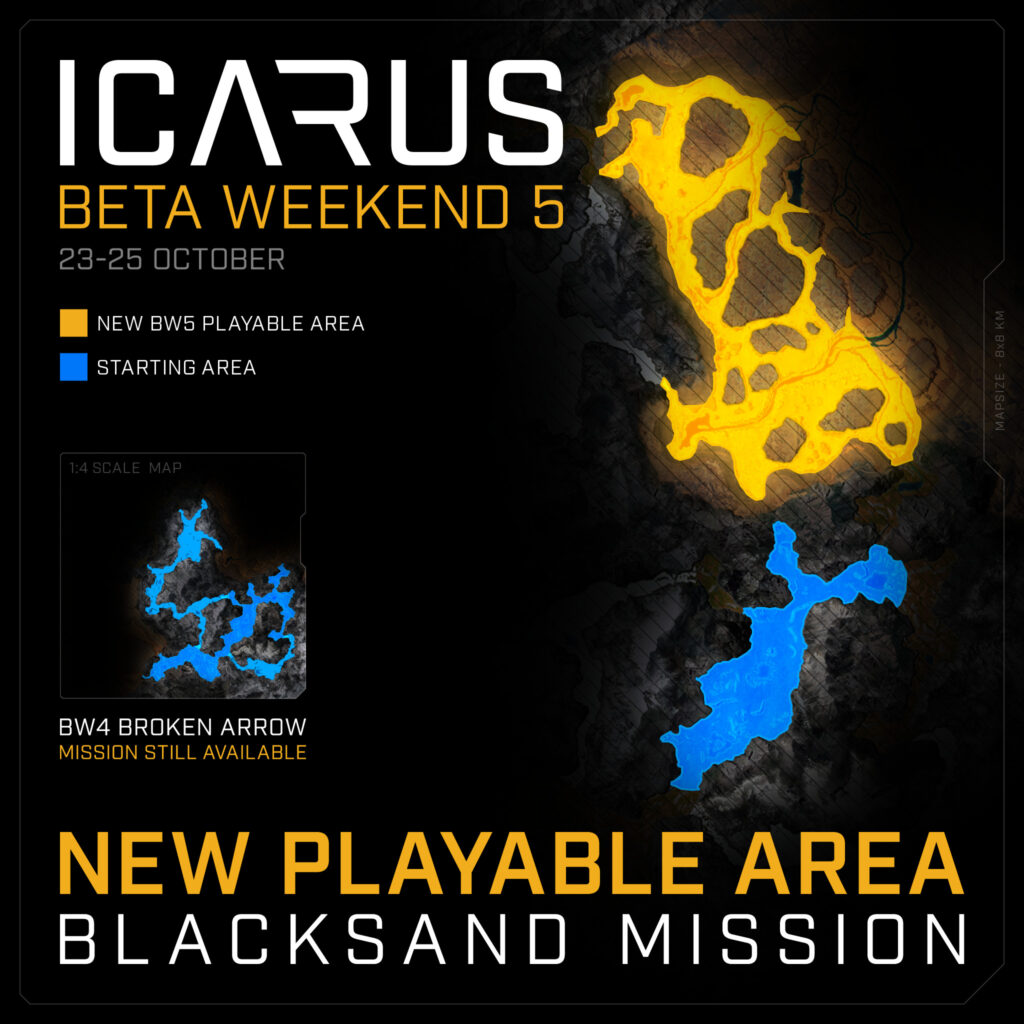 If you were hoping to spend some more time in the snow, you can always choose to attempt Beta Weekend 4's Broken Arrow mission again, though you'll have to start a separate Prospect if you do want to venture into the new biome.
Changes and Bug Fixes
The Beta Weekend will also bring with it bug fixes and QoL improvements. You can check them all out below, but here are some of the more interesting/exciting ones:
Firearms have been rebalanced

, with the Hunting Rifle moved to level 30. The tech tree now includes the new Bolt Action Rifle, and there's also a new Incendiery Rifle Round.

Animals will now leave trails of blood

, making for a more interesting and realistic tracking experience.

Rabbits will provide less fur

, so good luck making a Bedroll for your friend you're introducing to the game.

Steel and Iron Repair Hammers

have been added.
---
Excited about Beta Weekend 5? Have an irrational dislike of coarse, rough sand? Let us know in the comments!