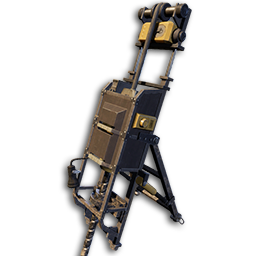 Electric Extractor
Game: ICARUS
A portable, powered mining unit powered by electricity for extracting exotics deposits.
Mid-tier Extractor deployable. Power with Electricity (requires 1,500 to operate). Used to drill Exotic Veins.
Has the following effects:
+33% Extractor Drill Speed
Crafted at

Fabricator.
Required Elements:

Iron Ingot (20),

Electronics (5)
Weight: 2.0 Kg
Durability: 2,500
Rate of Extraction: 20 sec/

Exotic
The Electric Extractor comes with the same drill speed as the top-tier IC-001 Extractor (33% Drill Speed), though the Electric Extractor's operation cost may be cheaper. Since it only requires 1,500 Electricity to operate, a Solar Panel can power 3 of these extractors simultaneously (which is the current limit per Exotic vein).
Keep in mind that Extractors still attract wildlife within normal detection radius, even if they do so far less than the Radars. Animal attacks will damage them.
Check out our Exotics Guide for more tips!