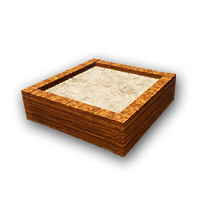 Crop Plot
Game: ICARUS
A raised planting bed brings the food to you, slowly.
Allows you to plant and grow some foods.
Crafted at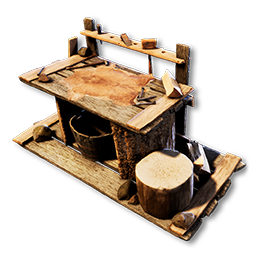 Crafting Bench.
A Crop Plot can take anywhere between 30 minutes to a little more than an hour to produce a mature plant, depending on the type of a plant you are growing.
Wheat, Berries, and Beans take about 33 minutes to mature (in the sun, without bonuses) and yield 2-5 plants. (Berries yield 2-9 and have a chance to produce 13-15 Fiber).
Carrots and Mushrooms take about 42 minutes to mature (in the sun, without bonuses) and yield 2-5 plants.
Most of the other crops take 1 hour and 5 minutes to mature, but can yield up to 7 plants.
How to Farm
Once you've crafted a Crop Plot, deploy it anywhere you like (for now, plants don't seem to need light to grow, even if their grow time is boosted in the sun). Then, press [F] to open the Crop Plot's inventory, and then drag whatever plant you want to grow into the "Seed" section (bottom half) of the Crop Plot's inventory.
Inside the same window, check whether the Crop Plot recognizes that it is in the sun before planting. (Grow speed is greatly slowed down in the shade). Same goes for when you are trying to grow under Greenhouse conditions (glass buildables).
There is no way to "pick up" the seed once you start growing — you will only have an option to clear the plot and start over.
You can use plants from farming packets to grow non-native plants. Remember that you can also grow herbs, like

Lily.
Check out our dedicated Farming Guide for more information on grow times, talents, and greenhouse growing.
Current Issues
Greenhouse conditions only reduce the grow time by 33%, not 50%.
At the Outpost, extracting has a chance of resetting and locking your Crop Plots. Clear one of the plots out and check again — it might debug the rest.
Plants left in the "seed" slot do not get replanted automatically, while continuing to spoil (unless you have the Fresh is Best talent).
This can be used to your advantage: having a small part of a Greenhouse, like a Glass Wall, in close proximity to Crop Plots is enough to trigger the Greenhouse conditions.