Game:
ICARUS
Content Type:
Gaming News
Date: March 18, 2022
What do we want? Caveworm corpses! When do we want them? In ICARUS Update Week Fifteen, "The Hunt"! Oh, and in addition to Caveworms stopping their existence as some ethereal creatures that don't take critical hits or drop any remains, they will now also poison sacs and drop scales, which you can use to craft special weapons! Well, that is, if you help UDA in figuring out how to obtain these from Caveworm bodies in the new Research mission first.
Oh, and have we mentioned Prime Meat being reworked into several new types of rare meats as well? And what about the new meat drying rack for these meats to turn them into delicious jerky for your travels? Well, strap in, dear prospectors, because we have quite a bit to discuss!
Caveworm Content: New Mission, Drops, Craftables
As we have mentioned above: Caveworms now leave remains behind! (Disgusting-looking, too…) And, if you would like to be able to gather Caveworm Scales from these, hop into the new UNEARTHED: Research mission — after you help UDA with their "sample analyzer," you will get to keep a copy of the new recipes: namely, the Bow, Knife, and Spear made from Caveworm scales!
This new grade of weapons will inflict your targets with poison on hit! Definitely useful for chasing prey and longer battles.

Heaven for Meatlover's Tastebuds, Hell for the Inventory Space
After a tiring day of hunting, our poor prospectors have been resigned to eating the same generic flavor of

Cooked Meat, the celebrated harvest of

Prime Meat long gone, quickly spoiled. Well, today is the day to fire up the Orbital Grill: we have a lineup of juicy Boar Bacon, Fatty T-Bones, Wild Game Ribs, and Giant Steaks, we have meats both Stringy and Soft, meats White and Red!
You know what? Ditch that Campfire — we can do even better! Why not dry your meat to a satisfying crisp on a Drying Rack and bring it with you on your adventures? Now that's a smart move.

Starting with this update, Boars will drop White Meat instead of the red

Raw Meat (and there are more basic meats incoming in future updates), and other animals will have a chance to drop a rare piece of meat that corresponds to their type: from Boar Bacon, to Baby Deer and Rabbit Soft Meat, to Game Meat from Buffalo, Large Deer, and Chamois, to Stringy Meat from Wolves and Jaguars.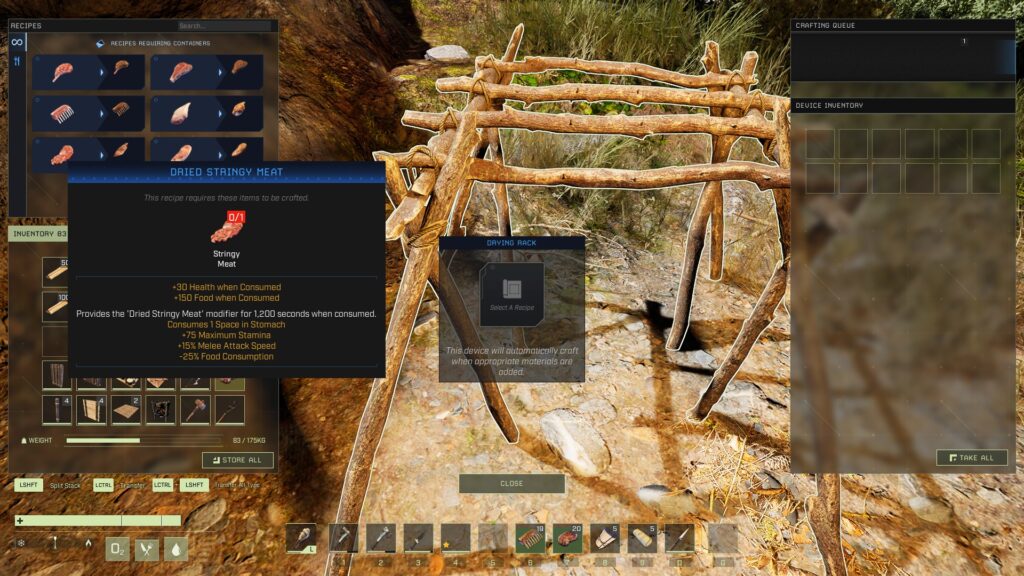 CRYOGENIC: Research Mission
And, let's wrap this one up with the mention of a new mission from Sinotai — the CRYOGENIC: Research, with a hardcore variant. Your goal with this one will be to gather info on "potential exotic mutation" in the animals on the surface of Icarus. Your targets are some preserved creatures, which may prove to be a bit difficult to access…
Oh, hey, by the way — the Water Pump that was added last week now turns on automatically when powered. You can see these and a few more additions and fixes in the full patch notes below. Hope you enjoy your new animal drops, prospectors, and happy hunting!