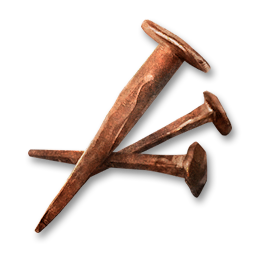 Copper Nails
Game: ICARUS
Copper Nails are an element in crafting recipes, and are created at the Anvil Bench.
Required Elements – Copper Ingot (1) to create 10 Copper Nails.
Copper Nails are a prerequisite for doing anything with Wood in Tech Tier 2, since they are part of the Carpentry Bench recipe (as well as the other Wood recipes in Tier 2).
The following items require Copper Nails:
| | | | |
| --- | --- | --- | --- |
| | | |   |
| Wood Cupboard | 2 | Wood (40, Leather (8), Copper Nails (4), Rope (8) |   |
| Ice Box | 2 | Wood (40), Leather (24), Rope (8), Iron Ingot (8), Copper Nails (4) |   |
| Trophy Bench | 2 | Wood (60), Copper Nails (50), Iron Ingot (2), Rope (12) |   |
| Carpentry Bench | 2 | Wood (80), Rope (12), Copper Nails (120) |   |
| Wood Table | 2 | Refined Wood (10), Copper Nails (10) |   |
| Small Interior Wood Crate | 2 | Rope (4), Refined Wood (240), Copper Nails (5) |   |
| Medium Interior Wood Crate | 2 | Rope (8), Refined Wood (32), Copper Nails (10) |   |
| Interior Wood Cupboard | 2 | Leather (8), Refined Wood (40), Copper Nails (20), Rope (8) |   |
| Wooden Chair | 2 | Refined Wood (6), Copper Nails (5) |   |
| Wood Bed | 2 | Refined Wood (20), Fur (30), Leather (10), Copper Nails (10) |   |
| Small Wood Sign | 2 | Refined Wood (12), Rope (2), Copper Nails (2) |   |
| Interior Wood Beam | 2 | Refined Wood (6), Copper Nails (4) |   |
| Interior Wood Floor | 2 | Refined Wood (20), Copper Nails (4) |   |
| Interior Wood Floor Trapdoor | 2 | Refined Wood (20), Copper Nails (4) |   |
| Interior Wood Trapdoor | 2 | Rope (4), Refined Wood (10), Copper Nails (2) |   |
| Interior Wood Wall | 2 | Refined Wood (20), Copper Nails (4) |   |
| Interior Wood Railing | 2 | Refined Wood (8), Copper Nails (4) |   |
| Interior Wood Wall Angled | 2 | Refined Wood (10), Copper Nails (2) |   |
| Interior Wood Door | 2 | Rope (8). Refined Wood (10), Copper Nails (6) |   |
| Interior Wood Ramp | 2 | Refined Wood (20), Copper Nails (4) |   |
| Interior Wood Stairs | 2 | Refined Wood (20), Copper Nails (4) |   |
| Interior Wood Ladder | 2 | Refined Wood (10), Copper Nails (6) |   |
| Kitchen Bench | 3 | Refined Wood (30), Iron Ingot (8), Epoxy (20), Copper Nails (20) |   |
| Gas Stove | 3 | Refined Wood (30), Epoxy (20), Copper Nails (4), Steel Ingot (24), Steel Screws (8) |   |
| Kitchen Storage Block | 3 | Refined Wood (30), Iron Ingot (2), Epoxy (20), Copper Nails (12) |   |
| Glassworking Bench | 3 | Iron Ingot (24), Wood (10), Epoxy (6), Rope (6), Copper Nails (40) |   |