Game:
The Callisto Protocol
Content Type:
Gaming Guides
Welcome to EIP's walkthrough for The Callisto Protocol! Click a chapter from the menu below to see a complete walkthrough of that section of the game.
This walkthrough is a work in progress, and will be updated regularly until it is complete.
How the Campaign Works
The Callisto Protocol is a linear single player game. Each level is played sequentially, and there is no chapter select. If you want to be able to go back to previous chapters in order to farm achievements, you'll want to make a manual save at the start of each chapter. There is also currently no New Game Plus, although it will be added to the game in February 2023.
Checkpoint System & Saves

Although manual saves are an option, manual saves will only save your progress at the most recent checkpoint, not where you are currently. The game autosaves often, indicated by an icon in the corner. If you've made some progress and want to quit the game, it's best to check and see how long it's been since your last autosave.
If it's been a while, it's probably best to continue until you get another autosave (in order to not lose progress). You can check the time since your last checkpoint by opening the pause menu.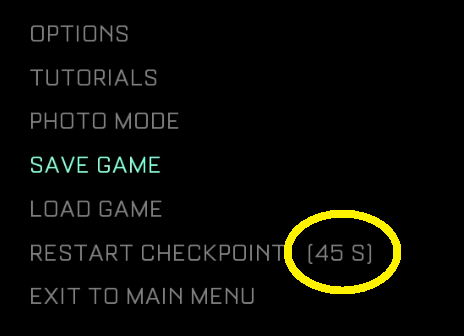 Other Useful Information