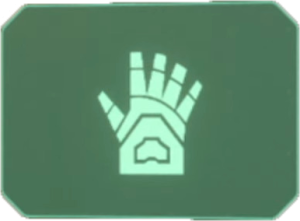 GRP (Gravity Restraint Projector)
Game: The Callisto Protocol
A miniaturized graviton field generator used by UJC Correctional Officers to pacify inmates and manipulate objects.
Weapon Type: Auxiliary Ranged
Ammo:

GRP Battery Pack
Where to Find the GRP
The GRP device is found halfway through Chapter 3: Aftermath. It will be given to you for free shortly after reaching the medical area, and it cannot be missed.
GRP Upgrades
| | | |
| --- | --- | --- |
| Name | Upgrade Description | ⠀Credits⠀ |
| GRP Recharge Speed Upgrade | Small: Increases the GRP recharge rate via additional heat sinks. | ? |
| GRP Recharge Speed Upgrade | Medium: Improves the recharge rate of the GRP using experimental wiring materials. | 900 |
| GRP Recharge Speed Upgrade | Max: Maximizes the GRP recharge rate through AI-assisted power cycling. | 2700 |
| Energy Upgrade | Small: Increases the maximum energy capacity with aftermarket expansion cells. | ? |
| Energy Upgrade | Medium: Increases the maximum energy capacity with an upgraded primary cell. | ? |
| Energy Upgrade | Max: Maximizes the GRP energy capacity next-get battery tech. | 2700 |
| GRP Velocity Upgrade | Small: Increases launch strength by removing safeties. Target can be injured upon impact. | ? |
| GRP Velocity Upgrade | Medium: Further increases launch strength. Target can be previously injured, including limb loss. | ? |
| GRP Velocity Upgrade | Max: All safeties on launch velocity removed. Target can impact at near-fatal speeds. | 2700 |