Game:
Stray
Content Type:
Gaming Guides
In order to progress through Stray in both the Slums and Slums Part 2 levels, you'll need to find a robot named Momo two separate times. The rooftops and alleys of the Slums can be confusing, so in this guide, we'll show you exactly where to find him in both instances!
---
How to reach Momo in the Slums (Chapter 4)
When you are in the Slums for the first time, Momo can be found in his apartment, under the orange large neon sign. For the path we'll take to him, you first need to go to where you first met the Guardian (the robot with the hat and staff). While it can be hard to find your way through the narrow alleyways of the Slums, there's an easy-to-spot landmark that will help you find the Guardian — look for the lights of the tower (image 1 below) to help you find your way there. Once you're at the spot indicated in image 2, you can follow the steps below to find Momo.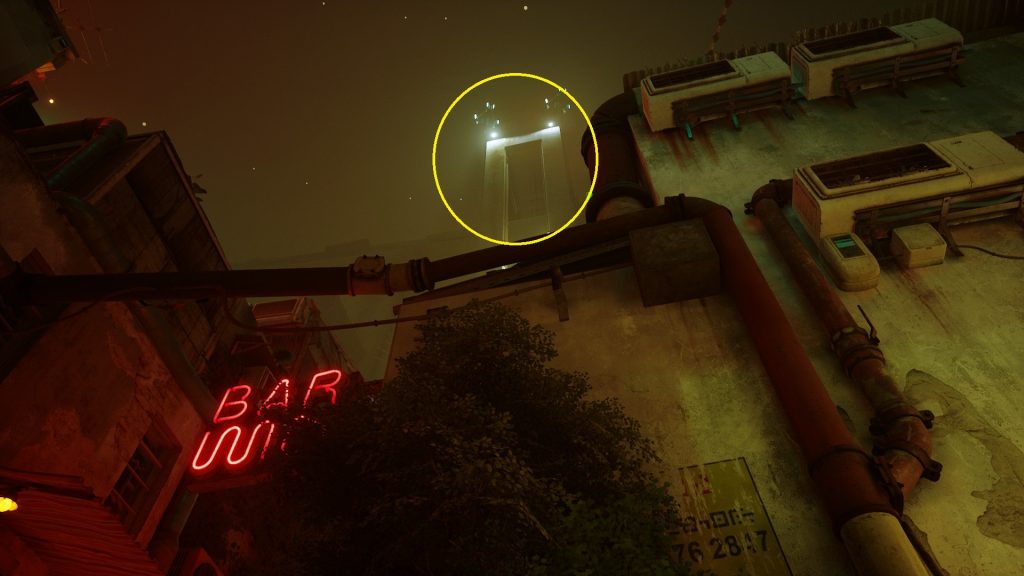 From the Guardian, turn around and look towards the street with the bar. On the right side of that street, you can use the objects and AC units to make your way up to the rooftops (1). Once there, continue towards the bucket pulley that's a bit further up on a higher rooftop (2). Then, jump to the awning that's below Momo's apartment, and jump up on the AC unit (3). Then it's just a few more jumps up to Momo's balcony, and you can jump through his window to find him (4)!
For a complete walkthrough of the Slums, click here.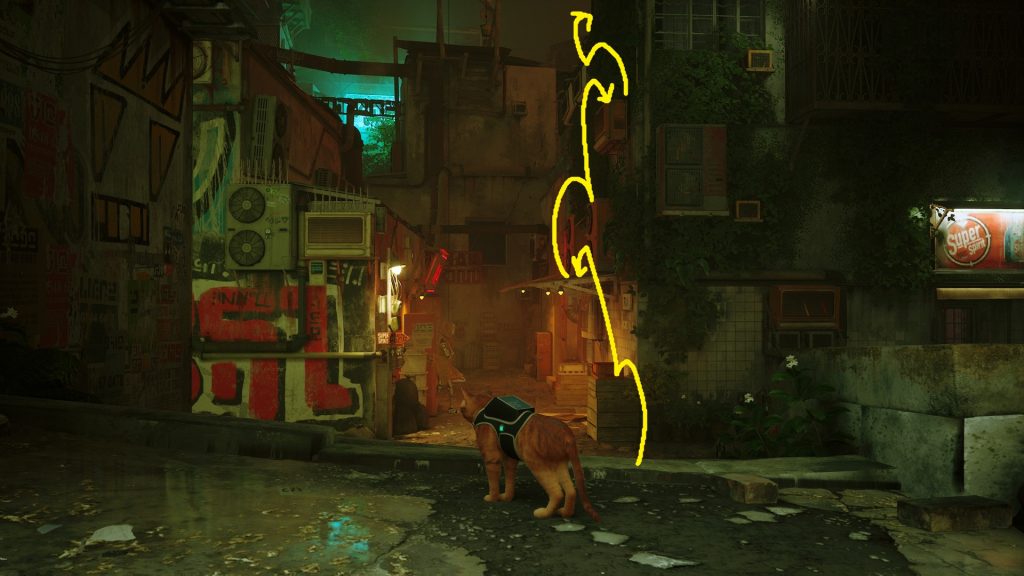 How to find Momo at the bar (Chapter 6)
After returning from the Rooftops, you'll find yourself back in Momo's apartment. He's left a note saying to meet him at the bar, and included a code for the window on the note. After reading the note on the TV and opening the window, hop through the window and onto Momo's balcony.
Walk through the railing and jump into the bucket (1), and ride it down to the lower rooftops. Stay facing forwards — when the bucket stops, jump out, walk forwards, and take a look over the edge. Then follow the indicated path (2) to the concrete rooftop, and from there you can use the pipe to reach an awning, and from there reach the ground (3). Momo will be standing out in front of the bar waiting for you!
For a complete walkthrough of the Slums Part 2, click here.