Game:
Stray
Content Type:
Gaming Guides
---
Once the subway train stops, the doors will open — head out of the left side of the train and make your way up the stairs. Turn right at the top of the stairs, and head up the next set. At the top, turn left and head up a final set of stairs, and turn left to find the entrance to the Control Room. Before you head that way, however, you may want to head forwards to the big windows and check out the view — you can see many of the previous levels from here!
When you're ready, it's time to get into the Control Room. Naturally, you won't be able to just walk in…
Once you've got the Control Room doors open, head through them and into the Control Room. A cutscene will play, and you'll get some pretty important lore from B-12. Once it ends, head over to the far side of the control room (where all the computery-looking equipment is) and inspect the main bank of controls under the Control Room sign.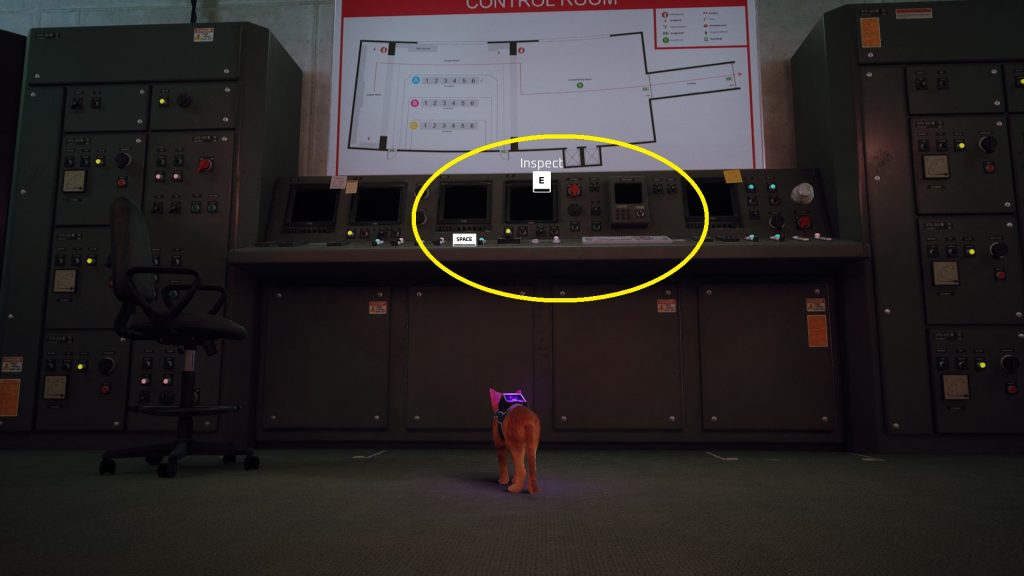 After inspecting the main computer, B-12 will tell you that you need to turn on the computers in order to escape the city — but he doesn't tell you how to do it.
Once the computers are on, another cutscene will play, and you'll have a conversation with B-12. Now you'll need to help B-12 hack into three different workstations.
After B-12 has hacked all three consoles, he'll fall to the floor. Pick him up and carry him to the workstation (1), and another cutscene/conversation will play out. When the cutscene ends, leave the control room the same way you came in (via the large glass doors) and then take a right and head down the stairs towards the large red metal doors (2). They'll open as you approach, and you can leave the city.
Congrats, you made it Outside! We hope this walkthrough was helpful, and that you enjoyed Stray. Please leave us a comment below if you have any questions or suggestions (or just want to say hi)!
---