Game:
The Elder Scrolls Online
Content Type:
Gaming News
Date: October 19, 2014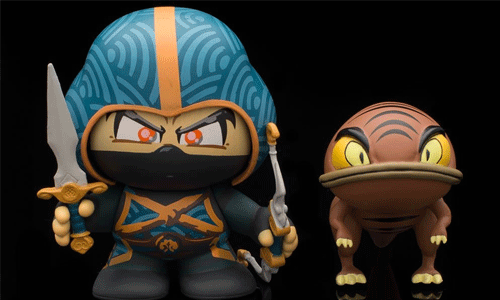 Symbiote Studios has released a new ESO figure.
The good folks at Symbiote Studios are at it again with their latest Elder Scrolls figure. Turning their attention from Skyrim to The Elder Scrolls Online, the company has released the Fighters Guild Journeyman in Akaviri Armor. Known for their outstanding gaming collectibles, Symbiote Studios latest figure will definitely appeal to ESO fans from Coldharbour to Shadowfen and all points in between.
RELATED: Free Skyrim Necklace With Astrid Purchase
ESO Figure
The Fighter's Guild figure is crafted in the same style as previous toy releases with movable arms and head, and comes complete with removable weapon accessories. Measuring the same 2.5 inches tall as previous releases, this ESO figure is dressed in ancient Akaviri armor and comes with a trusty pony Guar sidekick.
Bonus Kwama Scrib Pet
To make the ESO figure even more inciting for Elder Scrolls Online players, every purchase includes an in-game code for an exclusive Kwama Scrib vanity pet. The Kwama Scrib joins a growing list of exclusive ESO vanity pets for players, including the Pony Guar and Ice Wraith.

More Information
Here's a list of the ESO figure's product specifications taken directly from the Symbiote Studios' product page:
Licensed from Bethesda Softworks, publishers of The Elder Scrolls Online
Symbiote Line of Products
Highly detailed vinyl material
Articulation in both arms and head
Accessories fit most other characters in series
Includes 1x Bow, 1x Sword, 1x Pony Guar (Pony Guar sits on Fighter's Guild Journeyman's head)
Edition Size: Limited
Product Size: 2.5″ H
The Fighter's Guild figure costs $29.99 + shipping. The collectible can either be purchased on the Symbiote Studios website here, or on the company's Amazon store here. It should be noted that if you're an Amazon Prime member, two-day shipping is free.
Final Thoughts
So how does this latest ESO figure compare to previous Symbiote Studio releases? Do you like the inclusion of the Pony Guar sidekick and the unique in-game code for the Kwama Scrib vanity pet? Share you opinions with your fellow Elder Scrolls fans in the Speak Your Mind section below. Until next time fellow travelers!