Game:
The Elder Scrolls Online
Content Type:
Gaming News
Date: March 22, 2015
A leaked image of a 50% experience boost potion has the Community wondering if ESO will become pay-to-win.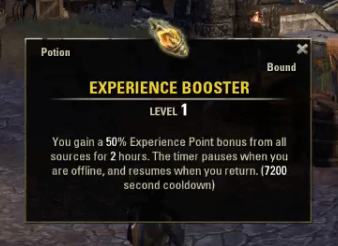 A few days ago, an Elder Scrolls Online player named Lionxoft shared a datamined image on the official forums. The leaked image shows an experience boost potion that grants a massive 50% Experience Point bonus for two hours. As it stands now, there is no potion or in-game item that comes even close to granting such a boost.
RELATED: Spoiler Screenshots: New ESO Pets, Costumes, Mounts
ESO Will Become Pay-To-Win?
It's no secret that The Elder Scrolls Online has been planning to sell experience boost potions in the game's cash shop. Game Director Matt Firor has been very forthright about this. In last month's Road Ahead blog post, Firor writes:
I know there's some concern and discussion around what types of items you'll see in the Crown Store in the future, and I want to stress that our philosophy of convenience and customization will always be used to make the determination of what goes into the store and what doesn't. As such, I can tell you that we'll almost certainly have experience boost potions in the store at some point, as this kind of shortcut (spending less time to gain experience) is classified as a convenience.
Despite Firor's assurances, the image of a 50% experience boost potion is causing consternation on the forums. Several posters are upset, feeling that if such a potion becomes available for sale, ESO will become Pay-To-Win (P2W).
As a poster named sebban writes:
This is not a convenience, this is clearly a case of paying money to get ahead of other players. Pay 2 win.

What's next? "Oh it would be REALLY convenient if I could just buy all the best gear for money!"

Slippery slope.
Another poster named Zershar_Vemod rages:
50% is NOT a convenience.

That is a load of BS and you guys know it. Guessing ZOS won't even try to justify this beyond your prewritten "but it's for convenience" excuse? Pathetic…

Lower it to 10% and then some very small justification can be made….but 50%….yeah, good luck with keeping a positive image there.
MUST READ: Some Hardcore Fans Are So Angry That They've Quit ESO For Good
A Different Perspective
Still, not everyone feels that a 50% experience boost potion is P2W. A poster named Shehriazad writes:
I still fail to see how 50% XP potions are pay to win.

Grinding XP faster =/= Turning you into a winner

Sure…if the person spams those pots until he reaches 3600 CP [Champion Points]…he will get there faster than a non paying person…but let's be real…you are still looking at hundreds to thousands of hours of playtime, aye?
Another poster named TheRealDoc fumes:
I'll tell you what will kill this game quicker, people whining that every item in the crown store will be P2W and "kill the game" and "I'll quit if it goes ahead".

The game is free, it needs money to survive. Some people have time, some people have money, both will get to the same place eventually.

The only time it would make a real difference to you is in PvP and with the amount of people in the game, odds are equal that you'll get face stomped by a time or a money player. The real difference will be in player skill and one key press and likely time or money make no difference at all.

Deal with it and stay or deal with it and leave, most people don't really care what other people do, they just want to have fun and enjoy a quality game, but everyone please quit whining every 5 mins about something that will make no real difference to you.
Final Thoughts
As of now, this potion is not available for sale in the cash shop. Also, the devs have been quick to remind players that datamined images do not necessarily reveal final items that will appear in the game.
So where do you stand? Does even the hint that ESO will become play-to-win set off alarm bells, giving credence to the fears that were first raised when the game dropped the subscription requirement? If so, would a 50% experience boost potion be P2W, or would this simply be a convenience item for sale in the Crown Store? Let us know what you think in the Speak Your Mind section below.