Game:
Fallout 4
Content Type:
Gaming News
Date: June 25, 2015
The Fallout 4 Pip-Boy Edition sold out across all platforms.
Bethesda announced a lot of good news at last week's E3 2015 Showcase, but one of the more intriguing reveals was that of the Fallout 4 Pip-Boy Edition. This special collectors set of the highly anticipated game includes a wearable Pip-Boy.
RELATED: Real Pip-Boy Included In Fallout 4 Collector's Edition
Fallout 4 Pip-Boy Edition Sold Out
The Fallout 4 Pip-Boy Edition was an immediate hit with gamers. Not only was the news well received at E3, but the edition has sold out at all major retailers. The $120 USD price tag hasn't deterred Fallout fans from pre-ordering the game at Amazon, Best Buy, GameStop, and other stores.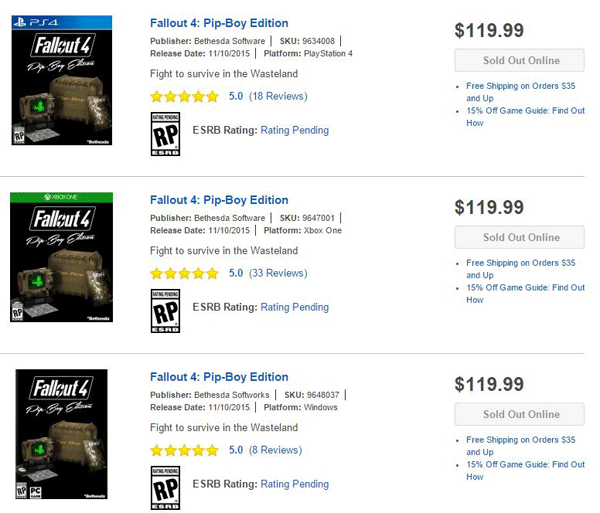 Available Again?
The Fallout 4 collector's edition is hotter than a Megaton nuke, and Bethesda announced yesterday that more copies of the game would be made available in limited quantities.
The company encouraged fans interested in purchasing a copy to keep on eye on retailer's websites this week. Speed is of the essence though — yesterday's resupply on the Bethesda Store sold out in less than 24 hours. All other retailers are still showing out-of-stock.
MUST READ: Fallout Shelter Just Released In A Surprise Announcement
Fallout 4 Major Retailers
To check if the Fallout 4 Pip-Boy Edition is back in stock, visit the following US retailers:
The special collector's edition is also being sold on eBay for hefty, secondary-market prices ranging from $225 to $300 USD.