Game:
The Elder Scrolls Online
Content Type:
Gaming News
Date: June 10, 2014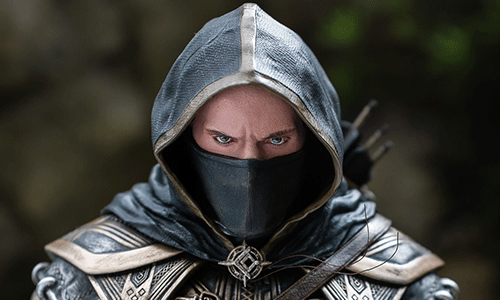 You can now pre-order The Elder Scrolls Online statue: Breton at the Bethesda Store and Gaming Heads.
Gaming Heads is at it again with a new collectible statute. Teaming up with the Bethesda Store, the fan-friendly company is releasing an amazing Breton statue as part of a new product line called Heroes of Tamriel. You may remember my first-hand experience dealing with Gaming Heads, and the company's outstanding customer service in response to my broken Molag Bal statue (you can read all about it here).
The Elder Scrolls Online Statue: Breton
From what I can tell by the photos, The Elder Scrolls Online statue is finely detailed —  just like other collectible pieces crafted by Gaming Heads. As a result, I'm confident fans can expect to receive an extremely well made statue worthy of any collector case or game room.
Like the Dragonborn statue before it, the Breton is being produced in two versions: a Standard Edition and an Exclusive Edition. While I enjoy the variety of collectibles produced, it definitely makes choosing between two versions difficult. I suppose an enthusiastic collector could purchase both versions (something I'm sure Gaming Heads and Bethesda would appreciate), but the price tag for two statues is most likely outside of the discretionary spending budget of most gamers.
Standard Edition vs. Exclusive Edition
Both versions of The Elder Scrolls Online statue measure 16 inches tall and are sculpted in polystone resin (same as the Dragonborn). Each edition features:
Deluxe, full-color packaging
A hand-numbered base
A certificate of authenticity
In addition, the certificate of authenticity allows collectors to purchase the same model number in future Heroes of Tamriel releases — something every obsessive compulsive fan like me can appreciate.
Though there are several similarities between the two Breton editions, there are a few key differences:
The Exclusive Edition features an alternative head-piece featuring the Breton's undead appearance.
The Exclusive Edition is limited to 500 pieces, whereas the Standard Edition is limited to 1,000.
The Exclusive Edition is more expensive ($329.99) compared to the Standard Edition ($299.99).
Where To Pre-Order
The Elder Scrolls Online statue won't be available until later this year, but Breton pre-orders are being accepted at both the Bethesda Store and Gaming Heads. To pre-order visit either company (the Exclusive Edition can only be pre-ordered at Gaming Heads):