Game:
Dead by Daylight
Content Type:
Gaming News
Date: December 8, 2022
It's that time of the year again — the Entity's realm is getting festive! Starting today, December 8th (11:00AM ET), and running until January 4th, 2023 (also 11:00AM ET), the Bone Chill event gives players a chance to earn cosmetics, bonus rewards, and play in the snow. As always, there's a lot to the event, so in this article you'll find explanations and details for everything Bone Chill has to offer.
---
Bonus Rewards – Season of Giving
We're starting with what we suspect most people care about the most: free stuff! Every day, you'll be able to earn bonus rewards in DBD, just by logging in. Here's what you'll be able to earn if you logged in every day from December 1st to January 3rd:
1,000,000 Blood Points
4,500 Iridescent Shards
30 Rift Fragments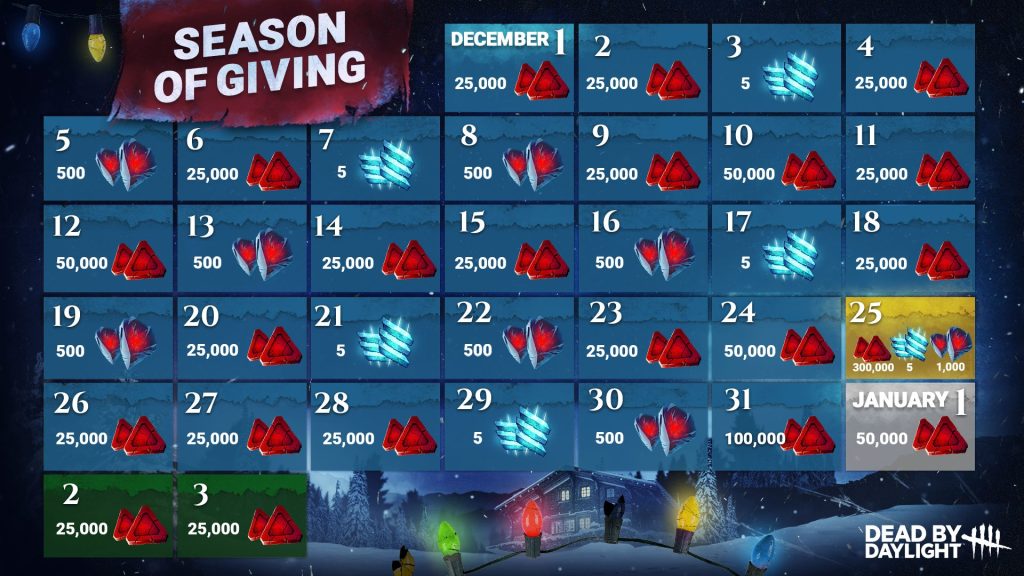 New Cosmetics
Unlockables
The Dredge and David King are both getting unlockable outfits in the Event Tome. The Dredge and the Knight will also both receive Frosty Eyes, although we haven't yet been given word on how to unlock them. Four seasonal charms round out the unlockables for the event.
The Dredge – Frosty The Nightmare
David King – Makeshift Nutcracker
The Knight – Frosty Eyes
The Dredge – Frosty Eyes
Dwelf Figurine
Trickster, New In Box
A Friendly Face
Maurice's Stocking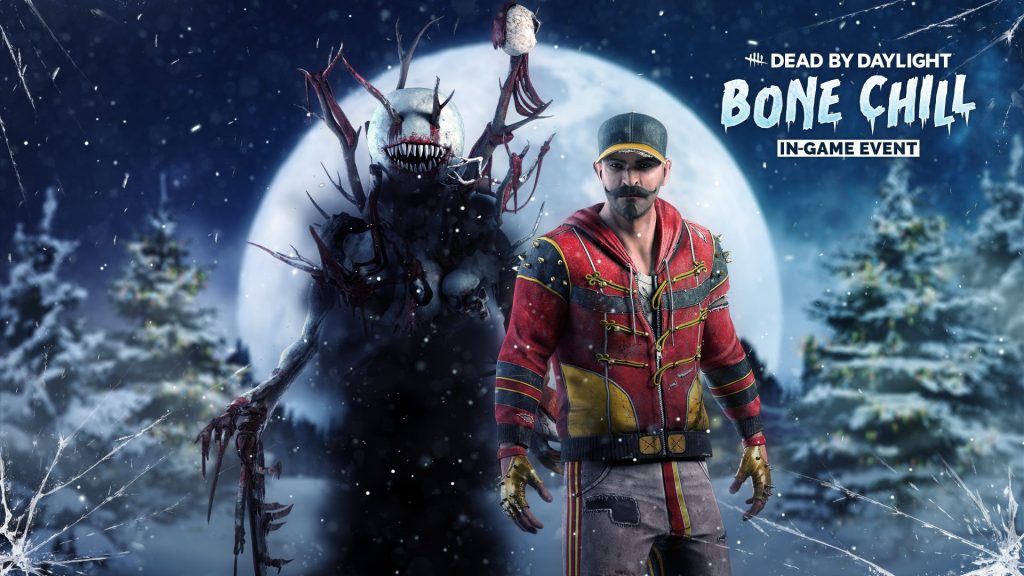 Store Items
Haddie Kaur and Vittorio Toscano are both getting ugly sweaters, and Deathslinger and Huntress have found some tinsel for their weapons.
Haddie Kaur – Harbinger of Wool – Rare
Vittorio Toscano – Total Warmth – Rare
The Deathslinger – Holiday Harpoon
The Huntress – Holiday Surprise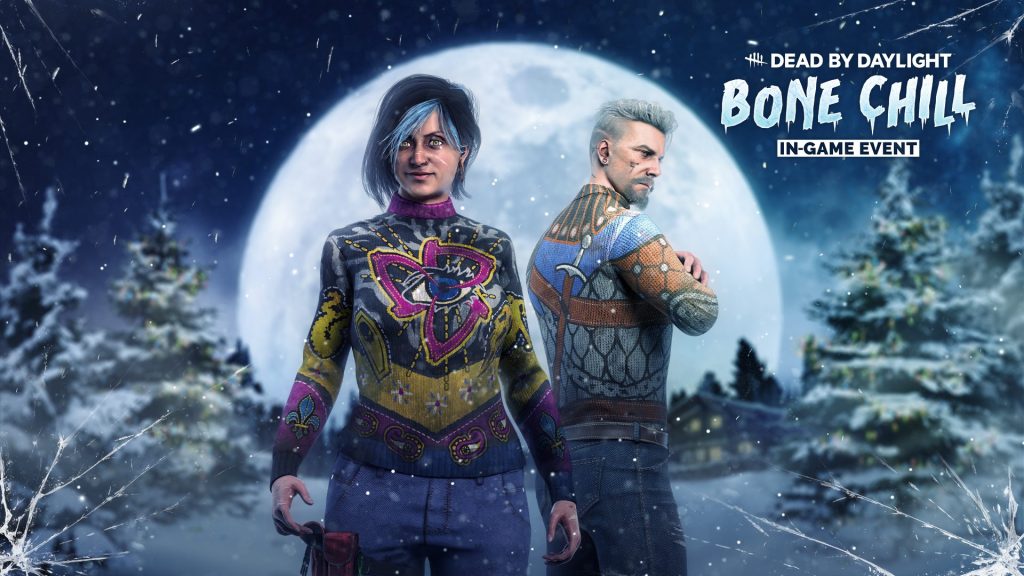 Sales
If you still haven't inflicted a Dead by Daylight obsession on your friends and family, now's your chance: the game will be on sale on most platforms (discounts vary). Platform depending, there may also be sales on DLCs as well. Additionally, the following collections will be on discount in the in-game store (when purchasing with the in-game currency Auric Cells):
Everlasting Frost Collection
Holiday Horror Collection
Wintertime Collection
Winter Tales Collection
Ugly Sweater Collection
In-Game
Now that we've got all the shopping list info out of the way, let's dig into the in-game stuff going on with Bone Chill.
Snowmen Season
Snowmen are back this year — eight will spawn in each Trial, and this time both Killers and Survivors will be able to enter them and move around (at reduced speed). Killer's will be undetectable while inside a snowman, suppressing their Terror Radius; this means you won't know if the snowman moving towards you is friend or foe! Survivors will also receive a "little bonus" when high-fiving while snowmen.
Winter Wonderland & Party Starters
Generators, Hooks, Exit Gates, and the Basement have all been decorated for the holidays — Mount Ormond in particular has gotten a lot of attention for Christmas. You'll also be able to purchase Winter Party Starters in the Bloodweb during the vent, which can blind the killer, distract them, or just show how excited you are for Santa to come this year.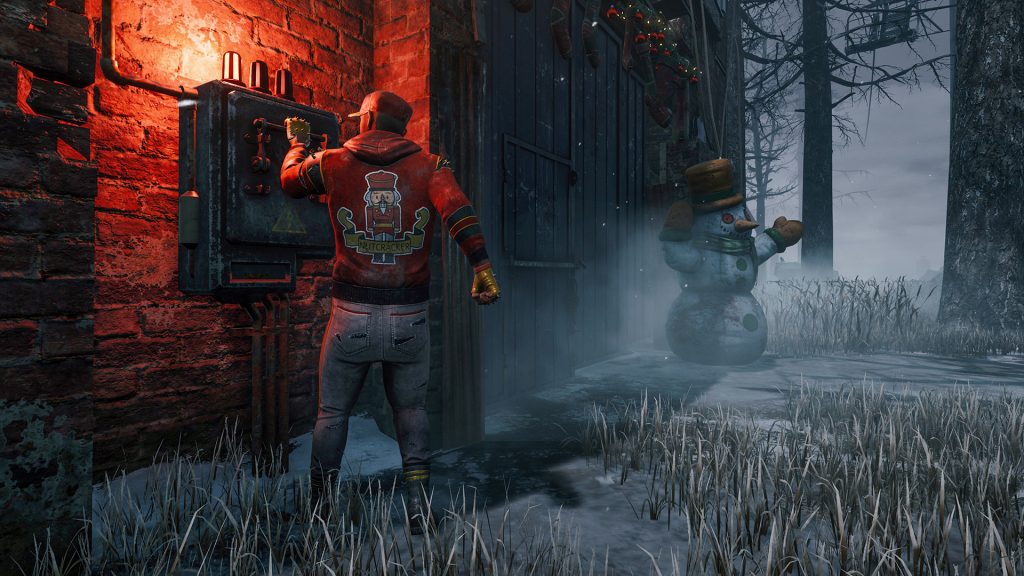 ---
Excited about the event? Want us to send the Entity your Christmas list? Let us know in the comments!