Game:
Fallout 4
Content Type:
Gaming News
Date: February 3, 2015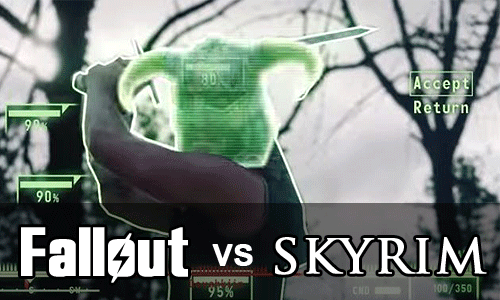 A new YouTube video shows us who would be the winner in a Fallout Vs Skyrim fight.
Remember when you were a kid? Arguing with your best buddies about who was tougher? Superman or the Hulk? A grizzly bear or a lowland gorilla? These debates were spirited and memorable, with all the pomp and posturing of a courtroom melodrama. Along with eating undercooked tater-tots in the grade school cafeteria, these friendly arguments were high times indeed.
MUST READ: "Skyrim In A Nutshell" Video Garners Over 1.6 Million Hits
Fallout Vs Skyrim
One person who hasn't forgotten these childhood debates is andrewmfilms, a clever movie maker who escalates things to an entirely new level on his YouTube channel. With his latest endeavor, andrewmfilms takes on two of Bethesda's greatest video games: Fallout and Skyrim.
So who exactly is tougher? Vault Boy or Dovahkiin? While you may not entirely agree with the outcome of andrewmfilms' video, he does an amazing job presenting his case in a way I only wish was possible when I was 10-years old.
So sit back and enjoy the video (it's a good one), and tell us who you think would be the victor in a Fallout Vs Skyrim fight.
RELATED: Fallout 4? Elder Scrolls VI? No Announcement For "A Long Time"
[youtube_sc url="https://m.youtube.com/watch?v=XBlhXKjSy6M"]