Game:
The Elder Scrolls V: Skyrim
Content Type:
Gaming News
Date: October 12, 2013
In life, there are a number of things that just go together exceedingly well. Cookies and milk, baseball and summer, love and marriage, Panda Express and food poisoning — you get the idea. But how about Skyrim and LEGOs? Sound like a crazy combination? I'm not so sure — take a look at World of Warcraft for instance. Arguably the best MMORPG game in the multiverse has given rise to a Mega Blok toy line, complete with building blocks and cartoonish figures. Personally, I'm not a fan of either WOW or Mega Bloks, but I really dig Skyrim and LEGOs, and I'm convinced that if I could see a pairing of the two it would be sweeter than becoming a Thane in Falkreath.
Skyrim Legos: Is It Possible?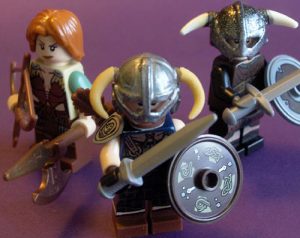 As a Skyrim fan and toy collector, I'd be stoked to see a LEGO lineup of my favorite video game. It's not as if Skyrim would be setting a precedent — LEGO has already tested the video game waters by releasing a Mine Craft building block set last year. Initially the set was to be produced in limited quantities, but the toy proved so popular, and was selling for such outrageous prices in the aftermarket, that LEGO started making more to meet the heightened demand. Two new Mine Craft sets soon followed, cementing the LEGO lineup as a definite winner and hit for collectors. Now imagine what LEGO could do with Skyrim, winner of over 200 game of the year awards!
Possible, But Not Likely…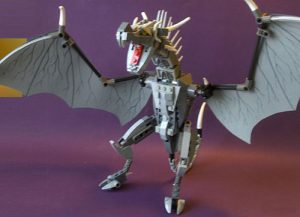 Even though I'm convinced that LEGO would strike gold producing Skyrim LEGOs, I think it's unlikely to ever happen. Mind you, this has nothing to do with the popularity of Skyrim or the creative possibilities that exist to make really cool toys. Rather, Skyrim LEGOs will most likely never come to light due to the game's Mature rating. Although LEGO products really hit home with collectors, they're primarily toys geared towards children. As much as I'd like to see a LEGO Dark Brotherhood set (complete with shriveled Night Mother in coffin) I don't think the parents and grandparents of the world are going to buy one for little Johnny come birthday time:
How's it going, Johnny? Are you finished building the Lego set I gave you?
Almost, Grandpa. I just have to give Astrid her Blade of Woe so she can backstab someone if they perform the Black Sacrament. 
This isn't to say that LEGO shies away from violence, but the most intense movie the company ever tied in to ratings-wise was Star Wars Episode III (PG-13), and this is softened by the rest of the Star Wars lexicon the toy company draws inspiration from. This being said, LEGO has recently caught flak for becoming angrier and more violent. In today's political climate, I don't think that embracing a Mature rated video game would be in the best interest of LEGO's image. **Sigh**
Final Thoughts
Even though I'll most likely never be able to purchase Skyrim LEGOs at Target or Amazon, the dream just won't die easy. If you need a fix of Skyrim LEGOs, check out the entire "unofficial" LEGO Skyrim Dragon Hunting set created by Marcin Micha. This set includes the Dragonborn on horseback, Aela The Huntress, a Warrior, and a Dragon. All the figures are custom made from standard and specially created LEGO pieces. Great stuff!