Game:
The Elder Scrolls V: Skyrim
Content Type:
Gaming Guides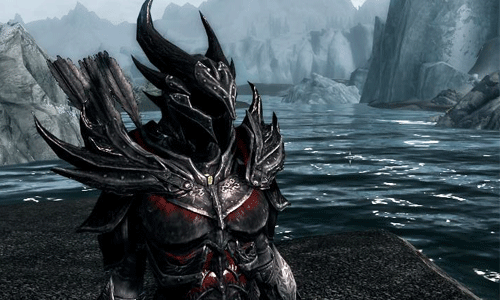 Use the following methods to get Daedric gear in Skyrim.
Have you dreamed of getting full Daedric armor and weapons for your character?  Do you want to be one of the most over-powered and fearsome warriors in all of Skyrim?  Well dream no more, because I'm going to tell you some simple and fast ways on how to get full Daedric armor and weapons!
RELATED: Daedric Artifacts: What You Need To Know
How To Get Daedric Gear
Method 1:  This is one of the more simpler ways to get Daedric gear, but it does require the Dragonborn DLC for Skyrim.  If you do not have the add-on, skip this method.  If you do own the add-on, I'll tell you what you need to do.
1) Travel to Solstheim and find the nordic ruins of Benkongerike.
2) In the room where you battle the boss, you will find the 'Black Book: Untold Legends'.
3) Read the book, and be teleported to Apocrypha.
4) Battle your way to the book's knowledge, and there you will have the choice of three powers.
5) Choose the power 'Black Market', and select it in your inventory.
6) Activate the power, and a dremora merchant will be summoned for you to trade with.
Depending on what level you are, he will sell either Ebony weapons and armor, or Daedric.  Usually somewhere around level 48-60 is when he'll sell Daedric items.  Although this method is quite pricy, you'll get full Daedric gear extremely fast, and it's also a handy thing to use if you need to sell quick.
Method 2:  You are able to do this method using vanilla Skyrim.  Follow the steps below, and you'll have Daedric gear in no time!
1) First check that your Conjuration skill is 90 or above.  If it is not 90, an easy way to get it up is to constantly use soul trap on a dead enemy.  Using that method will take about 1-2 hours.
2) After it is 90+, travel to the College of Winterhold.
3) Search for a man by the name of Phinis Gestor, a conjuration master studying at the college.  He can be found in the 'Hall of Countenance' or 'The Arcanaeum'
4) Talk to him and ask him this: "What else is there to be learned about Conjuration magic?"  This will activate a quest, and will reward you with a master level Conjuration spell and a unique item used for this method; the Sigil Stone.
5) Complete the quest, and then make your way to the 'The Midden' located as a trap door in the college courtyard.
6) Find the 'Atronach Forge' and place the Sigil Stone in the holder (watch the video for the direct path to the Forge).
[youtube_sc url="https://www.youtube.com/watch?v=ywtMlb1U6AU"]
 RELATED: Crafting With The Atronach Forge In Skyrim
7) To make Daedric weapons and armor, place the following ingredients into the offering box:
Ebony version of your desired weapon/armor piece.
One black soul gem. (Filled or unfilled).
One Daedra heart.
A Centurion Dynamo Core.
If you would like to see all of the recipes for this epic forge, click the following link: http://elderscrolls.wikia.com/wiki/Atronach_Forge_Recipe
Method 3: This one takes a long time, and is very tedious; but it will work.  Simply buy all of the iron ingots and leather strips you can get and just keep crafting iron daggers until your Smithing is level 90.  Invest your perk points into the right side of the tree, and you'll get to Daedric smithing.  This can take anywhere from one hour to one week.  Just work as hard as you can, and you'll get there eventually!
I hope you enjoyed this small tutorial!  If you have any other easy and fast ways to get full Daedric gear, let me know in the comments!  That's all for now guys, and like always; thanks for reading.