Game:
Rust
Content Type:
Gaming Guides
Hello Survivors, and welcome to the Ultimate Rust Monument Guide!
This guide will be your complete reference to every monument in Rust. Each one includes a loot and callout map, a strategy guide, and whatever other information you need in order to make the most of every monument in Rust, using the knowledge I've acquired from more than 4,000 hours in-game. This guide has been tailored for use by all players, regardless of experience or playstyle.
This guide hub contains the key to loot symbols that appears on the maps, a short description of every monument, and links to the individual guides for each monument.
---
Important Terms
Rust operates on a tier system for loot, starting with very basic Primitive loot and going up to top-quality Tier-3 loot. The tier of monuments is defined based on what level of loot they spawn.
Primitive: The weakest items in the game. Includes primitive components, weapons, and gear. Primitive monuments have no radiation.
Tier-1: Simple components and basic gear, a step up from Primitive loot.
Tier-2: Advanced components and military-grade gear, decent for most applications.
Tier-3: Explosives, rare high-quality components, and the most powerful gear in Rust.
---
Map Key
The following symbols appear on the loot and callout maps for each monument. Information on each type of loot can be found below this key. It should be noted that the symbols on the maps represent the spawns as I encountered them when making this guide and that each monument's procedural generation can result in slightly different spawns than the maps show.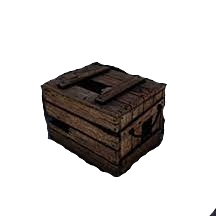 ---
Monuments
Below is the complete list of monuments, together with a short description of each and a link to the full monument guide with Strategies, Loot, and Callouts.
Extra Info and Disclaimer
All callouts, strategies, and positioning tactics are taken from the community, my teammates, and my personal 4300 hours of playtime. If you have a critique or disagreement I would highly encourage you to leave a comment or contact me on Discord at Atë#3215, and I will attempt to make appropriate changes and updates as needed.
Thank you for taking the time to read through our Ultimate Rust Monument Guide! I hope that you found the information contained within useful. If you did (or didn't), we'd love to hear your thoughts in the comments below. As always, survivors: enjoy your wipes and stay rusty!