Game:
Valheim
Content Type:
Gaming Guides
These two workstations are used to smelt mined ore and refine scavenged scrap into useful ingots. Both workstations require Coal for fuel and work passively in the background without the need for shelter. This guide will walk you through building and using these workstations, how to shelter them if you so choose, and which ores and scrap they can process.
Building the Smelter and Blast Furnace
Since Coal is needed for fuel, and the Charcoal Kiln is your first major source of Coal, we also discuss how to build this below in another section.
The recipe for the Smelter requires access to the Black Forest or Swamp, while the Blast Furnace requires you have defeated Moder, the Mountains boss.
Smelter Recipe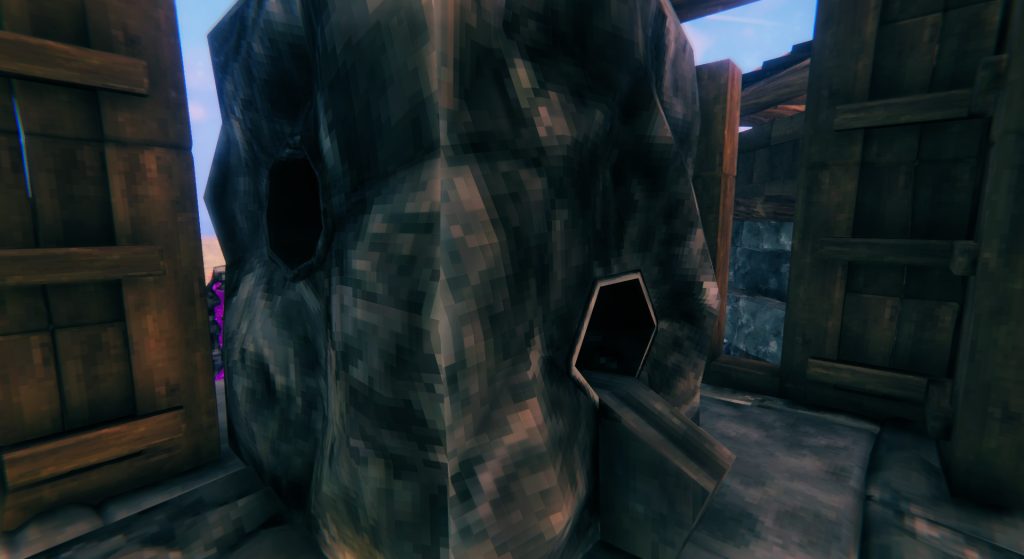 Stone (20)
Surtling core (5)
Workbench in range
This recipe will unlock when you first acquire a Surtling Core from raiding Burial Chambers in the Black Forest. You will have access to unlimited Surtling Cores later by defeating Surtlings that spawn near Fire Geysers in the Swamp or during the event "There is a smell of sulfur in the air".
Blast Furnace Recipe
Stone (20)
Surtling core (5)
Iron Ingot (10)
Fine wood (20)
Artisan Table in range
This recipe will unlock once you build an Artisan Table from the exclusive loot dropped by Moder, the boss found in the Mountains biome. It also will require several Iron Ingots which can be produced from Iron Scrap in the Smelter.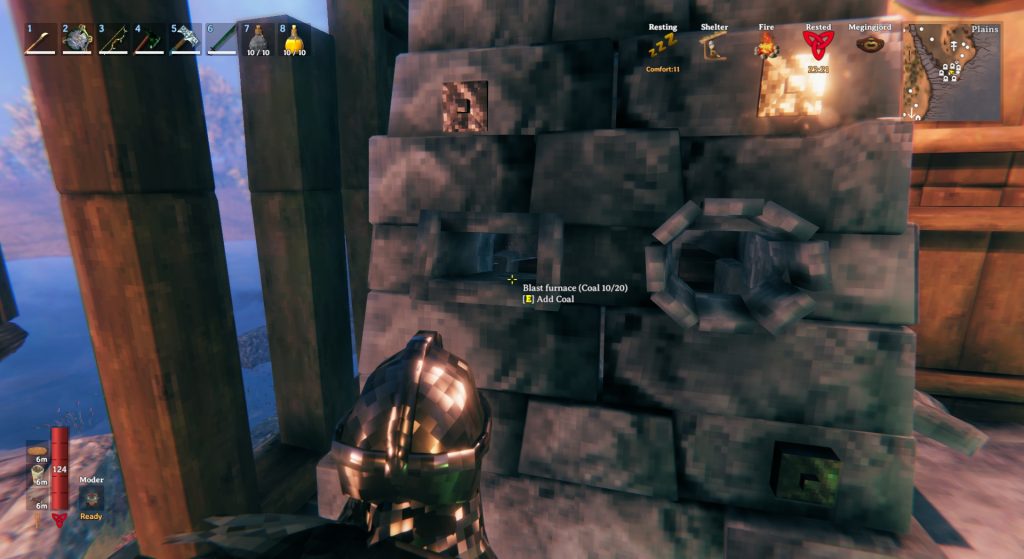 Iron Scrap is found mainly in Sunken Crypts in the Swamp, but also in underground Swamp caches or loot dropped from Oozers that usually spawn in the Swamp at night. Iron Ingots can also be scavenged from Iron Torches found in Sunken Crypts and other Swamp points-of-interest (POIs), as well as in Frozen Caves in the Mountains.
Refining Ore and Scrap Into Ingots
There are several types of ore and scrap in Valheim. The Smelter is generally used to smelt ores and scrap for materials found in earlier biomes. The blast furnace is used for materials found after the Mountains biome.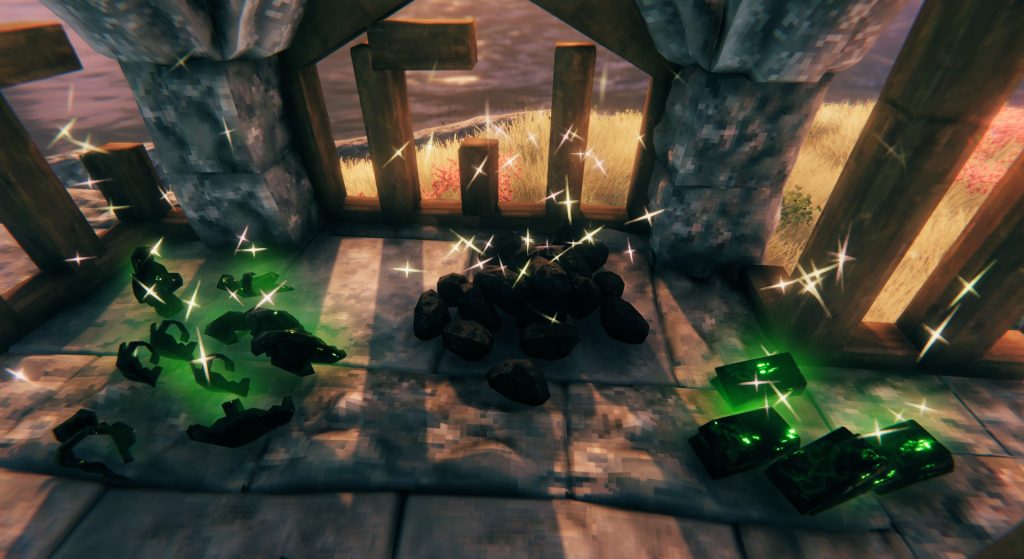 Here is a quick look at which raw materials can be processed in the Smelter and Blast Furnace, and the biome where the raw material is found:
| | | | |
| --- | --- | --- | --- |
| Smelter | Biome | Blast Furnace | Biome |
| Tin Ore | Black Forest | Black Metal Ore | Plains |
| Copper Ore | Black Forest | Flametal Ore | Ashlands |
| Iron Scrap | Swamp | | |
| Silver Ore | Mountains | | |
| Copper Scrap | Mistlands | | |
Note that Flametal Ore smelts into Flametal Ingots which currently do not have a use.
Ore and scrap is processed at the same speed, regardless of the material or workstation. It takes 30 seconds to smelt one piece of ore or scrap. Each piece takes the same amount of fuel (coal), as well: 2 pieces of coal per 1 piece of ore or scrap. Both the Smelter and the Blast Furnace can hold up to 10 pieces of material and 20 pieces of coal, which is enough to smelt all 10 pieces.
Before you smelt all that ore where you mined or scavenged it, note that many ingots weigh more than the ore they are made from. While the stack size is 30 for all types of ore, scrap, and ingots, the difference in weight can matter if you are using a cart or have to schlep each stack from the mine to your longboat. It is often fastest to smelt only what you plan to use on-site.
Here is the weight of each type of ingot compared to the weights of the raw materials they are made from:
Ore/Scrap

Weight

Ingot

Weight

Tin Ore

8

Tin Ingot

8

Copper Ore

10

Copper Ingot

12

Copper Scrap

10

Tin Ore (1) +
Copper Ore (2)

28

Bronze Ingot

12

Silver Ore

14

Silver Ingot

14

Black Metal Scrap

10

Black Metal Ingot

12

Flametal Ore

12

Flametal Ingot

12
Note that Bronze Ingots are lighter than the ore/ingots used to make them.
Sheltering the Smelter and Blast Furnace
While the Smelter and Blast Furnace do not require shelter, you may want to build it anyway. For instance, many biomes have flying enemies (Swamp, Mountains, Plains, and Mistlands). If all workstations are indoors, you don't have to worry about refreshing food buffs to weather a surprise attack.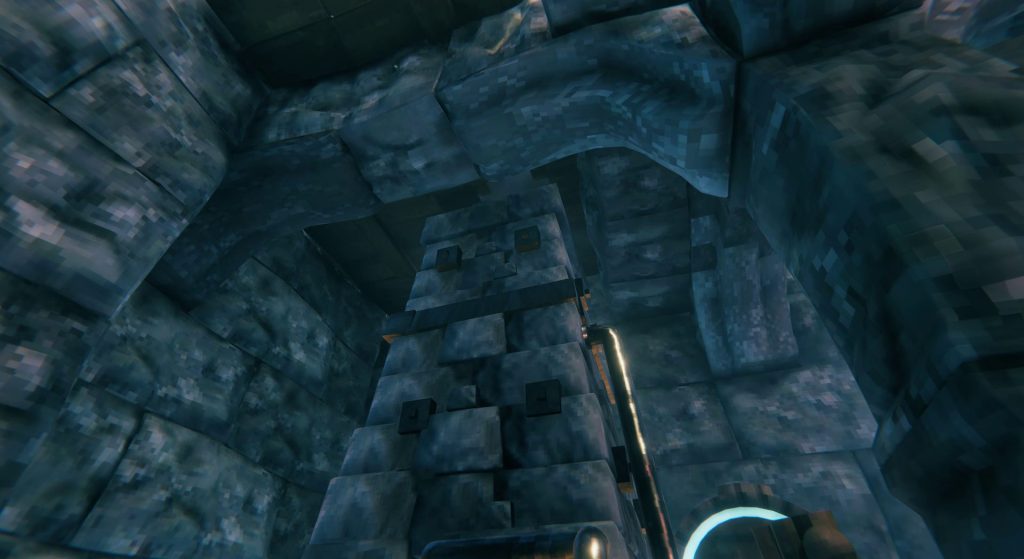 Like the Campfire, Firepit, and Bonfire, the Smelter and Blast Furnace also put out a lot of smoke. If there is too much smoke near them, the flames which process the ore and scrap will be stuffed out. Processing won't resume until the smoke clears enough for the flames to reignite. Not to mention, too much smoke chokes and damages your Viking over time.
Since the workstations will work without shelter, you just need to build enough protection to keep your Viking safe. An opening or enough open space above the Smelter and Blast Furnace will provide a place for the smoke and keep the flames alive.
Charcoal Kiln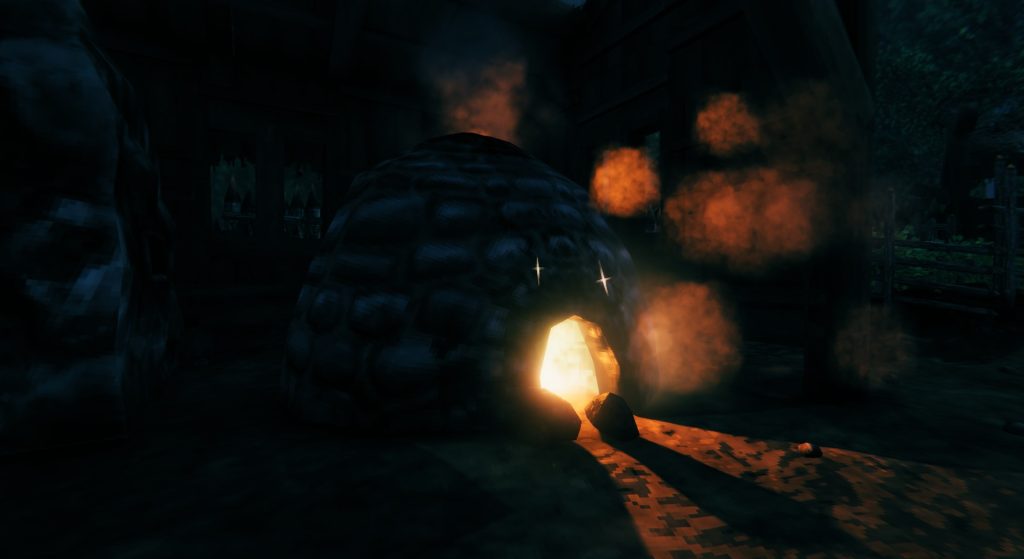 You unlock this recipe as soon as you find your first Surtling Core, usually by raiding a Burial Chamber in the Black Forest. Charcoal Kilns also do not need to be sheltered, which is good because they take up a significant amount of floor space. To build it, you will need:
Stone (20)
Surtling Core (5)
Workbench in range
Charcoal Kilns can hold up to 25 of any combination of Wood, Fine Wood, and Core Wood. One piece of Coal will be produced every 15 seconds. A full kiln of 25 wood will produce 25 Coal in a total of 6.25 minutes.
For forested biomes, the Charcoal Kiln is the easiest source of coal. Swamp bases can be supplied by building Surtling Core and Coal farms out of Fire Geysers. For Mountains bases, it can be easier to bring in coal by Portal.
---
That's all there is to know about Smelters and Blast Furnaces! Now if only mining ore or scavenging scrap were as easy. Drop your questions in comment field below, and let us know what you think of the guide and metallurgy in Valheim!