Game:
Valheim
Content Type:
Gaming News
Date: January 27, 2023
Iron Gate pushed a bevy of fixes and tweaks for the recent Mistlands Expansion on Thursday. Fans will like the number of issues addressed from the Discord #suggestions and featureupvote.com feedback channels, including improvements to fishing emersion, Mistlands challenge, and replay value, the vanilla/legit construction of Dvergr hexagon doors, and of course the advertised new Ballista targeting system. There is also some stuff Fans might not like, such as tweaks forcing Egg autofarm redesigns and no buff to the Seeker Soldier trophy drop rate. We'll cover it all in this post.
Note: See our post on how to migrate to the Public Test Branch if you want to try this content now. And as always, remember to backup your world and character saves.
Ballista Targeting and Clip Size
If you've started to build in the Mistlands, you may have had some… feelings coming back from a mining expedition just to find a Gjall bashing the walls of your base or bathing your crops in flames. Perhaps you had even more… feelings realizing the new automated defense capability provided by Ballistae was too annoying to deploy because "Ballista Hates Everything", including you.
Trying out some alternative ballista functionality. What do you say #Valheim players? #WIP pic.twitter.com/AjjQpsodK1

— Jonathan Smårs (@jsmars) January 12, 2023
The recent tweet of the new Ballista targeting mode promised to fix this by allowing players to feed it a mob trophy to assign this mindless anti-seige weapon a target enemy species. Now, you can use this mode to force a Ballista to ignore other species and the player. You can also restore Ballistae to their indiscriminate killing mode, or feed it a different trophy to change targeting without having to dismantle and redeploy it.
On top of this, Ballistae now hold 40 bolts, up from 20, making this mindful sentry even more of a set-it-and-forget-it defensive strategy. You also might decide to deploy them near known mob spawn points to autofarm their loot drops. In any case, mob trophies across the board just got more useful; they're not just for fishing and decor anymore.
Mistlands Mob and Dungeon Tweaks
Almost immediately after Gjall and Seeker attacks and AI were nerfed following the beta test, many players lamented the loss of challenge in Mistlands exploration. The new biome felt too easy, as the claxon of a targeting Gjall or the nighttime flutter of a high-tier Seeker squad were no longer the stuff of nightmares.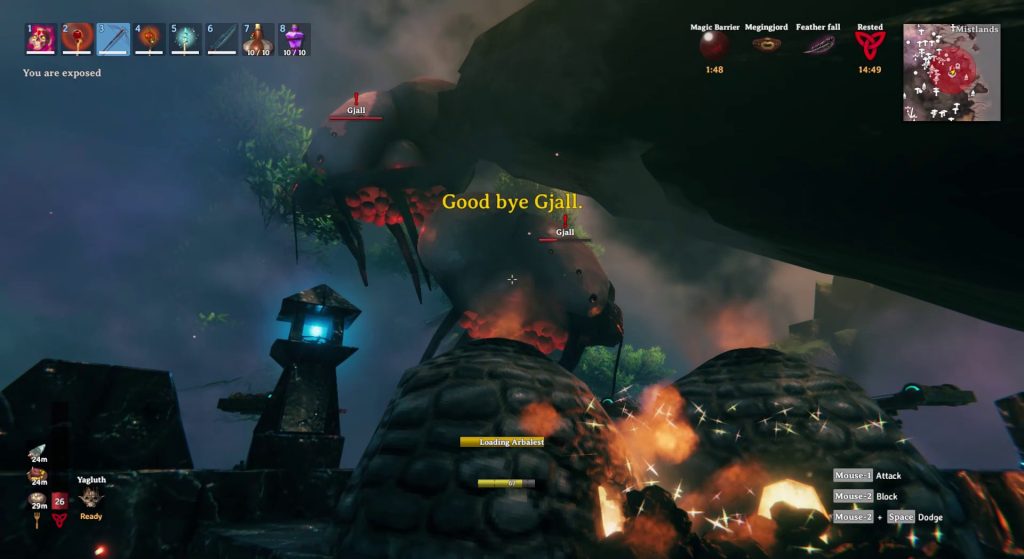 Well, Mistlands mobs got their groove back with this latest patch. Gjall once again fire two projectiles, and the spacing and damage profile was rebalanced make them less punishing and more of an evasion challenge and reason to pop a fire resistance buff. Seeker AI is now more aggressive again: they will circle less and focus on the player more. Anyone who has attempted to defeat the Queen may see this as a blessing, increasing the effectiveness of AOE fire attacks for mob control (as with the Staff of Embers or the Bile Bomb).
The most unique update, however, is that mobs and Royal Jelly piles will now respawn in Infested Mines. You no longer will need to grind 3 Seeker Soldier trophies to go Royal Jelly shopping in the Infected Citadel. On top of this, Seekers, Ticks, and Seeker Brood will join Fulings as nighttime mob spawns after the Queen as been dethroned. Find them before they find you in the Black Forest, Mountains, and Plains biomes.
Fishing Refreshed Again
Have you felt a little disappointed with how fishing in Valheim lacks immersion and feels too casual and repetitive? This patch adds new mechanics to make it more engaging and frees you up to fish where you want. At the top of the list, of course, is new swag: a cool fishing hat with a special crafting recipe.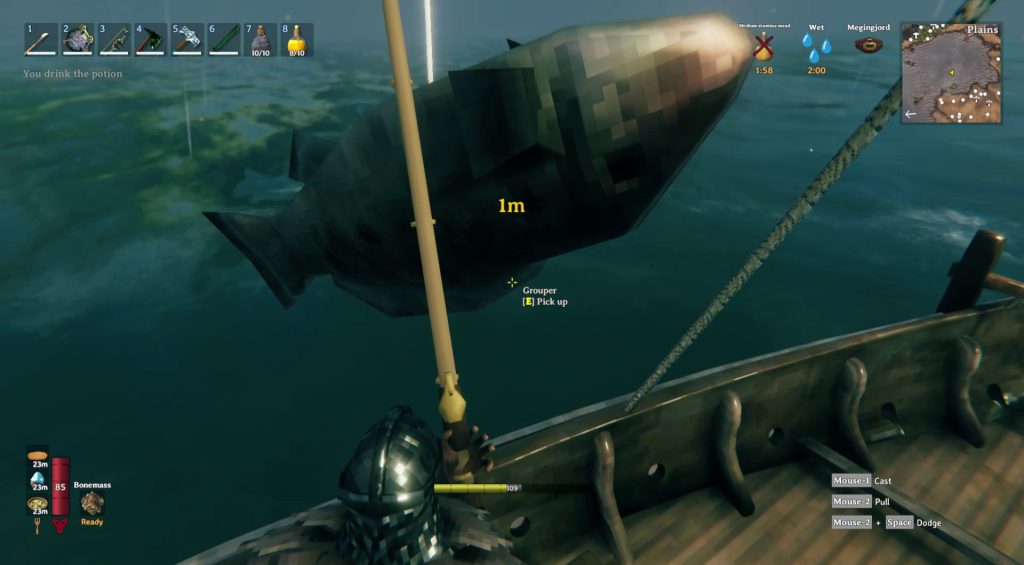 Fish will now try to escape, and your stamina will drain faster if you try to reel them while they try to swim away. Instead, you will have to watch the line and choose when to reel it in. High-stamina foods and stamina potions will be more important now for catching high-tier fish, which now provide slightly more Raw Fish. Catching fish will also have a small chance of yielding extra materials, and if you need to recast you won't lose the bait by reeling it in or unequipping the fishing pole.
Finally, there is no longer a progression you have to follow in order to fish in later biomes. Bait recipes no longer require the "previous" biome's fish. As long as you acquire the needed mob trophy, you can craft bait and skip to the biome and fish you want (like anglerfish for those Fish 'n Bread fans). Once again, Iron Gate says they fixed Tetra respawning, so now might be the time to cook up those Fenring trophies and find a new lake in a Frost Cave.
Other Important Updates
One update that might affect Egg autofarmers is a decrease in the Egg drop distance from the Hen that laid it. This has a chance to break some autofarms, so check your build after you install the new patch. Wisp Torches are no longer primary targets, so you don't have to worry as much about burying them or encasing them in Black Marble. As part of Iron Gate's accessibility campaign, there is a new option to reduce flashing lights from storms and other sources. For those on their 21st playthrough, there is a new option to turn off hints from Hugin and Munin, as well.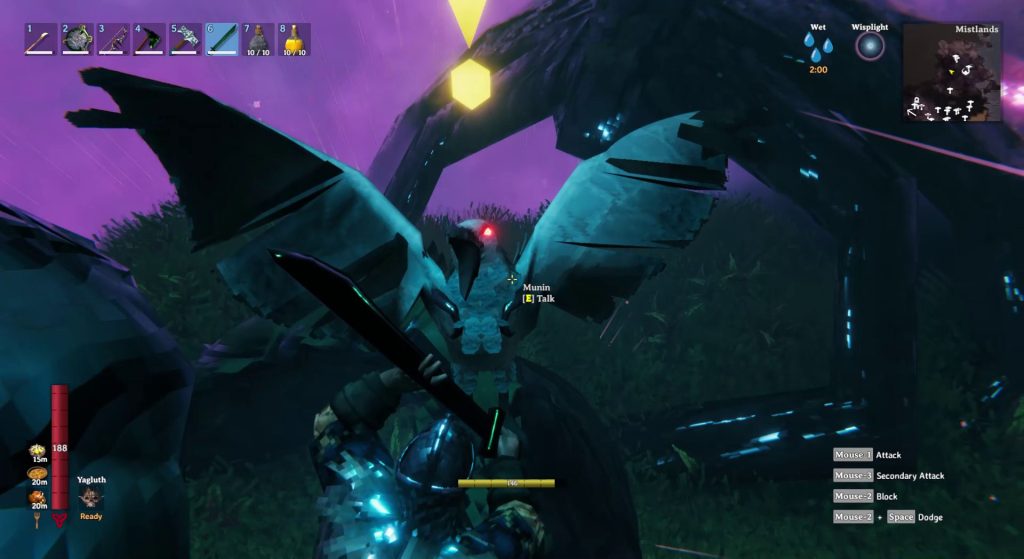 Networking also saw some bug fixes for PlayFab servers, multiplayer performance, and several other issues. For a full list of new features, updates, and bug fixes, check out the detailed patch notes, below.
Detailed Patch Notes