Game:
The Elder Scrolls V: Skyrim
Content Type:
Gaming News
Date: August 27, 2011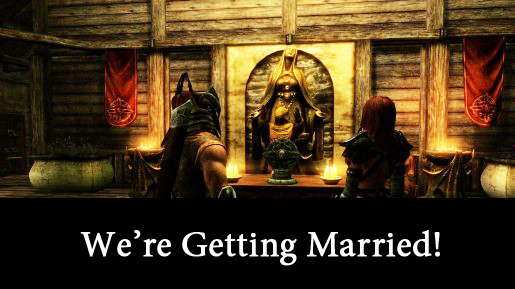 When you're not fighting off giant trolls or dodging dragons in Skyrim you should be able to come home to a loving spouse. Todd Howard and his team thought this exact same thing when deciding to implement marriage into the next of The Elder Scrolls Series; Skyrim. Marriage isn't taken lightly in Skyrim either, it's a full blown marriage system equipped with a spouse that will cook and nurture you.
Unfortunately like marriages in real life they aren't always perfect. Todd Howard explains "When you get married, you can decide where you live – if you own a house, your spouse can move in with you, or you can move in with them," – each decision you make in your marriage has a consequence. Howard continues with "So I had owned a house in the city of Whiterun, and asked her, 'OK we should live there.' I went there, and she hadn't arrived yet, so I decided to wait – I slept." As he woke he noticed someone else in the house with him and his wife, her secret admirer had just walked out of the bedroom with her.
"It's my wedding night, guy walks out of the bedroom!"
Marriage in Skyrim might be a little more than some players had bargained for but it definitely sounds like a nice addition to The Elder Scrolls series.