Content Type:
Gaming Reviews
Date: July 2, 2017
The Golf Club 2 is a golf simulation game available from retail stores and for download from the PlayStation Store for the PS4. The Golf Club 2 is the sequel to the first-ever golf game released for PS4, but can it appropriately surpass the quality of its predecessor and is it a worthy successor to Electronic Arts' PGA Tour golf games?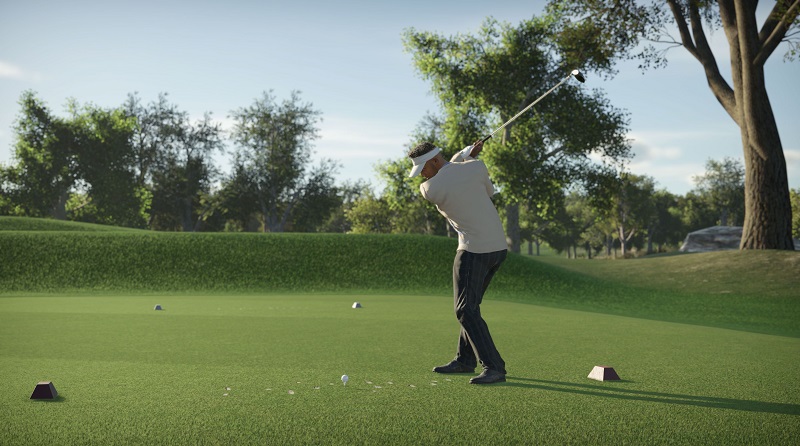 The Golf Club 2 begins by asking the player for their preference of left or right analogue stick for controlling your swing to get a feel for whether the player is left or right handed. It is immediately followed by a series of narrated tutorials starting with a swing basics tutorial covering the basics of hitting the ball, reading swing accuracy and managing swing tempo before progressing onto learning the basics of how to putt through managing putt strength and reading the break. Further tutorials include a clubs and shot types tutorial including how to change your club, choosing a shot type and how to read the lie of the ball, while a lesson on advanced shots teaches the player how to hit a partial shot, adjusting the loft of your shot and how to apply fade or draw. Every tutorial is available to re-learn from the training area which is also complimented by facilities including driving range, chipping practice and putting practice; which are all helpful features to explore before entering tournaments.
Career mode is the biggest introduction to the feature set of The Golf Club 2 in comparison to its prequel. You can choose to handpick golf courses to create your own season or select a preset season template ranging from five events for level 1 all the way through to 52 events for level 10. Career mode is progressive resulting in everything leading somewhere, so as you reach a new level; opponents will become gradually harder, while in-game currency is important to invest in better equipment, but can only be earned by being successful on season event scorecards. Career mode possesses TV style broadcasting presentation due to commentary from John McCarthy who introduces the event as being brought to you by TGC Network, providing scorecard updates at the end of each hole and calling all the twists and turns in between. A clubhouse can be chosen, although 23 of the 25 clubhouses will be locked until you have earned enough in-game currency and attained the relevant career level.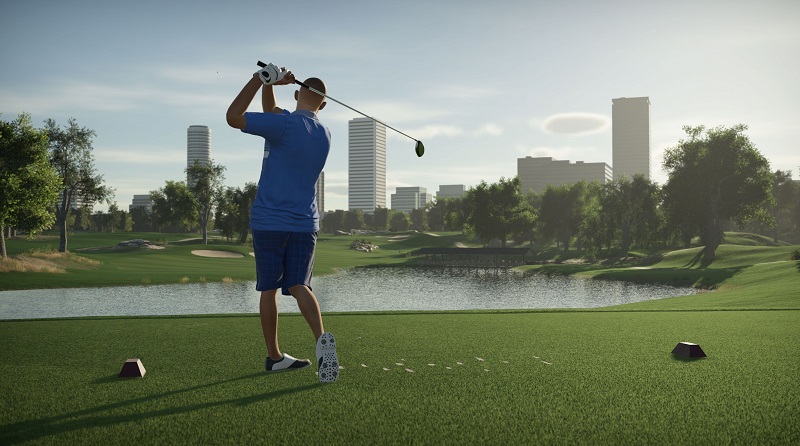 Play mode allows you to participate in a variety of categories full of golf courses including TGC official, suggested, hot, all courses, handicap rated, my courses, my favourites, my played, friends courses, friends favourite, friends played and the ability to resume an 18 hole golf course from the hole you reached before quitting out of it. Every course within play mode provides stroke play, stableford, match play and four ball rules. Further customisation provides handicapped scoring after playing a few rounds on handicap-rated courses to unlock your handicap index; various tees such as red tees, green tees, white tees or blue tees that increases or shortens the length of the round; and a preference for a particular set of pins.
An excellent game design choice sees numerous basic and advanced challenges generated for each official and user-generated course throughout every mode with a reward of in-game currency for achieving a challenge objective such as Many Birdies for completing a round with at least one birdie and No Hazard Hole for scoring par or better on hole 2 without hitting any hazards respectively.
The Golf Club 2's course designer has been improved in numerous ways in comparison to its predecessor, while retaining its effective approach to creating complex golf courses with an easy to follow editor. The first positive design choice being full backwards compatibility throughout every course created in the prequel; therefore over 100,000 user-generated golf courses are available from the outset. Backwards compatibility is taken a step further as players are capable of effortlessly importing any course into The Golf Club 2, resume editing and building a course that had previously been started, saved on your PS4, but had remained unpublished until now. Alternatively, players can improve a course they were already happy with as there are a slew of new features within the course designer. When building a new course from scratch; you can begin by naming the course, selecting a theme such as desert, boreal, tropical, countryside, harvest, winter, delta, rustic, swiss, steppe, autumn or highlands; adjusting terrain by setting the quantity of water hazards, hills, trees, plants, grass and rocks; course layout including number of holes, par 3s and 5s, fairway width and bunkers and green size and bunkers. If you are a player who only cares for how the golf course plays, then there are a variety of customisable settings for the tee box, fairway, rough, green and bunker, while land can be sculpted to flatten or raise the landscape or a smaller area, alongside the ability to create surfaces such as bunkers, green, fairway, rough, heavy rough or even creating a golf cart path. It is also important to note that if you do not agree with the procedurally generated foundation that you build your golf course upon, then there is an option to regenerate everything.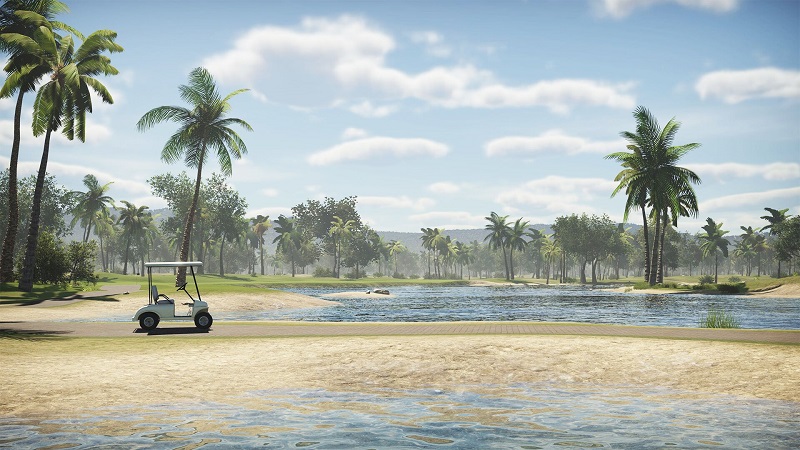 That is just the beginning though as there is a significant amount of new and returning features to the course designer including far more objects to be positioned around each hole; for instance theme related objects such as trees, rocks, plants and grass, although global objects are far more impressive due to their immense detail comprising of walls and fences, buildings, furniture, signs, bridges, equipment, vehicles, wildlife and global plants. Tournament related objects include a range of ad boards, grandstands for crowd seating, concession tents and camera towers to provide an inkling of a real world televised golf tournament. To present a scale of the course side detail; players can introduce a variety of fish and ducks into water hazards, while butterflies, dragonflies and flies can be added or better yet; create an entirely new hazard by carefully positioning a swarm of bees in important areas of holes such as on the tee, fairway and on the green. Further life can be added to every hole via designating areas for tournament crowds and mammals such as stags, deer, cows, goats, sheep, squirrels, horses, moose, buffalo skulls and kangaroos, while snakes and crocodiles could be parked on the green or in bunkers, alongside all manner of birds. Players can even change the time of day resulting in an increase or decrease in lighting during a picturesque sunrise, afternoon or sunset, while weather can also make a huge impact by adjusting the clouds in addition to haze, fog ceiling and fog density, then deciding if you want it to snow or not.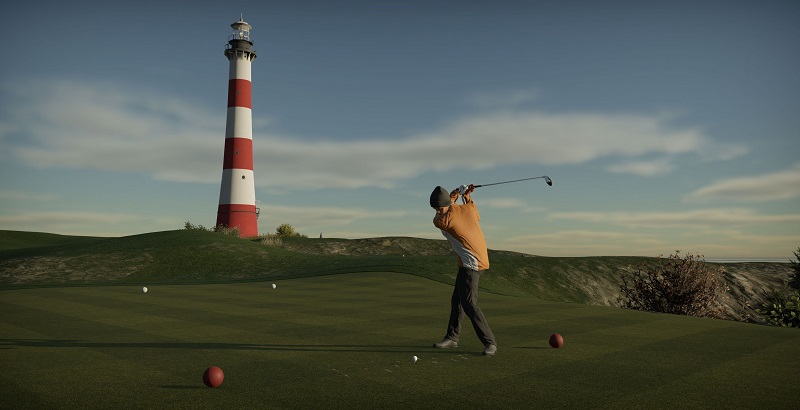 Stroke play is the most common form of play for professional events as it is adds the score for each hole with the player from the maximum of four participating who has produced the lowest score winning the event, while stableford rules are quite the opposite as they see players aiming to get the highest score with one to five points for a bogey, par, birdie, eagle and albatross respectively; match play is a straight shoot out between two golfers for the lowest score; and four ball rules being two teams of two golfers with the team-mate achieving the lowest score earning their team a well deserved point towards a potential victory as it is the team with the most points or an unassailable lead that wins the match.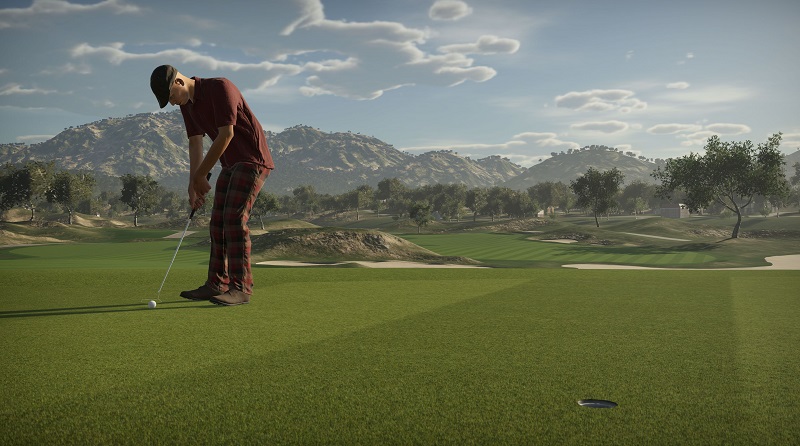 There is an even greater extensive range of character customisation to provide your male or female golfer with the appearance you want for him or her; comprising of fully customisable skintones, eye colours, hair, facial hair, eyebrows, eyelashes, skin, facial features or an entirely randomized appearance. There are multiple customisable sets of clothing designs including five hats; fifteen gloves, nine t-shirts, trousers and shorts, three pairs of shoes, two pairs of glasses, three watches and a belt to choose from with everything from a range of colours to stripes and even tartan to match anyone's style preferences that can be purchased via in-game currency. Further customisation includes nationality, switching to right or left handed, three categories for your golfer's club set including standard, player or tour and your preference of clubs including swapping clubs, then utilising in-game currency to customise their head, shaft and grip.
The Golf Club 2's remote play performance is pretty good as it retains the quality of graphics, audio and general performance from the PS4 version. There are no control optimisations resulting in L2, L3 and R3 automatically being mapped to the rear touch pad including the loft, draw and fade shot modification graph being mapped to the top left of the rear touch pad, while changing the camera angle is mapped to the bottom left of the rear touch pad and attempting a practice swing is mapped to the bottom right of the rear touch pad. It would most probably have been a more comfortable remote play control scheme if shot modification, camera angle adjustment and practice swing mapped to the touch screen, although The Golf Club 2 is still very playable during remote play after a bit of adapting to the rear touch pad controls.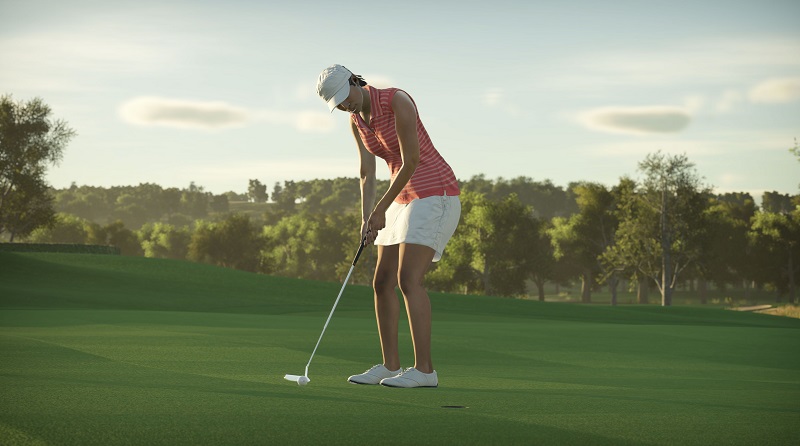 The controls are appropriately mapped to the DualShock 4 are simplistic to learn as the control scheme consists of pressing triangle to enter the scout camera followed by changing the direction of the left and right analogue sticks to pan the scout camera; pressing O to enter hole overview for an aerial view from the tee to the green; holding L2 followed by moving the left analogue stick or pressing up, down, left or right on the d-pad to modify your shot; pressing L1 or R1 to navigate through and select a preferred golf club for your next shot; pressing square to change the style of shot; changing the direction of the left analogue stick to the left or right or pressing left or right on the d-pad to aim your shot; pulling back on the right analogue stick and pushing it forward to take your shot or putt with the power of the shot being dictated by how far and fast you pull the right analogue stick backwards before pushing it forwards; pressing the share button takes you to the share feature menu; and pressing the options button to display the pause menu.
An alternative control scheme swaps the swing from the right to the left analogue stick and the aiming of your shot from the left to the right analogue stick, while retaining the rest of the control scheme to assist players who are left handed instead of right handed. The touch pad is only used during course editing to open or close the editor menu, while it is not mapped to at all when playing golf, although it could have been an alternative to the left analogue stick when adjusting the shot modifier. The light bar is only utilised minimally as it remains a light shade of blue, although it would have been more immersive for the light bar to produce colours to outline the quality of your scorecard performance in between shots and changing colours to showcase the quality of your shot or putt, while there is no vibration which is surprising as it could have reflected landing in the heavy rough or a bunker.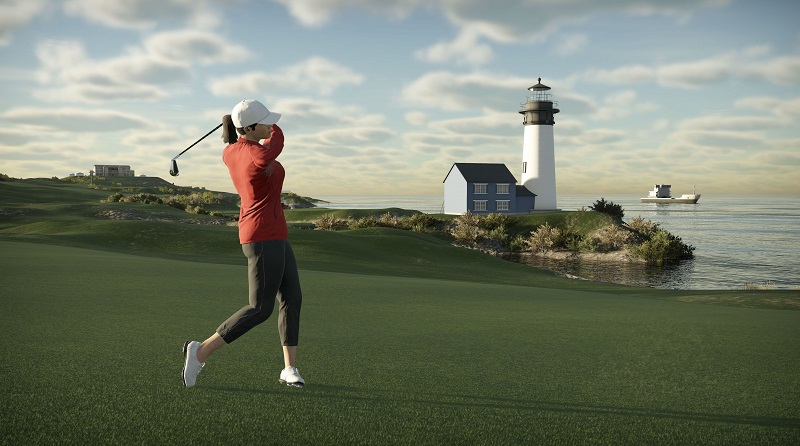 Graphically, The Golf Club 2 has increased in realism by introducing tournament crowds, while there are some moments of flare such as moving cloud formations and golfer animations as they are taking their shots or putts. Further golfer animations include reactions to successful shots or putts and showing some signs of anger during a poor shot or near miss on a putt, although there needs to be more consistency as there are occasions when there should be a golfer animation that does not occur such as punching the air to celebrate an excellent shot or winning a hole and disdain when missing a simple putt. One particularly important improvement has been made in comparison to its predecessor as trees no longer pop-in and pop-out as players are lining up their shots. However, there are still some issues when the golf ball is in transition or as the scout camera passes over the course such as a few trees in the far distance popping-in and shadows of trees on the fairway, green and water hazards being re-textured.
The presentation of the game is appropriate for a golf game with a great user interface across various menus such as the title menu, main menu, golf course selection menus, training menus, career menus, online multiplayer societies menus, course designer menus, online leaderboard rankings, options menus and gameplay menus with support for navigation via the left analogue stick, directional pad and face buttons, although it does not include support for navigation via the right analogue stick and touch pad. The background of the main menus focuses on panning slowly along the most recent golf course you have been playing on.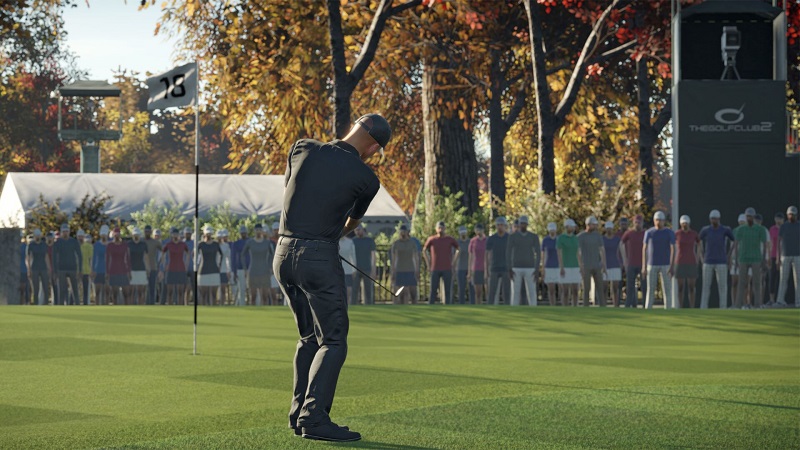 John McCarthy provides exceptional commentary for every game mode from narrating helpful tutorials to commentating throughout every event in single player, local and online multiplayer such as introducing events and holes, providing analysis on shots and putting, even some sarcastic pro tips including staying out of the rough to save par which is said in good humour and much more besides. Sound effects include golfers striking the golf ball, the golf ball bouncing and landing on the course or in a water hazard, pole flags rippling in the wind, birds tweeting and insects, nearby water hazards and trees rustling in the wind; accompanied by a mixture of relaxing and adventurous music. A major improvement in audio is the addition of a believable crowd during season events with appropriate reactions such as gasps when a player is so close to a hole in one or making the putt from a long distance and applause for superb shots or putts. There is no DualShock 4 speaker implementation which is surprising given that it could have produced commentary or crowd reactions.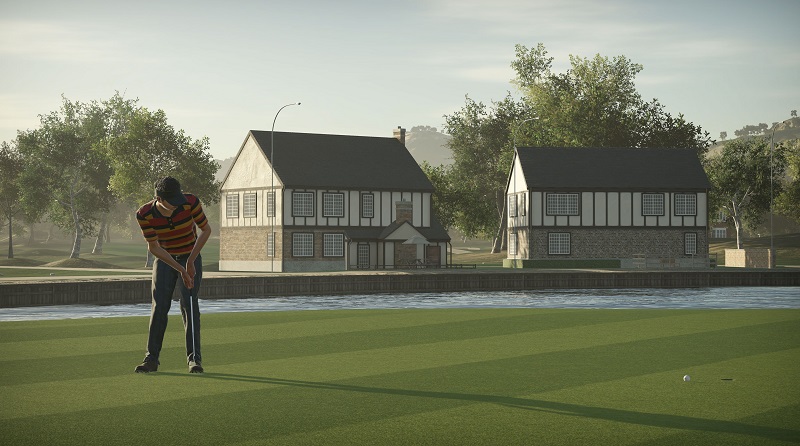 The trophy list includes 27 trophies with 14 bronze trophies, 5 silver trophies, 7 gold trophies and 1 platinum trophy. Easier trophies include the Amateur Golfer for completing an 18 hole round of golf and the Putt-Putt… and Putt, and Putt… bronze trophy for sinking 25 putts in one session of putting practice. Harder trophies include the Ace gold trophy for scoring a hole-in-one on an official course; the Golden Ferret gold trophy for holing the ball from a bunker on an official course; the Super Ace gold trophy for scoring a hole-in-one from 250+ yards; and the Season Champion gold trophy for ranking first in points in a ten event or greater season in career mode on hard difficulty or higher. There are achievable online trophies including the Team Player bronze trophy for representing a society in an official society event and the Participation Medal bronze trophy for competing in and viewing the results of a society event against at least four other members. It is estimated that depending upon skill and a good trophy guide to provide some helpful tips that it would take between 20 to 25 hours to platinum the trophy list.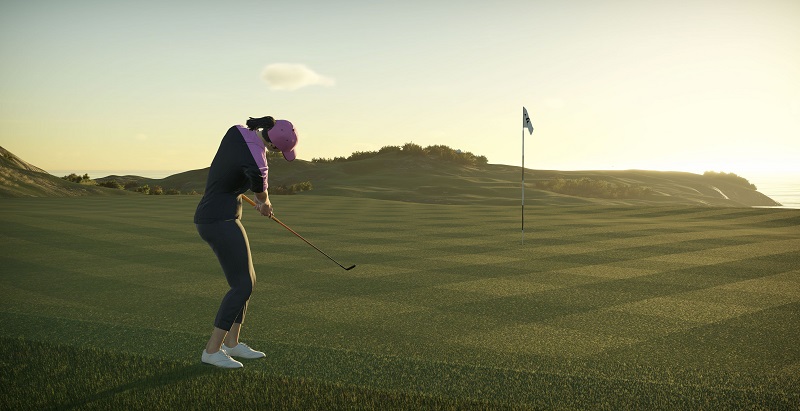 There are five difficulty levels including very easy, easy, medium, hard and very hard, although hard and very hard difficulty levels cannot be chosen in career mode until the player has reached levels 5 and 10 respectively. Easier difficulty levels will most probably result in A.I. controlled opponents having a scorecard that is one or two under par at the end of an 18 hole round, while harder difficulty levels will significantly increase the potential of A.I. controlled participants scoring at least birdies on each hole. Regardless of the difficulty level; players require skill to overcome not landing in bunkers, water hazards and the rough as well as not miss-hitting, under-hitting or over-hitting shots or putts, alongside accurately factoring in the wind direction and speed when aiming your shots and judging the slope of the green when putting, therefore gameplay will at least be difficult at times even on the easiest difficulty level.
Local multiplayer for up to four players provides the opportunity to play entire 18 hole golf courses via stroke play, stableford, four ball or match play rules. Players can use separate DualShock 4 controllers or alternate between the same controller for a user friendly and cost effective solution to potentially not having as many as four DualShock 4 controllers. All four sets of rules are competitive albeit with different stipulations such as match play being specifically for two players, while four ball rules are designed for two teams of two players to face each other, therefore four ball rules is the most varied local multiplayer mode as it is simultaneously competitive and co-operative multiplayer.
Online multiplayer is presented in the form of societies that are essentially club houses with a choice of joining or creating a society, searching for a society or viewing all official societies. Upon joining a society, players can view the season schedule and statistics of the respective society you have chosen. Representing your society in every tournament you participate in, while climbing the ranks and earning in-game currency in the process.
The online leaderboards focuses on global rankings and friends' scores with each leaderboard containing each player's rank; name (PSN ID); round; and best score, distance or accuracy percentage throughout every golf course including user-generated content which is an excellent gameplay design choice to have such vast online leaderboards. Every course is covered by statistics such as best score, birdie conversion, par breakers and scrambling in addition to performance statistics including longest drive, scoring shot and scoring putt, driving distance, greens and fairways in regulation, putts per hole and short, medium and long putt accuracy.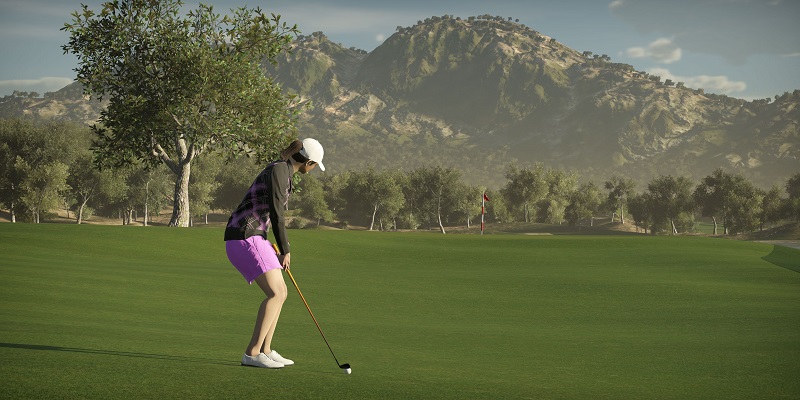 Replayability stems from every mode and gameplay element including the career mode, local and online multiplayer, expanded character customisation, even more freedom within the course designer and over 100,000 user-generated golf courses in addition to online leaderboards and generated challenge objectives for every golf course which are further complimented by returning features including tutorials and training facilities, extensive stats and replays to assist in the development of your golfing ability. There is enough gameplay and length in the career mode to keep players returning for dozens of hours, while the golf course designer and the ability to play every user-generated course technically provides unlimited replay value.
Analysis
• Title: The Golf Club 2
• Developer: HB Studios
• Publisher: Maximum Games
• System: PS4
• Format: Retail/PSN Download
• Cross-Buy: No
• Cross-Play: No
• Players: 1-4 (Local and Online Multiplayer/User-Generated Content Social Sharing/Online Leaderboards)
• Hard Drive Space Required: 8.73GB (Version 1.01)