Content Type:
Gaming Reviews
Date: March 8, 2021
Getting into the new Supercross Career Goals
Milestone is back at it again with their yearly release of another Supercross videogame. This year's 2021 Supercross release is Monster Energy Supercross – The Official Videogame 4. The game has a few new features and upgraded visuals from its last release. Hopefully, it has high hopes to keep a Multiplayer player base with a couple of new takes on their Race Director & Free Roaming modes that will allow players to be free on organizing their own tournaments and allow players to play with friends outside of a timed lap based system. We've been asking to keep the pace to ensure the game can keep an online player base, and it looks like they listened to us; we'll try it out.
Other upcoming Milestone releases include MotoGP 21 (Apr 22, 2021 Release, and Hot Wheels Unleased (Sep 30, 2021 Release). All three of these upcoming games hope to put Milestone back on track for online play with other gamers who want to go fast and compete for a career on the tracks.
After talking with the developers over at Milestone about their upcoming release of Monster Energy Supercross – The Official Videogame 4, it was great to hear that new features and a new system are in place to ensure things go up from here. We'll break down what they have in store for us Supercross and MotoGP fans.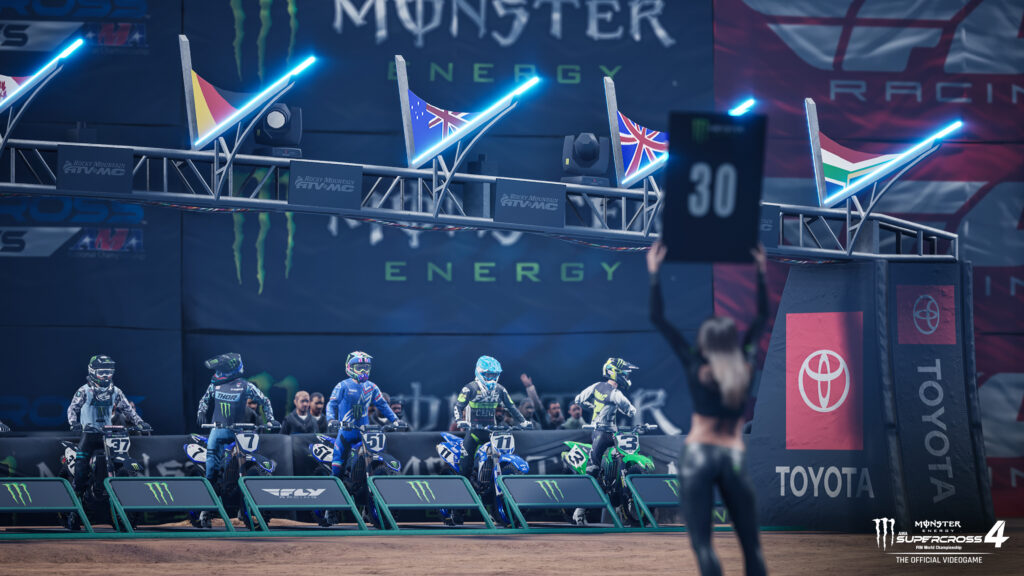 What's New?
Looking back at Milestones 2020 release of their Supercross videogame number 3, we could easily see a few upgrades and new key features that could come to play in this release of game four. Breaking it down, singleplayer now has a whole new career system that will keep the player involved enough to keep their rider going with a new skill tree system that allows the player to improve over time after starting from the future rider list all the way through the perfection road to being a pro. With a new list of maps that will allow the player to go through each and everyone from Offical Tracks (17), Compounds (4), and Online Tracks that players will be able to make and share to others to play around is a new step that got my interest quickly while playing through my career.
We have improved the Race Director functionalities with the hope that players will be free in organizing their own tournaments and, only for next-gen consoles, we increased the number of concurring players to 16; so races will be more challenging and more people will be able to compete together. – Milestone Team
The release of the free-roaming compounds will allow players to play along with others to explore a somewhat open-world map that still has map boundaries. Still, each one will have obstacles that players choose from while riding around the map, and with different weather options (Clear, Rainy, Wet, and Indoors), and collision fixing, playing with others, or roaming alone just got a whole lot better.
A new and improved track editor will have players making their own maps with various sets of compounds to choose from (4 Outdoor Stadiums and 4 Indoor Stadiums). With new ways to build and maneuver around, I could even make a simple course to share and see how people will hopefully enjoy it. While a Steam store's workshop is still on the back burner with development plans, sharing maps through the system is still fun and easy enough to hope the community can share what they have.
While the AI difficulty, even on their highest realistic tier, maybe a little slow at times for some Pro players, it has definitely improved since the games last release, along with their air physics that have been reworked enough with their options of Assisted to Advanced that will allow the player to use their true skills to have the bike respond with more of a realist effect that has been approved, again, a bit since the last release that is good enough for now.
Thanks to the players' feedback and a lot of iterations by our physics designer we tweaked all the different values related to the motorbike's inertia and in-air movement in order to improve the feeling of the bike while in the air – Milestone Team
At the end of the new features and models of new player characters and maps for the release of videogame 4 of supercross from Milestone, a lot has been improved. The community has been listened to, to the point that it makes it worth looking at the new things released.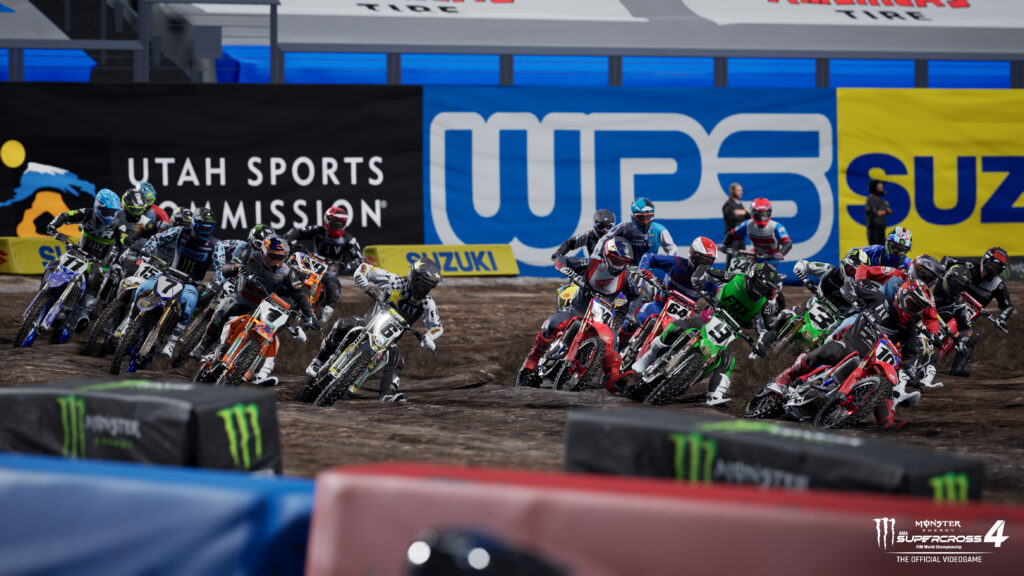 Game Progression & Customization
Getting into the customization side of things for your riders. Each player will see over 110 official brands to brand their player's character and bike to stand out on the field. With rider data starting, you'll be able to change your character's name, surname, nickname, gender, height, number range, number, continent, and player's country. After doing so, the player will be met with a rider appearance that may be lacking body customizing options but still allows you to change the Head (Face, beard, and Eyes) and other miscellaneous options (Tattoos Piercings).
The player customization with different brands will unlock over time. When you earn the in-game currency of CR Credit, you'll be able to customize your player's Suit, goggles, helmet, boots, and neck brace. Going to your bike, the player will improve the rider's bike over time with the skill tree system and overall career on the Suspensions, rims, brakes, handlebar, exhaust, barpad, tyre, rear sprocket, handgrip, handguard, and saddle. While being able to customize all of these things for a rider, the player will also make different rider presets to choose from for other branding times on the field.
While you progress through the game after knowing what you're working towards with the career of the games, new skill tree system, and so many brands to choose from on your journey, Monster Energy Supercross – The Official Videogame 4 has enough challenges and rider skills to improve to keep the player involved over a variety of maps and paths to choose from on the career path. Going from a Career in the single-player mode with Events, Championships, and free-roaming compounds, to multiplayer, will allow players to use the race director mode to make fun custom lobbies with others or free roam around to try out what the game has in-store.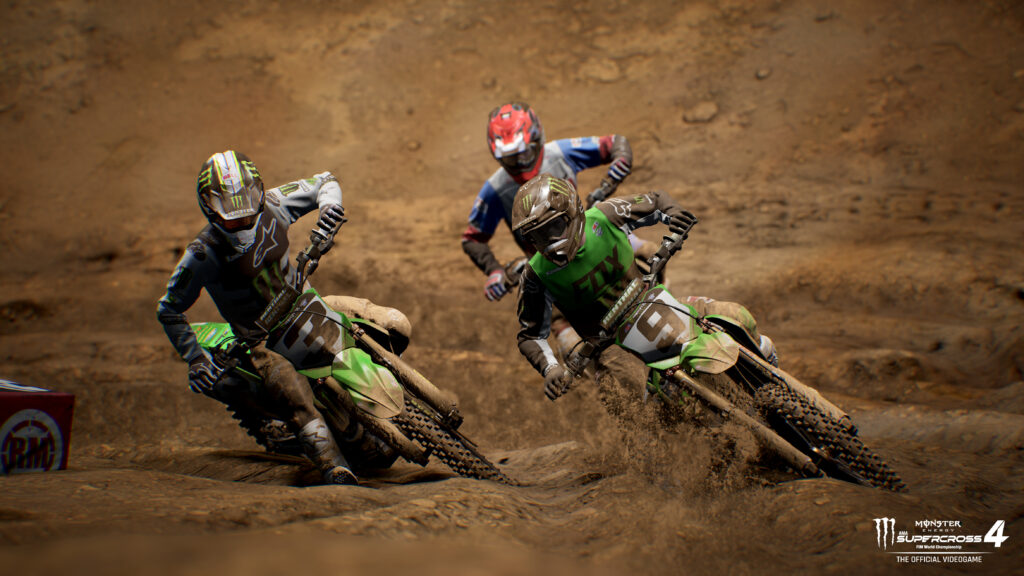 Final Thoughts
Breaking down the release of Supercross 4, there are improved physics that will allow the player to have assistance or go off on their own on a more realistic adventure that has been enhanced a bit from the last game release. In contrast, in the air, to the physics of terrain deformation while in the water or the fields that may not affect paly much while running over it after a race, but it goes down in the record that supercross 4 has more water physics than Cyberpunk 2077. While the new features and cosmetics are near perfect for unlocking new things for the riders character and the career path is on its way to near-perfect to keep the player involved, the lack of a free-roam camera while racing instead of using different keys to look left, right, and behind would be a step in the right direction. And a rider stability upgrade that will keep your rider from flying off their bike when turning a little too hard or when barely grazing a tree/rock would be an excellent thing to see also.
The new Milestone release of Supercross 4 is one of the best supercross games out there that gives the most realistic feel when the settings are right. The game has enough for a variety of skills and maps before even trying out any of the community releases. With a career path in view for USD 44.95 on release day, Monster Energy Supercross – The Official Videogame 4 is a must-buy if you're into Supercross and enjoy the releases Milestone sends out. And with a final score of 9/10 for the game's supercross realistic abilities, I can't imagine what's in store for the community with the upcoming game Season and future updates.