Content Type:
Gaming News
Date: September 10, 2021
Remember when games came out finished, with all of the content right there in the box that you took off the shelf? Yeah, me neither. Fortunately, at least some of Far Cry 6's post-launch content will be free — good news if you're a cheapskate like me. A Far Cry 6 Post-Launch Overview trailer dropped today, and showed off some pretty sweet-looking DLC.
The free DLC includes the Danny Trejo content, as well as the Rambo and Stranger Things missions. You'll fight alongside Trejo (who has brought his machete), the Rambo chapter promises "80s blockbuster" action, and you'll search for your adorable missing doggo Chorizo in the Stranger Things DLC.
Also included in the free post-launch content are 6 new special operations as well as weekly insurgencies (which will begin "Day 1", presumably on launch). When combined with the incredible amount of stuff to do in the base game, it looks like there will be more than enough content to satiate even the most ravenous of Yaran rebels.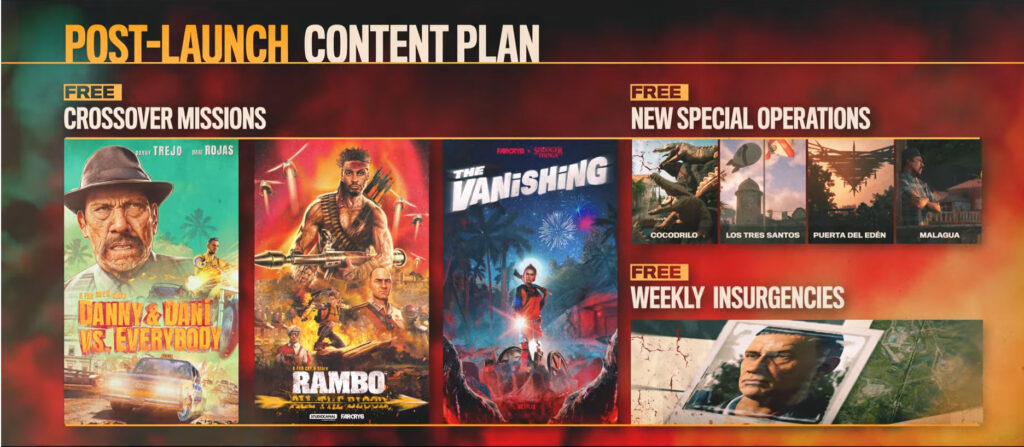 If you spring for the Season Pass, you'll also get to play as the villains from Far Crys 3, 4, and 5, learning more about their backstories in the process. These missions sound like they are roguelike in nature, given the "die and retry" system that lets you collect resources you can spend on upgrades and weapons. As has become standard in Far Cry, you'll be able to rock these missions in Co-op as well as solo.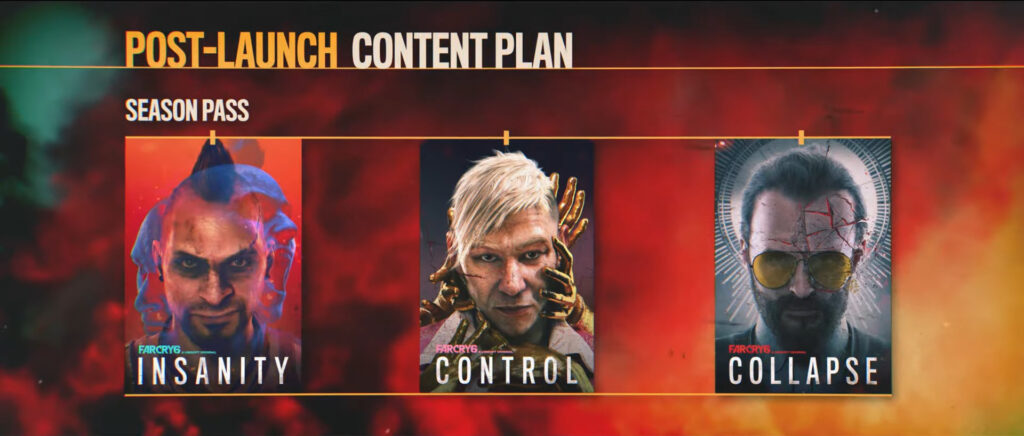 All in all, it sounds like a pretty fair deal as far as DLC goes. The free content looks to be deep and well-made, and the paid stuff is a new twist on the traditional Far Cry formula. It's an extra $40 for the Gold Edition, which is the lowest tier in which you can get access to the Season Pass, at least for now.
---
What do you think about all the crossovers? Interested in the Season Pass? Let us know what you think in the comment section below!