Content Type:
Gaming News
Date: March 16, 2023
With Starfield not coming out until September, anyone hoping to fly around in a cool, customized spaceship this summer had their hopes dashed — but not irrevocably! If you're willing to be a bit flexible genre-wise, there's another game that might help tide you over for the next few months: Everspace 2.
A sequel to — we bet you can guess — 2017's Everspace, Everspace 2 continues in the same space action vein, but ditches most of the roguelike elements of the previous title in favor of an open world RPG format (although the game does contain some random encounters in side content). Despite its RPG elements, the focus is on space combat, and includes 9 different ship types that provide a wide variety of playstyles. With 6 star systems containing over 100 hand-crafted locations, Everspace 2 is a much larger game than its predecessor, and promises up to 90+ hours of gameplay if you go for a completionist run.
Combat is smooth and dynamic, and the huge variety of ships and weapons available means that no matter what combat approach you prefer, you'll be able to equip yourself to fight how you want. Within the three standard ship types of light, medium, and heavy (which are fast but fragile, all-rounders, or tanky tortoises, respectively), there are some unique ship types that we're excited to try out. One of the light options is a stealthy ship that does massive damage for a few seconds after revealing itself; there's also a ship type that repairs itself when damaging enemies — who doesn't love a good lifesteal build?.
We got a sneak peek today of the latest version, which officially releases next month after nearly 3 years in early access. In the preview, snippets of epic endgame space battles were shown, a new boss was teased, and then Rockfish CEO Michael Schade answered questions.
Perhaps the most notable thing about the whole presentation was the obvious excitement in Michael's voice as he gave answers and shared info about what was coming in the release version of the game. It's clear that he's proud of what the team at Rockfish has created — and based on what we saw, he has every reason to be.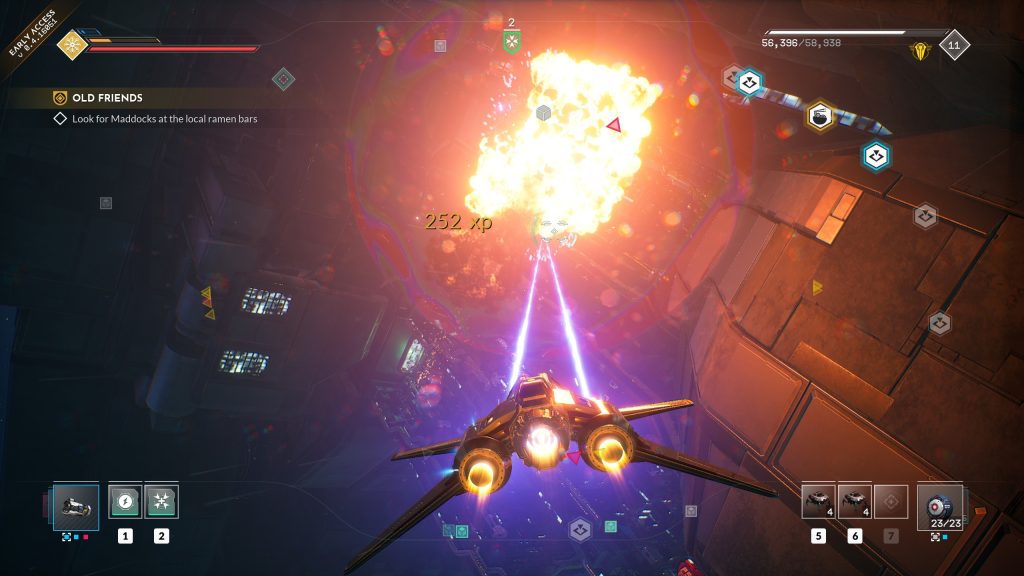 While we can't share specific details, suffice it to say that the battles in the game's later stages are suitably cinematic, with countless friendly and enemy ships zipping around. We got to see brief sections of a number of these late-game combat sections, and they all seemed to have unique challenges or mechanics, and look like they'll really test your piloting skills.
What's Coming In 1.0
Some readers may already be fairly familiar with the game, as it's been in early access since 2020. In today's preview, we were also given some info on what new mechanics and features are coming in Everspace 2's 1.0 release:
Trading – Players will be able to buy and sell commodities, and even find profitable trade routes. While it's not going to be particularly complex, there will be a minor dynamic economy, preventing you from running the same trade route over and over for the same rewards.
New Companion "Ghost" – This companion will have a devastating attack you can trigger, but it requires that you take down the enemy's shields for Ghost first.
Changes to Legendary Item Drops – Instead of being exclusive to Ancient Rifts, Legendary Items will be accessible earlier.
New Ship Customization – You'll be able to modify new parts of the ship: the color of thrusters and engines, and the tint of the cockpit.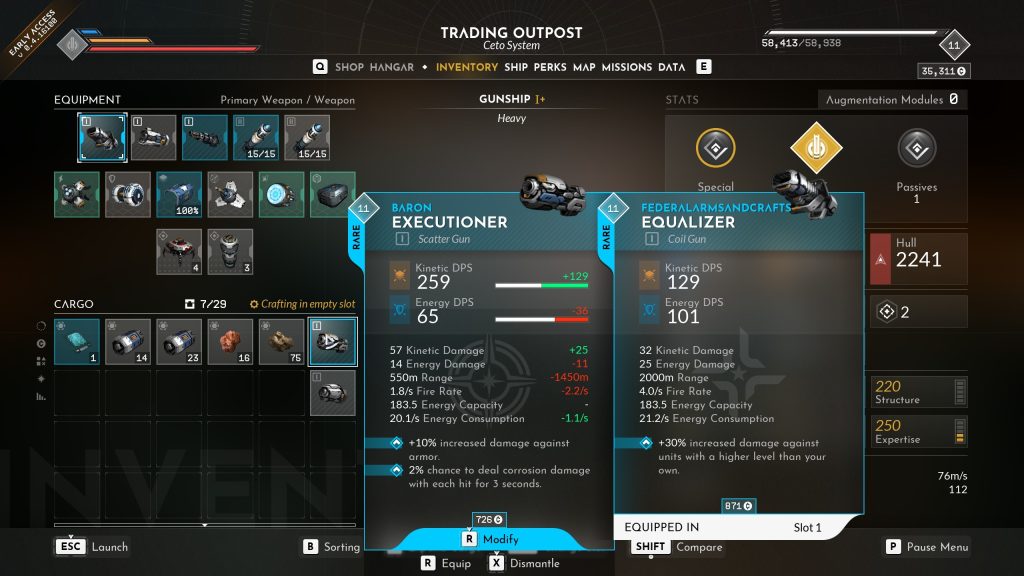 The updates won't stop with 1.0, however: a major post-launch expansion is already planned for 2024. Rockfish was even able to secure funding from the German government that will allow them to create the expansion without securing additional funding first. Before this paid expansion releases, a free DLC will arrive in Q3 of 2023, bringing with it more weapons, more customization options, and "a few other things".
Everspace 2 is set to release next month, on April 6th, on PC via Steam, GOG, and the Microsoft Store (including on Game Pass). It will come to Xbox Series S|X and PlayStation 5 in Summer of 2023. Steam Deck is currently supported but not optimized. However, Deck users will be happy to hear that the devs are working on a Linux build of the game that should allow it to run well on Valve's handheld platform.