Content Type:
Gaming News
Date: August 17, 2016
One Night in Karazhan, the latest expansion for Blizzard Entertainment's online card game Hearthstone: Heroes of Warcraft has been out now for just under a week and I have finally got round to checking out the prologue.
Here I am playing as Medivh against the rather unterrifying Prince Malchazaar. Despite him summoning a 6/6 infernal every turn, the sheer magnitude of Medivh's spells mean he's not much of a challenge. Still, it's a nice introduction to the expansion though, to wet your appetite.
The new expansion includes 5 stages (the free prologue being the first), each crammed with bosses with new tactics and strategies to learn, plus 9 class challenges. The structure is similar to the other solo adventure expansions, in that you can't unlock a wing until you have defeated all the bosses (although not the class challenges) in the wing that precedes it.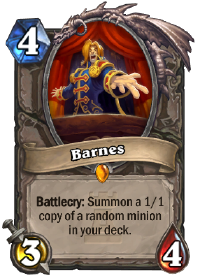 Anyway, there are an additional 45 cards included within One Night in Karazhan which brings in some major strategy altering stuff. Like this one for instance, I love cards that bring a deadly or sometimes suicidal element to a game.
As far as cost goes, the prologue is the only free part of One Night in Karazhan. You can buy each wing for £5 / $7, or you can purchase all of the remaining unlocked wings, up to £14 / $20 to unlock them all at once. Or, like me, you can do it the hard way and unlock each zone for 700 gold of in-game currency.
From what I've seen, I'm excited about One Night in Karazhan, I just need to save up the 2800 gold to unlock all the wings.
If you are yet to experience Hearthstone, well now is as good a time as any to try it. You can download Hearthstone for iOS here and Android here
Stay tuned for more info on One Night in Karazhan, Hearthstone and many other games right here on the Zombie Chimp.