Content Type:
Gaming News
Date: December 9, 2022
If you have been keeping up with the Among Us community and its popular streamers, especially at the peak of its popularity, you know about the community-created game mode — "Hide and Seek".
Unlike in the normal mode, the game starts off by revealing the impostor, the "killer" right away. Then, the players skip the vote, and let the Killer count up for about 15-30 seconds as everyone hides before announcing "ready or not, here I come". And, then the real fun begins: crewmates are still working to complete their tasks (or, it's up to the players), but the known Killer is up and about. Players could try and bait them around and coordinate their location, but the Killer has the advantage of not getting voted out. Winning condition is the last crewmember standing (even if the game technically says that the imposter is the winner).
Additional fun is added when playing with friends with audio on and using a proximity sensor — nobody can hear you unless you are nearby, and it definitely helps the immersion. Not too long ago, with the official addition of the new roles, the Impostors could also play as Shapeshifters, taking on the shape of another crewmember, and that feature carried well into the community's "Hide and Seek" games.
Now, wait a second, so why create an official mode? Sounds like the community pretty much got it figured out.
Well, for once, it does require full cooperation from the players. If someone keeps reporting the bodies, the fun will be quickly replaced by irritation. The official mode will make things… well, official!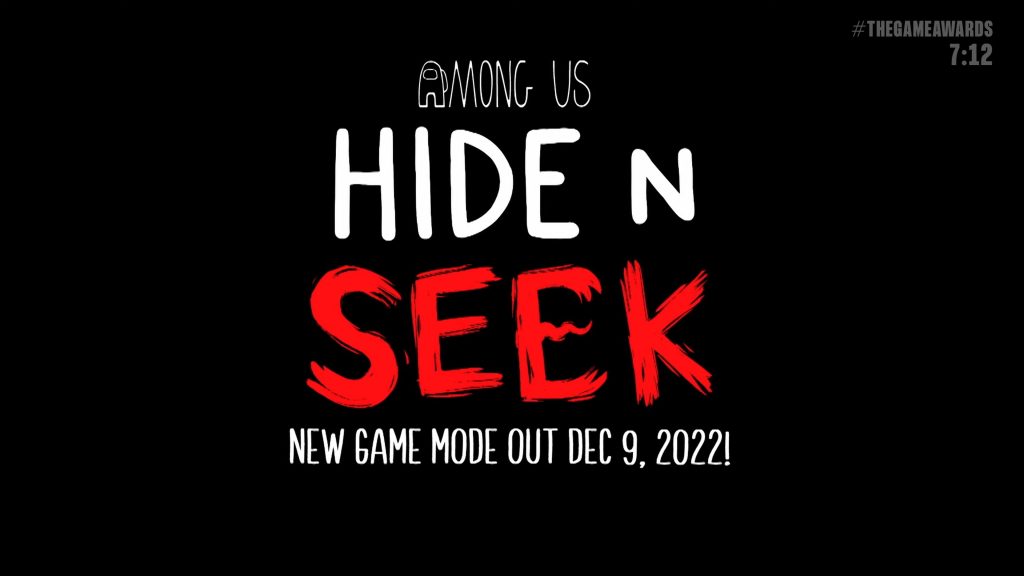 This would likely make the mode even more accessible to random matches, since newly joined players will not have as much of a chance to ruin your experience.
Additionally, if a new map or features were to accompany this one, it could further enhance the formerly DIY feel of the game — of course, the devs will have to contend with a wonderfully creative Workshop mod collection, but The Game Awards announcement so far has been quite promising in that regard, with the kill count, flashlight mode, and "Seek" abilities; it shows that InsideInnersloth is having a lot of fun with the DLC so far.
Get ready, Among Us fans! The new Hide N Seek mode is coming out tomorrow, December 9th!