Content Type:
Gaming News
Date: August 13, 2021
Today marks the opening of the Early Access Beta for Diablo 2: Resurrected. The Open Beta will start next weekend on August 20th.
Beta Dates
Early Access
Only available to players who: pre-purchased D2R, purchased the Diablo Prime Evil Collection, or watching streamers on Twitch in the Diablo II: Resurrected category for a total of 2.5 hours.

Starts: August 13 at 10:00 a.m. PDT
Ends: August 17 at 10:00 a.m. PDT

Open Beta

Starts: August 20 at 10:00 a.m. PDT
Ends: August 23 at 10:00 a.m. PDT
Available Platforms
The D2R beta is currently available on these platforms. Note that the Diablo 2: Resurrected beta is not currently available for the Nintendo Switch.
Windows® PC
Xbox Series X|S
Xbox One
PlayStation®5
PlayStation®4
How to Install The Beta
To install the D2R beta, navigate to the D2R game section in the Battle.net app and in the bottom left hand corner click the dropdown menu under Game Version, once you select Beta you should be able to install the game.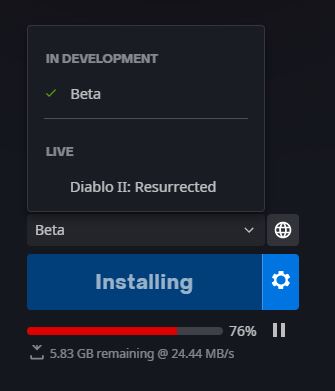 Email Invite
Blizzard also sent out an email invitation earlier today to qualifying players.