Content Type:
Gaming News
Date: May 2, 2023
There are a lot of disabilities that can get in the way of your ability to enjoy games. We've covered auditory disabilities like deafness already, and there's plenty more we could cover. But today, we're going to focus on a disability that you might not think of as a disability — motion sickness.
For many people, motion sickness isn't disabling; it's just an annoyance. But It can make a lot of games unplayable, and not just the ones you might think. If a game moves around too much without the player's control, if the camera is configured improperly, or if the field of view is out of whack, a lot of people who get motion sick won't be able to play that game without getting nauseous. The most common ways to fix motion sickness are to resize the game window or adjust the FOV, or Field of View — how much you can see of the game world without turning the camera. A ton of gamers have to deal with some level of motion sickness, and it can kill your love of gaming if you can't deal with it.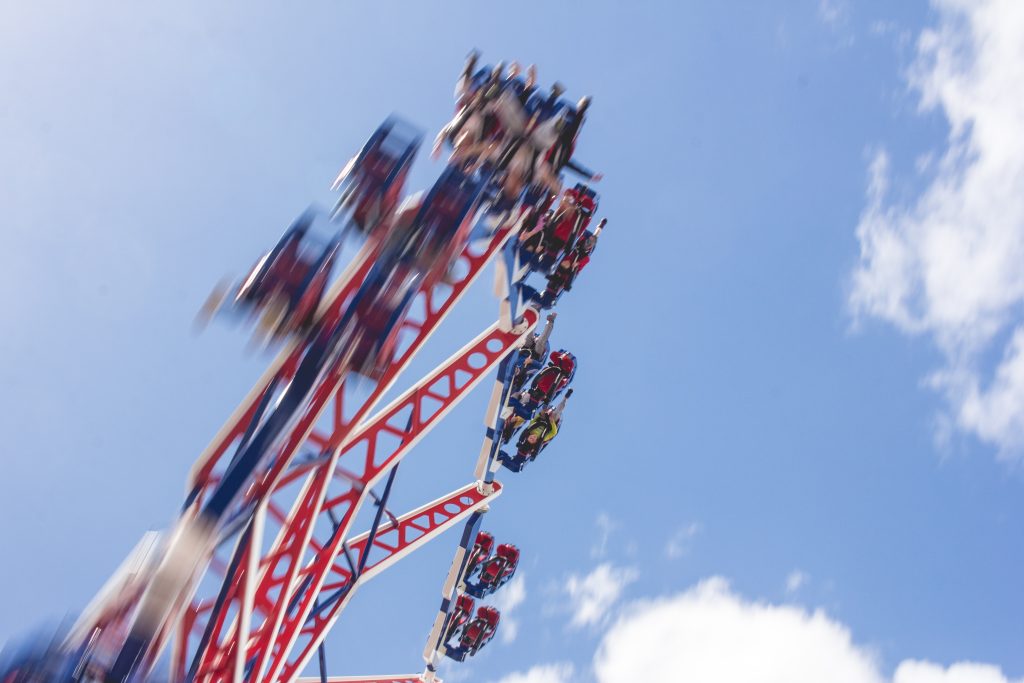 In this article, we'll take a look at a handful of games whose developers put in accessibility settings for gamers with motion sickness. A lot of games are motion-sickness friendly by default: titles like Stardew Valley or Cultist Simulator don't have any sudden movements, after all. But the following games would not be accessible if they didn't have specific tweaks — and are playable by a wider audience because of them:
| | | | |
| --- | --- | --- | --- |
| Game | Platform | Genre | What It Does Well |
| Minecraft: Java Edition | PC | Sandbox | Range of tweaks including FOV changes |
| World of Warcraft | PC/Mac | MMORPG | Three words: motion sickness potion |
| PowerWash Simulator | PC, Xbox One/Series X/S, Switch, PS4/PS5 | Casual Simulation | Special Aim Mode |
| Resident Evil 4 (2023) | PC, Xbox One/Series X/S, PS4/PS5 | Survival Horror | Huge suite of motion sickness tweaks |
| Mail Time | PC/Mac, Switch, PS4/PS5 | Casual Adventure Game | Accessibility options out the wazoo |
| Overcooked! All You Can Eat | PC, XBox Series X/S, Switch, PS5 | Strategy Party | Camera shake reduction |
| Disney: Dreamlight Valley | PC/Mac, Xbox One/Series X/S, Switch, PS4/PS5 | Life Sim RPG | Toggles for screen shake |
| Mario + Rabbids Sparks of Hope | Switch | Tactical RPG | Toggles for many motion features |
Stacey Jenkins at CanIPlayThat wrote an article that sums up the problems she faces as a gamer with motion sickness, and I'd highly encourage you to give it a look. Her work — and the work of the other inimitable folks at CIPT — made this article possible.
Minecraft: Java Edition
| | | | |
| --- | --- | --- | --- |
| Platform | Release Year | Genre | What It Does Well |
| PC | 2011 | Sandbox | Suite of options for changing camera movement |
Love it or hate it, if you're reading this article, you've at least heard of Minecraft. The voxel-based block-'em-up is probably the most well-known game of all time. It's a creative sandbox. It's a tense survival simulator. It's a multiplayer romp. It's the base for a Jenga tower of mods. It's whatever you want it to be. Unfortunately, the camera settings are notorious for giving people motion sickness, and Minecraft: Bedrock Edition gives you no options to alter this. Do better by your console players!
Thankfully, Minecraft: Java Edition gives you a suite of options to help with motion sickness. You can adjust the FOV, make various tweaks to the camera, and turn off the player character's head bobbing. While it's still not perfect, you can get rid of most of the game's major motion sickness triggers. Community members have also reported that high quality texture packs help with motion sickness, so if you are up to mod your game, you might want to give them a try.
World of Warcraft
| | | | |
| --- | --- | --- | --- |
| Platform | Release Year | Genre | What It Does Well |
| PC/Mac | 2004 | MMO | Motion Sickness Potion removes queasy elements |
If Minecraft is The Sandbox Game, World of Warcraft is The MMO. It needs no introduction. We have a sister site dedicated to WOW news and guides. If you like video games, you've probably explored Azeroth at some point, even if it wasn't for long.
World of Warcraft's been updating its accessibility features for a while now, including tweaks to its FOV settings and controller support. But the real star of the show here, at least for players who get motion sickness, is the Motion Sick Peon's Magical Elixir. WOW has a handful of areas — Grimrail Depot, Maw of Souls, Blackrock Foundry, and Dragon Soul — with moving backgrounds. A spectral orc, who bears the noble title of Junior Accessibility Advocate, gives away the aforementioned elixir. Taking it will make the background stop moving- and cut down on the game's motion sickness potential.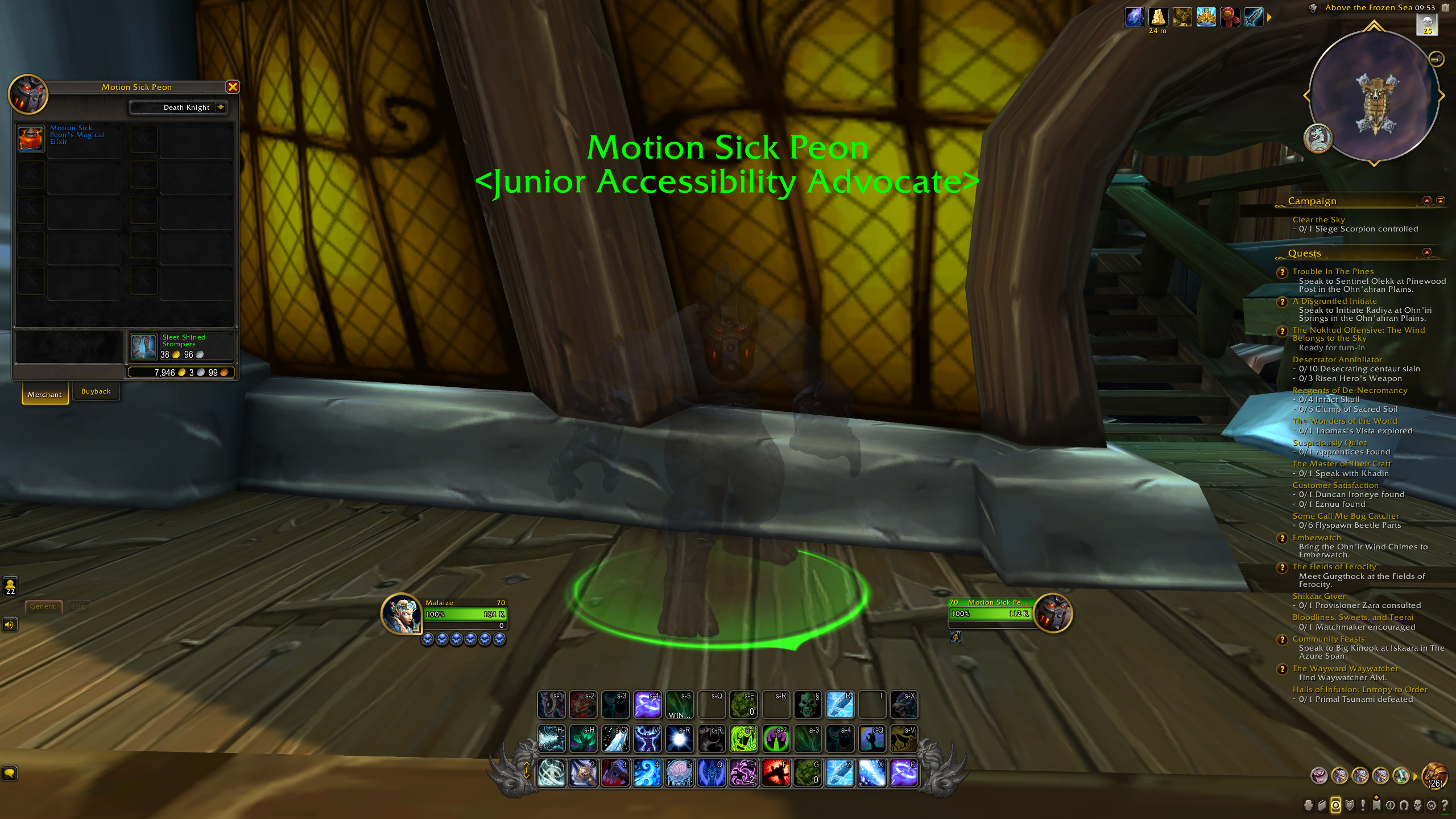 PowerWash Simulator
| | | | |
| --- | --- | --- | --- |
| Platform | Release Year | Genre | What It Does Well |
| PC, Xbox One/Series X/S, Switch, PS4/PS5 | 2021 | Casual Simulator | Aim Mode that locks the camera |
It's spring cleaning season in my part of the world, and I can't think of a game that scratches the itch that this time of year brings better than PowerWash Simulator. In this casual game, you run a powerwashing business and hose down anything you see, from ordinary houses to a mini-golf course to the Mars Rover. It's casual, slow-paced fun, with depth for people who want to dive into it and an enjoyable time for people who just want to chill and find a little Zen.
PowerWash Simulator's normally controlled with the left and right joysticks — like an FPS, if you were spraying water instead of bullets. Because of the camera's default settings, some players have reported getting motion sickness. In the interest of accessibility, the devs implemented Aim Mode. In this mode, with the flip of a toggle, you can switch between the normal camera and a locked camera. When you're spraying whatever implausibly filthy object you've come across, you can lock the camera and just move the water; when you're navigating, you can unlock the camera, and go back to normal. In a game where you're constantly moving a water jet, locking the background like this can really help reduce motion sickness.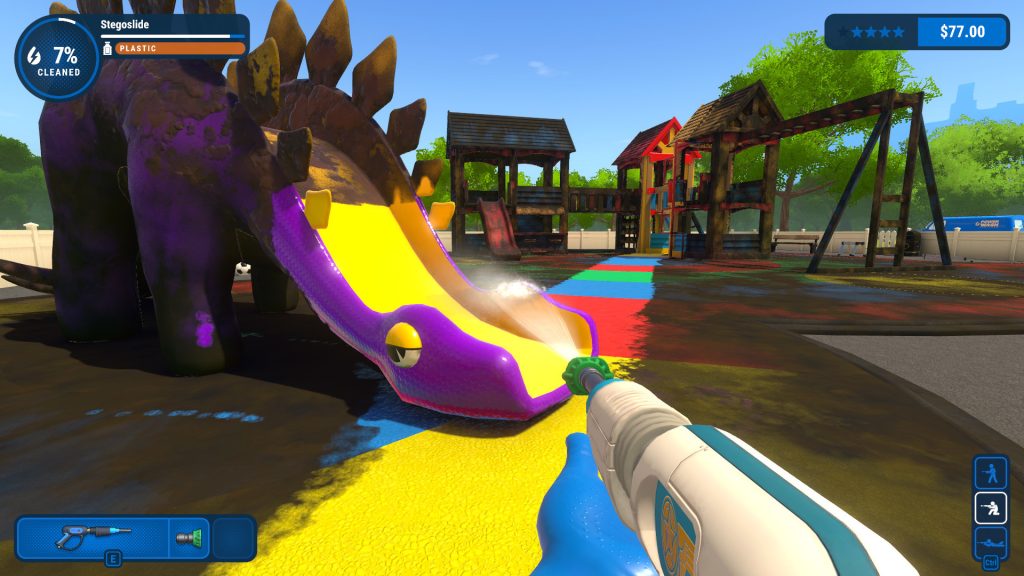 Resident Evil 4 (2023)
| | | | |
| --- | --- | --- | --- |
| Platform | Release Year | Genre | What It Does Well |
| PC, Xbox One/Series X/S, PS4/PS5 | 2023 | Survival Horror | Entire suite of tweaks, including FOV adjustment and motion blur removal |
This is another game that you have probably heard of, even before the remake came out. It's the foundation of modern survival horror. It's been ported and remastered as many times as Skyrim. Its parasite-infected villagers, creepy dwarf antagonist, wise-cracking hero, and… mousegirls, if the fandom is to be believed… are familiar to anyone who likes horror games. It's a must-play.
The 2023 remake of Resident Evil 4 has an entire suite of gameplay tweaks designed to reduce motion sickness. A lot of gameplay features that are meant to add realism — screen shake, camera wobble, motion blur, and so on — add the potential for so much motion sickness. RE4 lets you turn off all of these features, adjust the FOV, and tweak the camera speed and sensitivity. It even gives you the option to put a dot in the centre of the screen, so that you don't get visually disoriented. I've got to shout out the game's robust options for visual and auditory disabilities, too; they're excellent across the board.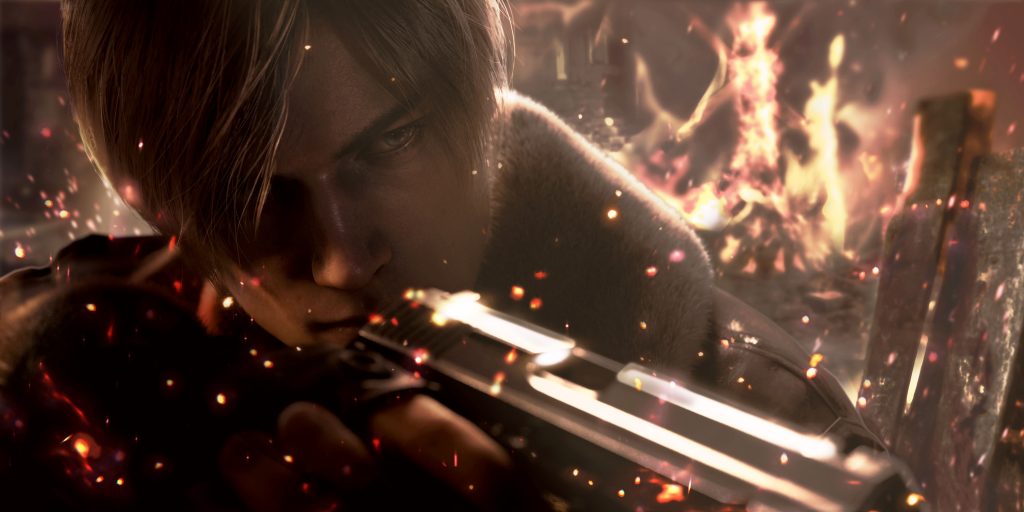 Overcooked: All You Can Eat!
| | | | |
| --- | --- | --- | --- |
| Platform | Release Year | Genre | What It Does Well |
| PC, XBox Series X/S, Switch, PS5 | 2020 | Strategy Party Game | Camera shake toggle and directional arrows |
Overcooked is a cute and hectic multiplayer cooking-strategy game. You control a chef in a kitchen. Via local co-op, you and your friends work together (or compete) to fill a big order. Cook and serve several recipes, navigate wild kitchens, and try not to trip up your friends… too much.
Overcooked: All You Can Eat! is a remake of the first two games, and in a recent update, it added a slew of new accessibility options, including some settings to help mitigate motion sickness. The game lets you toggle off camera shake and added toggleable arrows showing which way your chef is pointed, helping you orient yourself more easily.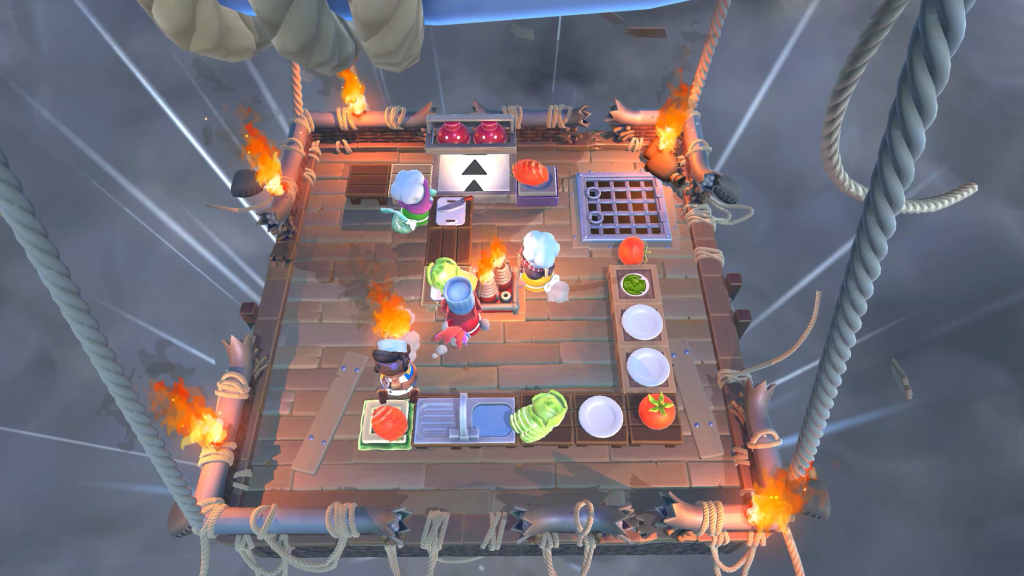 Disney: Dreamlight Valley
| | | | |
| --- | --- | --- | --- |
| Platform | Release Year | Genre | What It Does Well |
| PC/Mac, Xbox One/Series X/S, Switch, PS4/PS5 | 2022 | Life Sim RPG | Screen shake toggle |
Disney: Dreamlight Valley is Kingdom Hearts for people who like Animal Crossing. You fish, mine, grow crops, and play dress up. You build a town for various Disney and Pixar characters to live in. Rebuild shops and restaurants, clear away evil Giant Night Thorns, unlock doors to visit various worlds, and help Scrooge McDuck corner the real estate market. You know, the usual life sim things.
Disney's recent offerings haven't been too kind to people who have trouble with motion sickness or flashing lights. So it was a pleasant surprise when Dreamlight Valley added toggles to remove both the screen shake and the flashing lights from the game! It's a welcome addition in a genre where games are supposed to be peaceful and accessible. Let's hope that some of Disney's other offerings follow suit.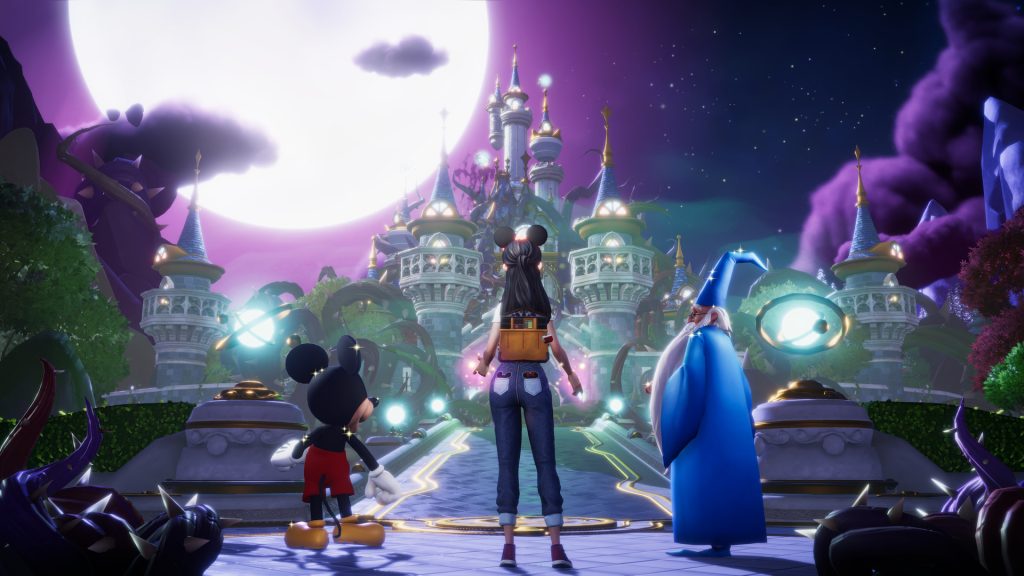 Mario + Rabbids Sparks of Hope
| | | | |
| --- | --- | --- | --- |
| Platform | Release Year | Genre | What It Does Well |
| Switch | 2022 | Tactical RPG | Toggleable motion sickness options |
A battle-hardened group of high-tech revolutionaries, reclaiming Earth from its alien invaders… A tight-knit band of mercenaries, bound together like a family, and ready to fight to protect what they love… The wacky denizens of the Mushroom Kingdom, mashed together with Rayman's Ravin' Rabbids? One of these things is not like the others, and yet the Mario + Rabbids series has shot to the highest echelons of the tactical RPG genre. Thing is, Mario + Rabbids is Baby's First Tactical RPG, trying to be as accessible as possible to as many people as possible. And in the interest of accessibility, this series has so many options that make the game more playable, no matter what you have going on.
We're just talking about motion sickness today, but the game has a great suite of options for just about every disability or impairment. For motion sickness, you can change the camera sensitivity and disable screen shake. But you can also lock the camera during the game's in-battle cutscenes. Instead of flying all over the place, the camera stays in position. This is great news for anyone with motion sickness, as it means that the camera never veers wildly out of control. In a game that's meant to be easy for anyone to get into, accessibility features like this go a long way.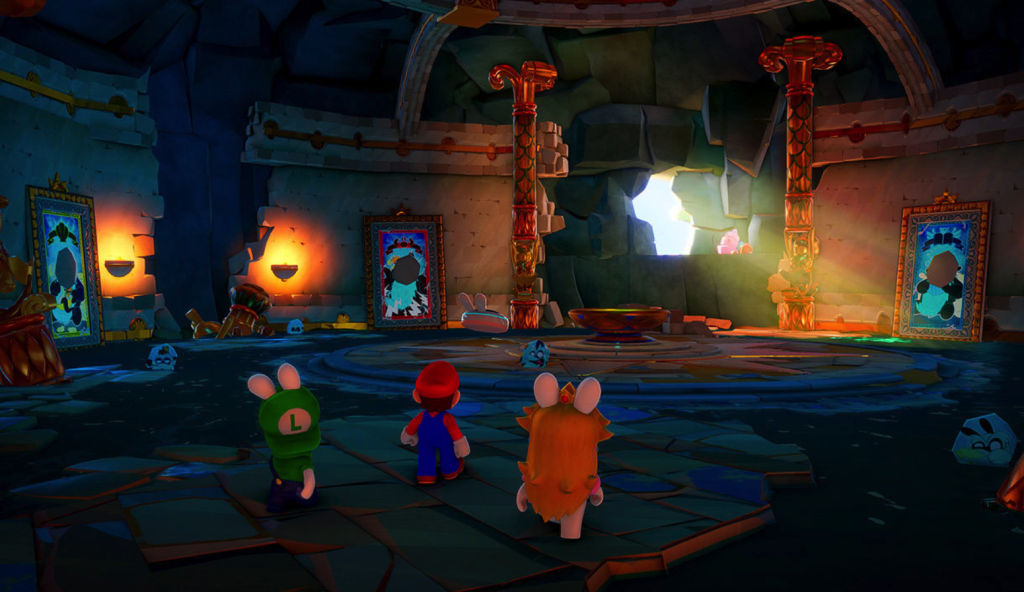 Mail Time
| | | | |
| --- | --- | --- | --- |
| Platform | Release Year | Genre | What It Does Well |
| PC/Mac, Switch, PS4/PS5 | 2023 | Cozy casual adventure game | What doesn't it do well?! |
This charming cottagecore adventure game might not seem like anything out of the ordinary, but it has done something so revolutionary that we have to cheer it on. So, what's so special about this game? Well, other than the fact that you take on the role of an adorable Mail Scout, on a whimsical journey to deliver mail to cute friends, gliding and jumping through a town right out of a storybook? This game takes accessibility more seriously than any game we've ever seen, including big-budget titles like The Last of Us Pt. II.
Mail Time offers an incredible suite of accessibility options and tweaks. Moreover, on the game's website, the (solo!) dev explains exactly what each of these options mean. For motion sick players, Mail Time allows you to lock the camera to follow your character or turn off the setting that makes the camera turn with your character. The game lets you adjust the FOV, change how much the camera pulls back while you're exploring, and even turn off the settings that make the camera turn more smoothly. And the dev explains exactly what each of these changes do, who they help, and what they recommend you do if you need them.
If you implement accessibility settings in your game, you should follow Mail Time's example. The dev did a fantastic job and was incredibly thoughtful about the experience they wanted to provide. Every game should be like this- and we salute them.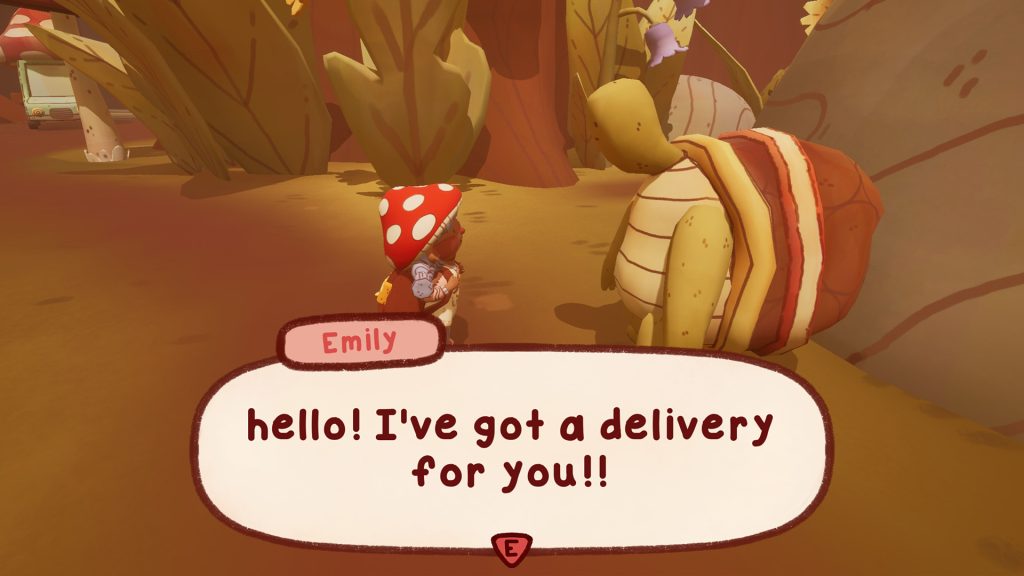 ---
Did we miss any games that do a good job with motion sickness accessibility? Are there any games you enjoy that leave you motion sick, and what could they do to improve? Leave a comment — we'd love to do a user-submitted Part 2! Thanks for reading, and I hope you have a wonderful day.