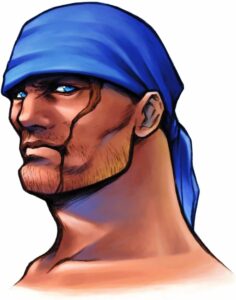 Ward Zabac
Game: Final Fantasy VIII
Ward is a big, powerful man. He carries with him an unusually heavy weapon, the Harpoon, which he throws at attacking enemies.
Age: 25
Height: 7'0″
Birthday: Febuary 25
Weapon: Harpoon
Limit Break: Massive Anchor
Just like

Kiros, Ward has been assigned to fight alongside

Laguna in the Galbadian Army. His devotion to his friends is unwavering.
Stats
| | | | | | | | |
| --- | --- | --- | --- | --- | --- | --- | --- |
| Level | Hit Points | Strength | Vitality | Magic | Spirit | Speed | Luck |
| 1 | 210 | 2 | 3 | 2 | 1 | 15 | 10 |
| 10 | 657 | 10 | 9 | 8 | 6 | 16 | 10 |
| 20 | 1145 | 18 | 15 | 13 | 11 | 18 | 11 |
| 30 | 1625 | 25 | 20 | 19 | 16 | 19 | 11 |
| 40 | 2098 | 31 | 25 | 23 | 20 | 20 | 12 |
| 50 | 2562 | 37 | 29 | 27 | 23 | 21 | 12 |
| 60 | 3019 | 42 | 33 | 30 | 26 | 23 | 13 |
| 70 | 3468 | 47 | 37 | 32 | 28 | 24 | 13 |
| 80 | 3910 | 51 | 40 | 34 | 29 | 25 | 13 |
| 90 | 4343 | 54 | 42 | 35 | 30 | 27 | 14 |
| 100 | 4768 | 56 | 44 | 36 | 30 | 27 | 14 |