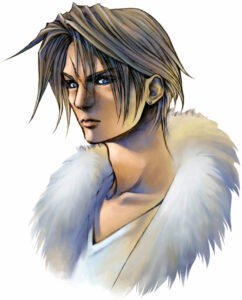 Squall Leonhart
Game: Final Fantasy VIII
The taciturn and reluctant hero.
Age: 17
Height: 5'8″
Birthday: August 23rd
Weapon: Gunblade
Limit Break: Renzokuken
The main

character of this story and a cadet of the special combat unit SeeD from the Balamb Garden Military Academy. Judging from his anti-social behavior, he appears to be selfish and lacking a sense of team unity. An aloof character that dislikes having others involved in his affairs, Squall is best described as a lone wolf.
Stats
| | | | | | | | |
| --- | --- | --- | --- | --- | --- | --- | --- |
| Level | Hit Points | Strength | Vitality | Magic | Spirit | Speed | Luck |
| 1 | 223 | 1 | 1 | 2 | 1 | 20 | 15 |
| 10 | 616 | 8 | 8 | 8 | 7 | 22 | 16 |
| 20 | 1044 | 15 | 14 | 15 | 13 | 24 | 16 |
| 30 | 1464 | 21 | 19 | 21 | 18 | 25 | 17 |
| 40 | 1877 | 27 | 24 | 27 | 22 | 27 | 18 |
| 50 | 2281 | 32 | 28 | 32 | 26 | 29 | 19 |
| 60 | 2678 | 36 | 32 | 35 | 29 | 30 | 19 |
| 70 | 3067 | 40 | 35 | 39 | 32 | 32 | 20 |
| 80 | 3449 | 43 | 37 | 42 | 33 | 34 | 21 |
| 90 | 3822 | 46 | 39 | 44 | 35 | 35 | 21 |
| 100 | 4187 | 47 | 41 | 45 | 36 | 37 | 22 |
Screenshots