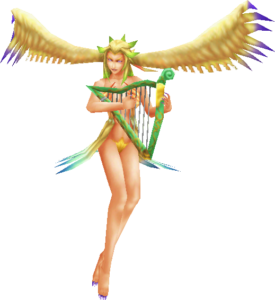 Siren
Game: Final Fantasy VIII
Starting Level: 3
Starting HP: 391
Found At: You must draw Siren during the Boss fight with Elvoret on top of the Dollet Communications Tower.
GF's Attack: Silent Voice

Siren's attack is non-elemental. This makes it safer to use than previous GFs, but its attack power is less than most other GFs. The attack does have a side effect in that it attempts to affect enemies with the Silence status.
By far one of Siren's best abilities is the Move-Find ability. With this ability you can see hidden Save Points and Draw Points as you explore the various locations. However, Draw Points on the World Map will remain invisible even if Move-Find is equipped. Without it, you'll have to rely on maps or just plain guesswork. Treatment is another great ability where you can instantly cure almost any type of abnormal status effect.
Siren is also one of the few Guardian Forces with the ST-Atk-J and ST-Def-Jx2 abilities. These abilities enable you to Junction magic that causes or defends against abnormal status effects with your attack and defense. When used properly, these abilities are extremely helpful and powerful throughout the entire game.
Stats
| Level | HP | Atk. Power |
| --- | --- | --- |
| 3 | 391 | 223 |
| 10 | 724 | 393 |
| 20 | 1206 | 634 |
| 30 | 1696 | 875 |
| 40 | 2194 | 1115 |
| 50 | 2700 | 1356 |
| 60 | 3214 | 1596 |
| 70 | 3736 | 1837 |
| 80 | 4266 | 2078 |
| 90 | 4804 | 2318 |
| 100 | 5350 | 2559 |
Ability List
| Ability | AP Needed | Leads To |
| --- | --- | --- |
| Mag-J | Learned | N/A |
| ST-Atk-J | Learned | N/A |
| ST-Def-J | Learned | N/A |
| ST-Def-Jx2 | 130 | N/A |
| Magic | Learned | N/A |
| GF | Learned | N/A |
| Draw | Learned | N/A |
| Item | Learned | N/A |
| Treatment | 100 | (Gained at LV 12) |
| Mag+20% | 60 | Mag+40% |
| Mag+40% | 120 | Mag Bonus |
| Mag Bonus | 100 | |
| Move-Find | 40 | N/A |
| SumMag+10% | 40 | SumMag+20% |
| SumMag+20% | 70 | SumMag+30% |
| SumMag+30% | 140 | N/A |
| GFHP+10% | 40 | GFHP+20% |
| GFHP+20% | 70 | N/A |
| Boost | 10 | N/A |
| L Mag-RF | 30 | N/A |
| ST Med-RF | 30 | N/A |
| Tool-RF | 30 | N/A |
Default Character Compatibility
| Character | Compatibility |
| --- | --- |
| Squall | 560 |
| Quistis | 584 |
| Zell | 580 |
| Selphie | 640 |
| Rinoa | 630 |
| Irvine | 620 |
| Seifer | 440 |
| Edea | 660 |