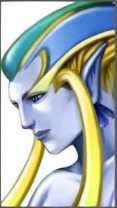 Shiva
Game: Final Fantasy VIII
Starting HP: 298
Found At: Access Squall's study panel from his desk in the classroom at Balamb Garden. Select the Tutorial option and Shiva will automatically be added to your GF inventory along with Quezacotl.
GF's Attack: Diamond Dust

Shiva's attack is elemental Ice based. The attack is very powerful against fire elemental creatures.
Shiva's Vitality+ and Spirit+ abilities are useful for improving a character's stats at the beginning of the game. These abilities enable one of your characters to have a strong defense against physical and magic attacks without having a lot of powerful magic for Junctioning to Vitality or Spirit.
The Doom ability is also useful until you gain the ability to draw or refine Death spells later in the game. This ability enables you to cast Slow Death on a single enemy, which is handy when facing some strong monsters.
Stats
| Level | HP | Atk. Power |
| --- | --- | --- |
| 1 | 298 | 263 |
| 10 | 734 | 564 |
| 20 | 1226 | 897 |
| 30 | 1726 | 1230 |
| 40 | 2234 | 1564 |
| 50 | 3750 | 1897 |
| 60 | 3274 | 2230 |
| 70 | 3806 | 2563 |
| 80 | 4346 | 2897 |
| 90 | 4894 | 3230 |
| 100 | 5450 | 3563 |
Ability List
| Ability | AP Needed | Leads To |
| --- | --- | --- |
| Str-J | 50 | Elem-Atk-J |
| Vit-J | 50 | Vit+20% |
| Spr-J | Learned | N/A |
| Elem-Atk-J | 160 | N/A |
| Elem-Def-J | 100 | Elem-Defx2 |
| Elem-Defx2 | 130 | N/A |
| Magic | Learned | N/A |
| GF | Learned | N/A |
| Draw | Learned | N/A |
| Item | Learned | N/A |
| Doom | 60 | (Gained at LV 10) |
| Vit+20% | 60 | Vit+40% |
| Vit+40% | 120 | N/A |
| Spr+20% | 60 | Spr+40%, Elem-Def-J |
| Spr+40% | 120 | N/A |
| SumMag+10% | 40 | SumMag+20% |
| SumMag+20% | 70 | SumMag+30% |
| SumMag+30% | 140 | N/A |
| GFHP+10% | 40 | GFHP+20% |
| GFHP+20% | 70 | N/A |
| Boost | 10 | N/A |
| I Mag-RF | 30 | N/A |
Default Character Compatibility