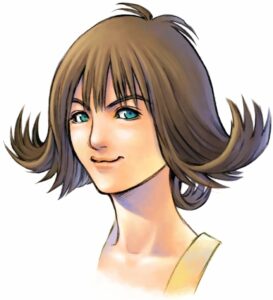 Selphie Tilmitt
Game: Final Fantasy VIII
An energetic woman with a carefree spirit.
Age: 17
Height: 5'1 1/2″
Birthday: July 16
Weapon: Nunchaku
Limit Break: Slot
A woman who seems out of place in a military academy because of her innocent look and light-hearted personality. Selphie's happy-go-lucky dispostion and laid-back attitude tend to catch others off guard.
Selphie is a recent transfer student to Balamb Garden. She grew up in Trabia Garden, located deep in the mountains on the northern continent. Her outgoing personality and sincerity have earned her many friends at Balamb and Trabia Gardens. Currently, she is busy trying to organize the Garden Celebration between training sessions. When fighting, Slephie uses giant Nunchaku and special magic that includes several unique spells.
Stats
| | | | | | | | |
| --- | --- | --- | --- | --- | --- | --- | --- |
| Level | Hit Points | Strength | Vitality | Magic | Spirit | Speed | Luck |
| 1 | 211 | 1 | 1 | 5 | 2 | 15 | 18 |
| 10 | 559 | 7 | 6 | 11 | 8 | 17 | 19 |
| 20 | 937 | 14 | 10 | 17 | 13 | 20 | 20 |
| 30 | 1307 | 20 | 15 | 22 | 18 | 21 | 21 |
| 40 | 1670 | 25 | 18 | 27 | 23 | 24 | 21 |
| 50 | 2024 | 30 | 21 | 32 | 27 | 26 | 22 |
| 60 | 2371 | 34 | 24 | 36 | 30 | 28 | 23 |
| 70 | 2710 | 38 | 26 | 40 | 33 | 30 | 24 |
| 80 | 3042 | 41 | 27 | 43 | 35 | 33 | 25 |
| 90 | 3365 | 43 | 28 | 46 | 37 | 34 | 26 |
| 100 | 3680 | 45 | 28 | 49 | 38 | 37 | 26 |