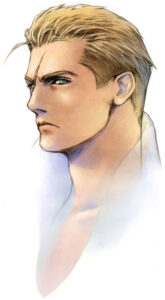 Seifer Almasy
Game: Final Fantasy VIII
Squall's rival who causes havoc within Garden.
Age: 18
Height: 6'2″
Birthday: December 22
Weapon: Gunblade
Limit Break: Fire Cross
A candidate for SeeD. Although Seifer is a naturally gifted soldier, his inability to take orders and control his temper has earned him the label of being problematic. Although recognizing and praising

Squall's abilities and powers, he nonetheless regards him as his ultimate rival.
With his friends Fujin and Raijin, he acts as the Graden's Disciplinary Committee. Seifer is the only other Gunblade user at Balamb Garden besides Squall.
Stats
| | | | | | | | |
| --- | --- | --- | --- | --- | --- | --- | --- |
| Level | Hit Points | Strength | Vitality | Magic | Spirit | Speed | Luck |
| 1 | 275 | 3 | 2 | 2 | 5 | 15 | 12 |
| 10 | 812 | 10 | 8 | 9 | 10 | 18 | 13 |
| 20 | 1400 | 17 | 14 | 15 | 16 | 21 | 13 |
| 30 | 1980 | 23 | 19 | 21 | 20 | 24 | 14 |
| 40 | 2553 | 29 | 24 | 26 | 25 | 27 | 15 |
| 50 | 3117 | 34 | 28 | 30 | 28 | 30 | 16 |
| 60 | 3674 | 38 | 32 | 34 | 32 | 33 | 16 |
| 70 | 4223 | 41 | 34 | 38 | 34 | 36 | 17 |
| 80 | 4765 | 44 | 37 | 41 | 36 | 39 | 18 |
| 90 | 5298 | 46 | 38 | 43 | 37 | 42 | 18 |
| 100 | 5823 | 48 | 39 | 45 | 38 | 45 | 19 |
Screenshots