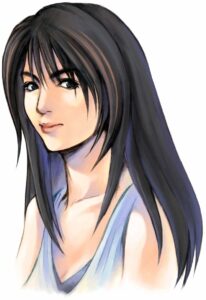 Rinoa Heartilly
Game: Final Fantasy VIII
A beautiful and spirited young woman.
Age: 17
Height: 5'3′."
Birthday: March 3rd
Weapon: Blaster Edge
Limit Break: Combine, Angel Wing
A lively, young woman with the ability to touch peoples hearts. Open and honest with her feelings, Rinoa has a tendency to speak her mind without concealing anything. Driven by her ambition, she is known to be stubborn at times.
Stats
| | | | | | | | |
| --- | --- | --- | --- | --- | --- | --- | --- |
| Level | Hit Points | Strength | Vitality | Magic | Spirit | Speed | Luck |
| 1 | 217 | 1 | 0 | 8 | 3 | 20 | 16 |
| 10 | 610 | 10 | 5 | 15 | 8 | 22 | 17 |
| 20 | 1038 | 19 | 10 | 22 | 14 | 24 | 17 |
| 30 | 1458 | 27 | 14 | 29 | 19 | 25 | 18 |
| 40 | 1871 | 35 | 18 | 35 | 24 | 27 | 19 |
| 50 | 2275 | 42 | 21 | 41 | 28 | 28 | 19 |
| 60 | 2672 | 48 | 24 | 46 | 31 | 30 | 20 |
| 70 | 3061 | 54 | 26 | 51 | 34 | 32 | 20 |
| 80 | 3443 | 59 | 28 | 55 | 36 | 33 | 21 |
| 90 | 3816 | 64 | 30 | 59 | 38 | 35 | 22 |
| 100 | 4181 | 67 | 31 | 63 | 39 | 36 | 22 |
Screenshots