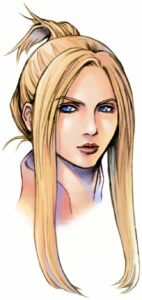 Quistis Trepe
Game: Final Fantasy VIII
A top-notch member of SeeD who serves as Squall's instructor.
Age: 18
Height: 5'6″
Birthday: October 4th
Weapon: Chain Whip
Limit Break: Blue Magic
A SeeD cadet at 15, Quistis now instructs Squall and his companions at Balamb Garden. Contrary to her cool and bold exterior, she is known to have a difficult time coping with frustration, with sometimes results in her becoming depressed over trivial matters.
Stats
| | | | | | | | |
| --- | --- | --- | --- | --- | --- | --- | --- |
| Level | Hit Points | Strength | Vitality | Magic | Spirit | Speed | Luck |
| 1 | 216 | 1 | 1 | 1 | 2 | 19 | 14 |
| 10 | 582 | 8 | 6 | 8 | 8 | 21 | 15 |
| 20 | 980 | 15 | 11 | 14 | 13 | 22 | 15 |
| 30 | 1370 | 21 | 16 | 20 | 18 | 24 | 16 |
| 40 | 1753 | 26 | 20 | 25 | 22 | 25 | 17 |
| 50 | 2127 | 31 | 12 | 29 | 26 | 27 | 18 |
| 60 | 2494 | 36 | 16 | 33 | 29 | 28 | 18 |
| 70 | 2853 | 39 | 18 | 36 | 31 | 30 | 19 |
| 80 | 3205 | 42 | 19 | 39 | 33 | 31 | 20 |
| 90 | 3548 | 45 | 30 | 41 | 34 | 33 | 20 |
| 100 | 3883 | 46 | 30 | 42 | 34 | 34 | 21 |